Region I News 2009-2010
Diane Straus Tucker & Ken Persson Eke Out 50+ Mixed Title
MARCH 29, 2010
GLEN COVE, NY

Diane Straus Tucker and Ken Persson narrowly defeated Bobo Delaney and Tim Mangan (7-5, 4-6, 7-6) to take the APTA Mixed 50+ Nationals title. The tournament was held at the Nassau Country Club in Glen Cove, NY. Tucker won the title last year with Tim McAvoy but he was injured and couldn't play this year. She found an able substitute in Persson, who won this title with Connie Jones for five straight years, 2004-08.
The APTA Mixed 60+ and Husband-Wife 50+ Nationals were not held this year.
Bob Brown & Doug Barrow Win 145+ Nationals
RICH LOMBARD, TOURNAMENT CHAIR
MARCH 18,2010
SCARBOROUGH, NY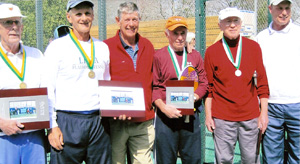 The day after the St. Patrick's parade the 145's gathered at Sleepy Hollow in Scarborough, New York for a day long series of paddle matches. Seventeen teams (2010 seniors' record turnout) showed up at the appointed hour for a group photograph, later to be inserted in the frames which 50% of the participants won.
Complete Coverage
Successful defense of titles was the theme of the day in 50+ and 70+MARCH 21, 2010
SCARSDALE, NY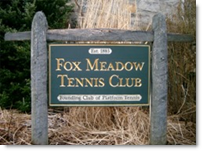 Cousins Scott Bondurant and Tim McAvoy successfully defended their APTA 50+ National Championship over Chip Morrow and Peter Redpath. The hot weather seemed to have had more impact on the strategy of the match than the fact that both Tim McAvoy and Peter Redpath were hobbled by leg injuries incurred during the semi finals. McAvoy (APTA President), Chip Morrow and Peter Redpath all hail from the Philadelphia area while Bondurant is from Winnetka, Il.
In the 70+ Roy Anderson and Joe Holmes also successfully defended their championship by defeating Alan Goldman and Herb Hummers. Anderson is from Rowayton, Ct and Holmes from Norwalk, CT. Finalist Alan Goldman is from Glen Ridge, NJ and Herb Hummers is from Garden City, NY
Compete Coverage
Steve Baird & Scott Estes Command 60+ Title
MARCH 19, 2010
SCARSDALE, NY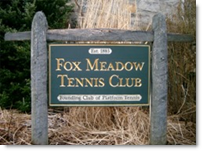 The formidable team of Steve Baird and Scott Estes won the APTA Men's 60+ Nationals title without dropping more than 2 games in any set. Platform Tennis Hall of Famer Baird has won a shelf full of titles starting in the juniors, and Estes has a long list of senior men's and mixed titles to his name.
Complete Coverage
Mix of New and Familiar Names Appear in 45+/55+/65+ Nationals Results
FEBRUARY 28, 2010
CHATHAM, NJ
Congratulations to the latest 2010 APTA Men's National Champs.
45+: Rob Pierce & Leo Power
55+: Fritz Odenbach & Martin Sturgess
65+: Steve Griggs & Mike O'Donnell
Complete Coverage
Jansen Hospice Wins Again
TINA KELLY
FEBRUARY 25, 2010
BRONXVILLE, NY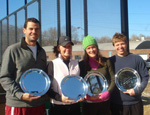 It was another brisk weekend for the annual Jansen Hospice and Palliative Care Mixed Platform Tennis Tournament that took place in Bronxville, New York, during the weekend of January 30-31.
This tournament attracted 54 hard-hitting, talented teams from New York, New Jersey, and Connecticut. This year, Judy Arden and Rodrigo Schtsherbyna defended their title, beating Christine Reiss and Zander Comfort in the well- attended finals.
Complete Coverage and Slides
Slonaker & DeBree Win APTA Women's 60+ Nationals
FEBRUARY 25, 2010
SUNNIT. NJ

Congratulations to Muffin Slonaker and B.J. DeBree for winning the 2010 APTA Women's 60+ Nationals. The tournament was delayed by the blizzard of 2010, but 8 teams regrouped on the 23rd and played the tournament on a day of continual rain. The tournament was held at Centercourt Athletic Club, future home of the Platform Tennis Museum and Hall of Fame. The day was a special day of memory for Winnie Hatch, a friend of many players, and Platform Tennis Hall of Fame inductee, who pased away last November.
Dardis and Shay Repeat at the Women's 40+ Nationals
FEBRUARY 22, 2010
SUMMIT, NJ

Cynthia Dardis and Amy Shay clinched the 2010 APTA Women's 40+ National title on February 11, repeating their 2009 victory over Bobo Delaney and Tonia Mangan. Even the final score of 6-2, 7-5 was nearly the same as the year before. What wasn't the same was wondering if the raging east coast blizzard would interfere with the event. There was delay, but the tournament eventually took place under sunny skies.
Delaney-Mangan and Garrett-Parks Capture 1st National Titles of 2010
JANUARY 15, 2010
SCARSDALE, NY
The 2010 National Championship season began last weekend with the APTA Women's 50+/70+ Nationals at the Fox Meadow Tennis Club and the Scarsdale Golf Club in Scarsdale, NY. The tournaments were run by Judy Luskin and Ann Brown.
In the 50+ tournament, Bobo Delaney repeated her win from last year, joined this year by long time partner and sister in-law Tonia Mangan. They defeated Donna Charleton and Janet Faig, who were runners-up last year as well.
2010 APTA WOMEN'S 70+ NATIONALS
ANN BROWN, TOURNAMENT CHAIR
JANUARY 13, 2010
FOX MEADOW TENNIS CLUB
Helen Garrett and Mary Jane Parks, new comers to the '70s , swept to victory by defeating Nancy Libby and Gail Reifsnyder in the finals, 6-1, 6-0. Helen and Mary Jane have the habit of winning their 1st eligible age year. Congratulations.
Nancy Libby has the distinction of being in the finals 4 years in a row and 5 out of the last 6.
The draw was the magic number of eight as required by the APTA. We had perfect weather and the entrants are a fit and fun group. I always look forward to the competition and sharing the day with our age group.
Milbank & Delaney Triumph Again in NJ State Mixed
BRAD OHLMULLER, TOURNAMENT CHAIR
JANUARY 13, 2010
WEST ORANGE, NJ
What a difference a year makes for the NJ State Mixed Platform Tennis Championship. Last year, we had snow. This year, we had clear and sunny skies. Last year, play was marred by injuries to members of two of our top seeded teams. This year, we had no injuries other than the occasional bruised ego. The more things change, though, the more they stay the same. There were the familiar faces, some great paddle, lots of laughs, and a another great party. And, of course, another tournament win for Bobo Delaney and John Milbank, who reestablished their dominance without giving up a set along the way.
Complete Coverage, Draw and Slide Show
Shea & Arraya Prevail in CT Mixed
JUAN MARTINEZ-ARRAYA
JANUARY 10, 2010
NEW CANAAN, CT

I want to thank all the players for coming out today. It was very cold but the sky was blue! We had a typical winter day in CT. Despite a few problems with schedule and location, the tournament ran well and we finished on time to leave the hut for the CCNC members who were great and let us use their place. I want to thank Mike Gillespie who was a really great help, Bob Sheehy, Bob Sehr and Lucie Duhamel who helped running huts, giving out the favors, and in many other ways.
Complete Coverage, Photos & Video
Region 1 Women's President's Cup Standings
DECEMBER 9, 2009
Main & Mandell Come Home with Jane B. Fleming Title
NICK BERGMAN
DIRECTOR OF PLATFORM TENNIS, MILBROOK CLUB
DECEMBER 4, 2009
GREENWICH, CT

The Jane B. Fleming Tournament was held in Greenwich this past Wednesday and Thursday (12/2-3/09). We had great attendance, 40 teams total. The weather couldn't have worked out better with the only rain in the evening between play. To handle a 32 team draw with a sign-up of 40 teams, we filled 24 spots in the draw from entries, then held a Challenge Round in which 16 teams competed for the remaining 8 slots on the main draw. The Main Draw had the full complement of back draws, and losers from the feed in Challenge Round had Consolations and Reprieves as well. Everyone got to enjoy several rounds of play.
Complete Results
APTA Junior Tour Stops at Fox Meadow
DECEMBER 4, 2009
SCARSDALE, NY

The Fox Meadow Junior Open took place on Sunday, November 22. Juniors competed in 12 & under boys, 14 & under boys and girls, and 18 & under boys and girls events. Check the complete results and see the slide show, at the Fox Meadow Juniors page.
Long Island Wins Tri-State
MARK FISCHL
NOVEMBER 17, 2009
GARDEN CITY, LI
On a warm Sunday in November the home team, Long Island, was able to win the second Tri State Cup at the Cherry Valley Club in Garden City. The Tri State Cup, conceived by Alex Bancila, was played last season in New Canaan, Connecticut. As was the case then the home team walked away with the title. Fielding a strong team lead by #2 in the Country Alex Bancila and Brad Easterbrook as well as #7 John Schmitt and Dan Rothschild Long Island finished with 12 victories. Westchester finished second with nine wins. The #1 squad from Westchester, Mark Parsons and Mike Cochrane finished the day undefeated.
Parsons Tops Full Singles Draw
ROGER KNIGHT
NOVEMBER 2, 2009
GREENWICH, CT
Despite the concerns about the possible rain all weekend, the tournament went off without a hitch and was the most successful to date. Having achieved a full 32-person draw, the pace of activity was high from beginning to end. What was particularly gratifying was the success at both ends of the "ranking" scale. At the top end, we had a number or new additions that resulted in a top quality quarterfinals and semis/finals that took the tournament (and the sport of platform singles) to another level. At the same time, with the large draw, the 16 first round losers who were placed in the Consolation round had a very competitive tournament within a tournament.

George Hamilton decided to act as videographer again this year so I look forward to seeing his next installment. [2008 video] He captured much more action this time around, filming much of the three-set final thriller between Mark Parsons and Mike Cochrane.

One of my favorite comments came from a semi-finalist (former top tennis player who just took a head pro job on Long Island), who couldn't stop analyzing his hard fought match against Mike Cochrane. After staying to watch the entire finals, he came by and said, "I have learned so much today – my only regret is that I have to wait a year to put my new plan to the test".

I also ran into a couple of APTA folks during the weekend, who stopped by to check out the action. Rich Lombard came by for the second year and asked if I would try to put something together about platform singles for the History of Platform Tennis coffee table book. It is good to see the buzz increasing about this form of platform which was founded simultaneously with the game of doubles and was always envisioned as an integral part of the game.

Main Draw

Mark Parsons
Mark Parsons
Mike Cochrane

Consolation

Rob Finkelstein
David Reiss
6-4, 6-7 (6-8), 6-1
David Reiss

Championship Reprieve

Tom Kratky
Steve Schelz
6-1, 6-1
Steve Schelz

Quarterflash

Nicholas Bergman
Nicholas Bergman
6-4, 6-2
Alan Cosby

Consolation Reprieve

Michael Stoltz
BJ Paret
6-3, 6-3
BJ Paret
Mckessy & Mueller Repeat Patterson Cup B Title
SCOTT SLOBIN
OCTOBER 18, 2009
PATTERSON, NJ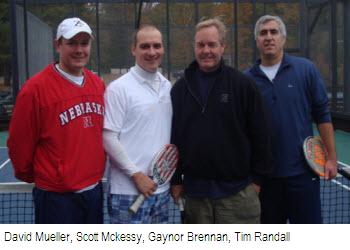 The 11th Annual Patterson Club Men's B Paddle tourney took place yesterday Oct. 17, hosted by the Patterson Club in Fairfield Connecticut.. A full 32 draw of teams from throughout the tri-state area battled in perfect cool cloudy Fall like conditions.
Special thanks to the following clubs who generously provided their paddle courts to this event: Fairfield Beach Club, Country Club Of Fairfield, Aspetuck Valley Country Club, Fairfield County Hunt Club, Wilton Riding Club, and Weston Field Club.
New Site for Long Island Ladies
SEPTEMBER 19, 2009
LONG ISLAND, NY
The Long Island Interclub Platform Tennis League has a new home on the internet at www.LIIPTL.net.