Region I News 2010-2011
2011 APTA Junior Nationals Video
APRIL 20, 2011
NEW CANAAN, CT

For the third year, George Hamilton and YYR Productions was hired by the Platform Tennis Museum and Hall of Fame to create a video of the APTA Junior Nationals. Hamilton has created many exciting, high quality platform tennis vidoes over the years, and this video will be no exception.
Last Minute Team Captures National Title
MARCH 26, 2011
GLEN COVE, NY
APTA Mixed 60+ Nationals
The last minute teaming of Diane Straus Tucker and Jim McCready was no barrier to winning the gold medal in the APTA's Mixed 60+ National Championship. They defeated Scott Estes and Muffin Slonaker. This was Straus Tucker's 20th national title and McCready's first.
APTA Mixed 50+ Nationals
Diane Straus Tucker earns her third title of the year and her 21st over all. Straus Tucker and Rusty Wright defeated Louise Cash and Tim Mangan to take the 2011 APTA Mixed 50 + Championship.
2011 NJ Men's 60+
MARCH 24, 2011
WESTFIELD, NJ

The NJ Men's 60's paddle tournament was played under perfect weather conditions on March 12 at Echo Lake. The winners were Mike O'Donnell and Scott Estes and the runners-up were Jim McCready and Peter Rooney.
50-60-70 Titles Won at Fox Meadow
ANN SHEEDY
MARCH 21, 2011
SCARSDALE, NY
In one of the final National Championships of the year, the APTA Men's 50+/60+/70+ Nationals were contested at the Fox Meadow Tennis Club this past weekend. Many familiar names emerged victorious under the sunny Scarsdale skies.
Anderson-Holmes Clinch National 145+ Title
MARCH 19, 2011
GREENWICH, CT

Congratulations to Roy Anderson and Joe Holmes for winning the 2011 APTA Men's 145+ Nationals. They defeated Ray Crosta and George Lynch in the final, 6-3, 6-4.
Delaney & Takach Win Women's 50+ Nationals
MARCH 9, 2011
SCARSDALE, NY
Bobo Delaney and Judy Takach won the 2011 APTA Women's 50+ Nationals, defeating Judy Arden and Susan Lovejoy in the final. Delaney and Takach also won the APTA Women's 40+ Nationals this year, and three days earlier Delaney won the Mixd Nationals with Steve DeRose. Delaney has an impressive array of national titles going back to the juniors.
2011 APTA Mixed, H/W, H/W 50+ Nationals
FEBRUARY 25-27, 2011
MORRISTOWN, NJ

Congratulations to Bobo Delaney and Steve DeRose for winning the 2011 APTA Mixed Nationals title, defeating Cooey Lyon and Juan Martinez-Arraya 7-5, 3-6, 7-5 in the final. Kerri Delmonico and Mike Stulac are the 2011 APTA Husband/Wife National Champions. They defeated Jessica and Nathan LeFevre in the final. In the Husband/Wife 50+ division, Janet and Chuck Faig took the title, over Judy and Jeff Takach.
Complete Coverage & Video
2011 Connecticut Junior Open
FEBRUARY 25, 2011
NEW CANAAN, CT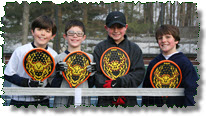 Congratulations to the newest CT Junior Open champs, and thanks to all the players who came out to play, and to Tish Tregellas and her committee, for making the 2011 Connecticut Junior Open another success.
Complete Coverage
Maio & Sniatkowski Win First National Title
FEBRUARY 20, 2011
SCARSDALE, NY

Birgit Maio of Mahwah, NJ and Ginny Sniatkowski of Ridgewood, NJ won their first national platform tennis title at the APTA Women's 70+ Nationals, held in Scarsdale, NY last week. They defeated Sharon Hummers and Pat Fallon in the final, 6-4, 6-2. Hummers, a member of the Platform Tennis Hall of Fame, has won many titles in the 50+, 60+ and 70+ divisions. For Pat Fallon this is a first National Championship final.
2011 APTA Women's 40+ / 60+ Nationals
FEBRUARY 13, 2011
SUMMIT, NJ

The 2011 APTA Women's 40+/60+ National Platform Tennis Championships took place February 2-3 in Summit, NJ. Congratulations to Bobo Delaney and Judy Takach for winning the 40+ title. They defeated Laurie Hissey and Cooey Lyon in the final, 6-2, 7-6. In the 60+, Louise Cash and Diane Straus Tucker captured the title over Helen Garrett and Sandy Simmers, 6-2, 4-6, 6-1.
2011 Short Hills Invitational Results
FEBRUARY 8, 2011
SHORT HILLS, NJ

Congratulations to the winners and finalists at Short Hills.
Complete Draws
Women's Ranking Tournament: Delmonico-Main def. Prop-schneebeck 6-3, 3-6, 6-4
Men's Ranking Tournament: Broderick-English def. Cochrane-Estes 6-4, 2-3, injury default
Women's B Tournament: Mullett - D'Agostini def. O'Neill - Lonsinger 6-1, 6-2
Men's B Tournament: Clark - Burchenal def. Hough - Ash 3-6, 6-2, 5-1
Men's 95+ Tournament: Griggs - DeRose def. Harlow - Atkinson 6-4, 4-6, 6-1
7th Brookside Invitational Brings Players Together for Charity
KATIE BLISS
JANUARY 27, 2011
RUTHERFORD, NJ

Over 100 players from across New York and New Jersey participated in the 7th Annual Brookside Invitational Charity Platform Tennis Festival on January 17, raising more than $22,000 to be donated to local charities.
Spearheaded by "Handsome Jim" Ward, and hosted by the Rutherford (NJ) Elks and Brookside Racquet and Swim Club, the monies raised will be distributed to multiple food pantries, various special children's organizations including the Special Olympics of Bergen County, the Elks Army of Hope which assists NJ Veterans when they return home from the Middle East, Rebuilding Together which makes homes safe and warm for financially challenged families and the Oasis Foundation.
Complete Coverage
Fox Meadow Junior Open
SUSAN SCHWAB
JANUARY 24, 2001
SCARSDALE, NY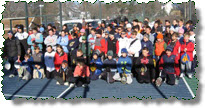 Sunday was a beautiful day for paddle and we had a great turnout with 45 teams participating. Fox Meadow thanks Scarsdale Golf Club and Bronxville Field Club for the use of their courts for this event. Special thanks to the following people who made the day run so smoothly: Bob Brown, Steve Schwab, June Winward, Pat Simmermacher, Jody Hirson, Gary Squires, Catherine Souther, Yuiko Hebner, and Nancy Frehill.
Complete Coverage
2011 Jersey Shore Junior Open
NATHAN LeFEVRE
JANUARY 18, 2011
MIDDLETOWN, NJ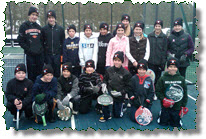 The Jersey Shore Junior Open had a snowy afternoon of paddle on Saturday, January 8th, at Navesink Country Club and Sea Bright Lawn and Tennis Club. The event was a huge success with over 45 juniors competing. Thank you to the APTA and Viking for their support of the event.
Complete Coverage
Top Teams Compete in NJ State Mixed
JANUARY 17, 2011
WEST ORANGE, NJ

This year saw the upset of 2 time defending champs Bobo Delaney and John Milbank. They lost in the final to Kerri Delmonico and Steve DeRose, 4-6, 6-0, 6-0. The tournament boasted an impressive, full 64 team draw.
2011 NY State Mixed Results
JANUARY 17, 2011
WESTCHESTER COUNTY, NY

Congratulations to Adriana Melittas & Miguel Cobbs for their victory in the New York State Mixed.
Arraya & Shea Win CT Mixed
JANUARY 9, 2011
NEW CANAAN, CT

The main draw final was a repeat from last year, with Juan Martinez Arraya and Sheri Shae defeating Susan Lovejoy and Jim Kaufman.
Complete Coverage
Juniors Just Want to Have Fun
DECEMBER, 2010
DARIEN, CT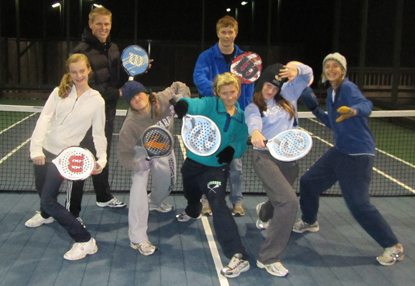 Photo by Alejandra Gulida, provided by Sebastian Bredberg
From a 13+ junior paddle program clinic at the Wee Burn Country Club in Darien, CT.
Cashing in on the Jane B. Fleming Title
DECEMBER 14, 2010
GREENWICH, CT

The second seeded team of Cash/Cash won the 2010 Jane B. Fleming PCQ , prevailing in the final over unseeded Bowers/Wald. Congratulations to all the winners and finalists.
| Round | Winners | Finalists |
| --- | --- | --- |
| Main | Cash/Cash | Bowers/Wald |
| Consolation | McMahon/Biggs | Truslow/Stone |
| Reprieve | Wein/Jacaruso | Jellinick/Foster |
| Quarter Reprieve | Rebuse/Power | |
| Consolation Reprieve | Turner/Carlson | House/Kennedy |
Easterbrook-Jonason, Flynn-Tarzian, Ettinger-Sutherland Win in Long Island
DECEMBER 7, 2010
LONG ISLAND, NY

Results are in for the Long Island Invitational.
Congratulations to all the winner and finalists.
It was Quite a Weekend at the 2010 Eastern States Singles
NOVEMBER 22, 2010
GREENWICH, CT

According to tournament director Roger Knight, "We closed registration at 48, but couldn't say no and had 50 players this year. That is more than a 50% increase from last year, which was the largest singles tournament on record. With 50 players, it felt like we reached a new plateau."
Complete Coverage
Fairfield CT Juniors Open the Season at the Patterson Club
NOVEMBER 18, 2010
FAIRFIELD, CT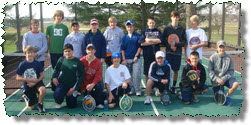 Boys 10 & Under Winners: Teddy Manges & Harry Walker
Boys 12 & Under Winners: James Bjorkman & Sam Slobin
Boys 14 & Under Winners: Austin Holmes & Reed Schultz
Boys 18 & Under Winners: Will Burger & Gardner Tregallas
Girls 12 & Under Winners: Laurel Jaffee & Virginia Mahoney
Girls 14 & Under Winners: Maddie Sopko & Emilie Studnick
Complete Results & Photos
Noyes and Takach Prevail at Orange Lawn
NOVEMBER 14, 2010
SOUTH ORANGE, NJ

Andrea Noyes and Judy Takach won the 2010 Orange Lawn Women's Tennis Club PCQ, held last Wednesday and Thursday. They defeated Darlene Finnegan and Jill Feher in the final by the decisive score of 6-0, 6-3.
Complete Coverage
Success at the First Shore Cure
NATHAN LEFEVRE
NOVEMBER 5, 2010
MIDDLETOWN, NJ

The first annual Shore Cure Platform Tennis Tournament was held at Navesink Country Club and local area clubs on October 30th and 31st. The event was held to raise money for two charities, The Wellness Community (The Diney Goldsmith Center), and the Christine Meredith Miele Foundation. A fun time was had by all, especially during the dinner and auction on Saturday night during the Men's Invitational.
Complete Coverage
Kelley & Gedney Bring Home Patterson Title
SCOTT SLOBIN
OCTOBER 17, 2010
FAIRFIELD, CT

The Patterson Club B Paddle tourney was held yesterday, October 16, 2010, under perfect fall weather. The Patterson club in Fairfield Connecticut once again hosted the tourney. 32 teams through out the Tri-State area battled it out for the championship this year. At the end of the day veterans Bryan Kelley and Dave Gedney both from Darien Connecticut defeated talented new comers Jim Lipinski and Faycal Rhazali from Stamford Connecticut 6-4, 7-5.
Complete Coverage, Draw and Photos
Lipinsky & Rhazali Supreme at St. Germain
OCTOBER 16, 2010
STAMFORD, CT

Lipinsky and Rhazali took home the St. Germain Classic title on October 2, defeating Easterbrook and Wilkes 6-2, 7-5. In the semis they beat top seeds Teglas & Bredberg. In the other semi, Easterbrook and Wilkes took out #2 seeds Clark & Vasudeva. More
Delaney and Milbank Win the War
JUDY TAKACH
OCTOBER 10, 2010
WALL TOWNSHIP, NJ
On a day with good weather and great paddle, Bobo Delaney and John Milbank defeated Kerri Delmonico and Ray Crosta to catpure the War at the Shore. More
APTA Clinic and Exhibition Visits Wilton Family Y
JUAN ARRAYA
OCTOBER 3, 2010
WILTON, CT

Last night the APTA put together another great show.
Mark Fischl, Anton Mavrin, Steve O'Connell, Patricio Misitrano and myself traveled to Wilton, CT this weekend for the APTA Free Clinic and Exhibition at the Wilton Family Y. A little over 50 people came to watch a very well played and fun exhibition.Around 30 players participated in the clinics. We ran two 1-hour clinics with 4 players per court. Everybody seemed to have a lot of fun, with most of the players staying for the second hour. More
Singles Set for November - Adds Women's Draw
SEPTEMBER 4, 2010
GREENWICH, CT

Mark you calendars for the 2010 Eastern States Singles Championship in Greenwich, CT.
If you've played singles platform tennis, you already know how challenging and fun it is. If you haven't, you have got to find out what you're missing. More
West Side Tennis Club Seeks Platform & Tennis Professional
FOREST HILLS, NY
AUGUST 22, 2010

The West Side Tennis Club in Forest Hills, NY is seeking an energetic, creative and highly organized platform tennis professional. More
Bob Brown Inducted into Westchester Sports Hall of Fame
AUGUST 10, 2010
WESTCHESTER COUNTY, NY

Platform tennis's own Bob Brown has been elected to the Westchester (NY) Sports Hall of Fame, joining such notables as Lou Gehrig, Ralph Branca, Arthur Ashe, Frank Gifford, Gene Sarazen. Read about Bob's history with platform tennis and other sports, and watch an excellent video interview conducted by LoHud.com. More