Region III News 2009-2010
Did you live through Snowmageddon 2010?
L'HIRONDELLE CLUB
RUXTON, MD

Montgomery and Crick Take Title in Charlottesville
FEBRUARY 22, 2010
CHARLOTTESVILLE, VA

The Charlottesville Men's PCQ/NRT was contested at the Farmington Country Club in Charlottesville, VA, on Saturday February 6. The PCQ points in this event count in both Region III and nearby Region VII. Kudos to Montgomery and Crocker for their win over Todd and Jaysing in the final. The Consolation was won by Bargatze and Marcussen, and the Reprieve by Crick and Polk.
Arraya-LeFevre Clinch Lehigh Valley Classic over Cordish-Stulac
FEBRUARY 21, 2010
ALLENTOWN, PA
Juan Arraya and Nathan LeFevre captured the Lehigh Valley Classic title over Blake Cordish and Mike Stulac, 7-6, 6-2. Congratulations also go to Beers-Nowlan (Reprieve), Eger-Peppiatte (Quarter Reprieve), Santon-Cobbs (Consolation) and Spellman-Winchester (Last Chance).
Great Athletes and Great Friends Compete in Wilmington Women's
BETSY PINSKY
FEBRUARY 16, 2010
WILMINGTON, DE
The 2010 Wilmington Women's Open went off without a hitch…after the 3plus feet of snow that had fallen the previous 48 hours was cleared from Greenville's courts! Bright tulips, a hearty lunch and a generous bartender, helped keep the mood jovial and the level of play outstanding. This was a very highly rated tournament with Presidents Cup points riding in the balance, yet everyone played loose and happy as the afternoon turned competitors into partygoers. Once again, the ladies of Wilmington shone as great athletes and even better friends!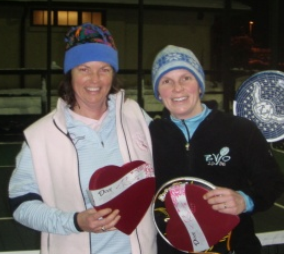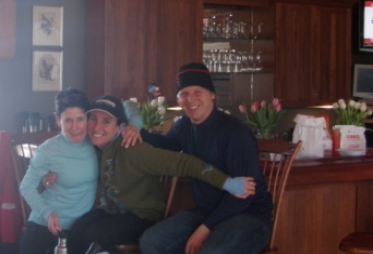 Winners Safford & Lyon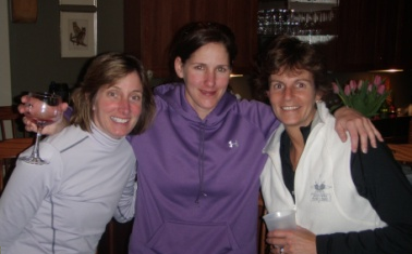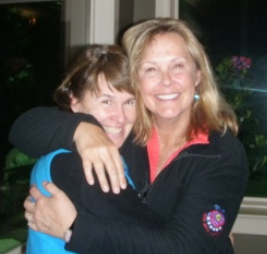 Enjoying Greenville's warm hut and comraderie!
Region III Men's President's Cup Standings
JANUARY 25, 2010
Region III Men's President's Cup Standings
JANUARY 15, 2010
Stefanik & McAvoy / Hissey & Lyon Top PA States
JANURAY 15, 201o
PHILADELPHIA, PA
Region III Men's President's Cup Standings
DECEMBER 15, 2009
North Captures Annual Mason Dixon Cup
TIM McAVOY & JEFF LYON
NOVEMBER 22, 2009
WILMINGTON, DE
The 9th Annual Mason Dixon Cup took place on Saturday, October 24th at Greenville Country Club just north of Wilmington, Delaware. With two washouts prior to this year, the two intra-regional teams were deadlocked, 3 wins apiece, so 2009 was the year for one side to take the lead in this season opening Region III invitational event.
Complete Coverage
Freund & Spracklin Take DE State Title
RON PINSKY
NOVEMBER 11, 2009
GREENVILLE, DE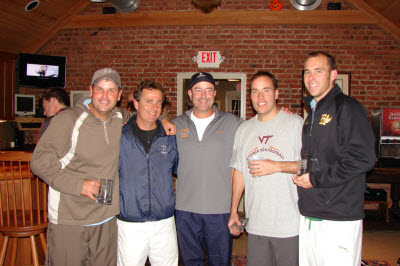 The Delaware State Paddle Championships took place on November 7, 2009 and was hosted by Greenville Country Club. Twenty four teams from DE, PA, NY, NY, CT, MD and Washington DC competed on a beautiful, sunny day at Greenville CC, Vic Mead Hunt Club and Wilmington Country Club. There was exciting paddle action all day while Greenville's extraordinary Hut served as an ideal host facility.
Women's Paddle Rally set for October 19th
FAITH BASCOME
SEPTEMBER 19, 2009
PHILADELPHIA, PA
October 19th our annual Paddle Rally will take place, starting with a lite breakfast at Aronimink Country Club followed by a speaker, Dr, Kara Nakisbendi. This day of women's paddle combines fun and an opportunity to support Living Beyond Breast Cancer. We have raised over $120,000 over the past 12 years, and have continued to educate ourselves about the risks and treatment for breast cancer by contributing to Living Beyond Breast Cancer (LBBC) through the Paddle Rally while playing the game we all love so much – paddle. More
For more information please Faith Bascome or tournament director Linda Dutton