Region II News 2009-2010
Kristie Martin and Natalie Sanders Carry the Day at Oden Cox Memorial Women's B
ANN HARVEY
APRIL 10, 2010
SHELTER HARBOR INN, WESTERLY, RI

Last Saturday, April 10th at the Shelter Harbor Paddle Club, top seeds Kristie Martin and Natalie Sanders won the last of the season's tournaments, the annual Oden Cox Memorial. Oden (Deni) Catullo established the event in memory of her mother, a nationally ranked paddle tennis player. The tournament proved true to its purpose in honoring her championship-winning mother in promoting the love of the game because for some teams, it was their first venture into tournament play.
Complete Coverage, Draw and Photos
Albrikes - Fried, Cartier - Martin Capture Shelter Harbor's Spring Shoreline Classic Tourney
JOHN SPEARS
MARCH 29, 2010
WESTERLY, RI

Playing in near-perfect paddle weather, top seeds Jerry Albrikes and Mike Fried won the men's and #1 seeds Geoff Cartier and Kristie Martin won the mixed events at Shelter Harbor's "Spring Shoreline Classic" on Saturday and Sunday, March 27 and 28.
Complete Coverage
Meyers-Welling Capture Island Women's "B"
MARCH 26, 2010
JAMESTOWN, RI

The inaugural Island Women's "B" was held on Sunday, March 21. The tournament was organized by Mary Hutchinson and Amy Smith and hosted by the Conanicut Yacht Club (CYC), in conjunction with the Newport Country Club (NCC).
We had a perfect day – glorious sunshine, plenty of play and lots of friendships formed.
Hilary Meyers and Tracy Welling defeated Asa Nilson and Barbara Horne 6-0, 6-7, 6-1 for the championship.
In the back draws . . . congratulations to the local Newport-Jamestown team of Carol (Sam) Velasco and Mary Hutchinson who won 6-0, 6-4 over the Point Judith team of Kathy Mahoney and Bonnie Considine. The Consol Reprieve was won by Patty Davis and Kathy Mullaney from Wellesley over the Madison mother-daughter team of Sue Keller and Kim Cushing. The Quarter Reprieve was won by the local Jamestown team of Amy Smith and Mary Heath 7-5, 7-5 over the Shelter Harbor team of Leah Nero and Nancy Miller.
We had 16 teams from RI, CT and MA, including teams from four of the seven clubs in RI; all good signs for the growth of paddle in the Little Rhody area.
Essex Platform Tennis Club Wins the Big Paddle Again
GEOFF CARTIER
MARCH 3, 2010
WEST HARTFORD, CT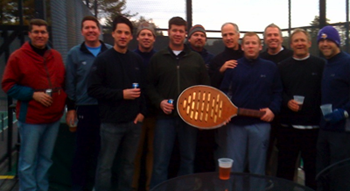 In the 2010 Big Paddle event, Essex Platform Tennis Club was led by the undefeated play of their three through five teams, which were comprised of Matt Holmes and Geoff Cartier, John Cunningham and Dave Clark, and Ryan Mcgetrick and Russ Burgess. Essex also received solid efforts from their top two teams of Jerry Albrikes and Mike Fried and Rob Caserta and Steve Godiksen.
Once again, Essex reaffirmed its dominance in this interclub matchup with Hartford Golf, Shelter Harbor, and Longmeadow. The competition pits the top five teams from each club against each other. This was Essex's second victory in a row and fourth in the last five years. Special thanks to Courtia Worth, Gil Keegan, and the Hartford Golf Club for being gracious hosts.
Ann Knoblock and Janet Linehan Win NE Women's PCQ
FEBRUARY 17, 2010
SOUTH HAMILTON, MA

The 2010 New England Women's PCQ was held at the Myopia Hunt Club on Saturday, January 23rd. Congratulations to Ann Knoblock and Janet Linehan, who defeated Courtia Worth and Jill Tryon to take the title. Carter Everitt and Meredith Stravato won the Quarter Reprieve. Sally Hughes and Kim Mihan won the consolation.
Porter-Morneau Reverse Boston Results to become Western New England Champs
DAVID FULLER
FEBURARY 15, 2010
LONGMEADOW, MA

On January 16, 2010 Johan du Randt and Jerry Albrikes bested the pick up team of Matt Porter and Jeff Morneau by scores of 6-3, 6-4 in the final of Men's Boston National Open contested at Brookline's The Country Club. Four weeks later on February 13, and approximately 80 miles to the west Porter and Morneau reversed the Boston final and captured the 20th annual Western New England Championships at Longmeadow's Field Club by the identical scores of 6-3, 6-4. The event was Region II's fifth and final President's Cup event of the season.
Cunningham and Pierce Win CT Shoreline Men's 95's
FEBRUARY 21, 2010
ESSEX, CT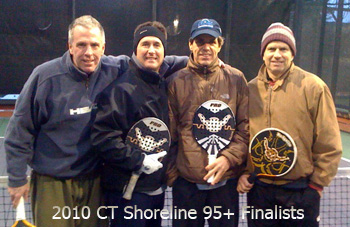 The Connecticut ShorelineMen's 95+ was held at the Essex Platform Tennis Club on February 5, 2010. Congratulations to the all winners. Please visit the Essex Platform Tennis Club's site for all the latest Essex paddle news.
Main Draw:
John Cunningham - Rob Pierce def
Steve Heath - Tim Heath
Quarter Reprieve Winners:
Matt Holmes - John Holmes
Consolation Winners:
Brad Kronauer – Brant Smith
Consolation Reprieve Winners:
Gary Ulrich - Brad Hoffman
Top Seeds Reynolds & Kindelan Capture 2nd Schuyler Meadows Women's B
CHARLOTTE GILET
FEBRUARY 21, 2010
LOUDONVILLE, NY

February 6 was the second annual Schuyler Meadows Ladies B event. We had the perfect paddle day - cloudy, cold, great food, fun hut chatter and fabulous paddle play. What was really exciting is that we had 4 (RI, MA, CT and NY) of the 7 states that comprise Region II represented coupled with two teams from Rochester, New York which is part of Region IV. We had two mother daughter teams (Carol Crummey with her mother Carol O'Brian/Kim Cushing and her mother Sue Keller) that played each other in the conso finals and their were no family feuds - just a few self induced head injuries but now worries everyone is okay.
Hats off to "Rob Coster's best friends" Simone Reynolds and Phyllis Kindelan who outlasted the second seed of Kathy Kulig and Diane Mayland for the Championship. Congratulations to Amy Poe and Karin Hyman who defeated Jane Keiter and Edie Schechter to capture the championship reprieve and CareyAnn Denefrio & Laura Myers who defeated Betsy Birchenough and Sue Bowen in the conso reprieve.
Thank you to Joan O'Connor (semi finalist with Mary Hutchinson) for volunteering to run this event.
Region II Men's President's Cup Final Standings
FEBRUARY 17, 2010
Icy Temps Don't Freeze the Inaugural Nor'Eastern (YC) Ladies "B"
DAN McCORMICK & CHARLES H. LEVERONI
FEBRUARY 1, 2010
MARBLEHEAD, MA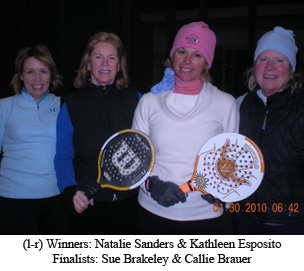 Thanks to all of the ladies who played in the Nor'Eastern (YC) Ladies "B" for braving the single digit temperatures early Saturday morning and competing in our inaugural event! Your participation made this a great event and there seemed to be a lot of smiles (frozen) on all your faces. We just might have to do it again!
Finalists Spring from Home Turf at the Essex Men's B
JAMEY BURNS
JANUARY 19, 2010
ESSEX, CT

It seemed a little ironic that two local teams should reach the finals of the Essex (CT) Men's B Tournament. After all, when play began on Saturday morning, there were twenty four teams in the draw with players representing five states (CT, MA, NH, NY and RI).
Roddy Diotalevi and Phil Johnson reached the finals, only to play John Bauman and John Cunningham, last year's tournament finalists and fellow Essex Platform Tennis Club players. In what could not have been a closer match, Diotalevi and Johnson came away with the win, 7-6 (9), 6-7 (3), 7-6 (4). In the semis, Diotalevi and Johnson had ended the tournament run of Junius Clark and Varen Vasudeva 4-6, 6-4, 6-1. In the other semifinal match, Bauman and Cunningham defeated David Clark and Michael Foye 6-4, 6-2. There were a number of three set matches throughout the day. Perhaps the most entertaining one came in the quarters when Clark and Vasudeva outlasted Mike McManus and Adam Mirsky 4-6, 7-5, 6-3.
The consolation was won by Hans Doup and Bill Bodde. They defeated Brad Hoffman and Dennis Herchel 6-2, 1-6, 6-3. The winners of the quarter reprieve were Mirsky and McManus who posted a marathon 6-7, 7-6, 6-3 win over Robert Caserta and Ryan McGetrick.
Region II Women's President's Cup Standings
JANUARY 13, 2010
Region II Men's President's Cup Standings
JANURAY 13, 2010
Albrikes - du Randt Bring Home Boston Men's Title
JANURAY 13, 2010
BOSTON, MA
Congratulations to Jerry Albrikes and Johan du Randt for winning this year's Men's Boston National Open. Albrikes - du Randt, seeded number 2, defeated the unseeded team of Matt Porter - Jeff Morneau in a two set final, 6-3, 6-4. In the semis Albrikes - du Randt defeated 4th seeds Fritz Odenbach - Rusty Wright. On the other side of the draw Porter - Morneau took down both the 3rd seeds Matthew Dana - Lennart Jonasson and top seeds Blake Cordish - Steve Derose.
Region II Men's President's Cup Standings
DECEMBER 16, 2009
Region II Women's President's Cup Standings
DECEMBER 15, 2009
Jessie Glidden and Amy StigaTake Boston in 3 Sets
CHARLOTTE GILET
DECEMBER 15, 2009
BOSTON, MA

The Greater Boston Women's Open was a huge success. We had our largest draw ever, with new faces, great competition, fabulous camaraderie and juicy hut chatter. It was capped off with a great final. Susan Rudd and Wendy Yang succumbed to Jessie Glidden and Amy Stiga, 6-4 in the third. It was a match of smiles, speed, placement and rock star shots
Complete Coverage, Draw and Pictures
Bergstrom and Coster Capture CT Shoreline Title
JAMEY BURNS
DECEMBER 7, 2009
ESSEX, CT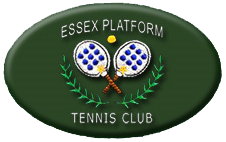 It rained throughout most of this year's Connecticut Shoreline Women's B Tournament, but that didn't dampen the spirits of the participants.
In the end, Betsy Bergstrom and Barbara Coster (Madison, CT) came away with the victory, defeating Laurie Rosen and Cathy Hazlett (Norwich, VT) 6-3, 6-2, in the finals. Bergstrom and Coster spent plenty of time on the court out in the rain as they twice had to go three sets in earlier rounds. In the semis, they avenged a three set loss in last year's event to Laurie Holl and Hilary Meyers (West Hartford, CT). This year, it was Bergstron-Coster who prevailed by scores of 6-3, 3-6, 7-6(5) win. This was after they had eliminated Asa Nilsson and Barbara Horne (Longmeadow, MA) 6-2, 0-6, 6-4 in the quarterfinals. In the other semifinal match, Rosen and Hazlett defeated Phyllis Kindelan and Simone Reynolds (Kensignton, CT) in a marathon match. The scores were 5-7, 6-2, 7-6(4).
The consolation was won by Mary Hutchinson (Jamestown, RI) and Joan O'Connor (Loudonville, NY) while Nilsson and Horne took the quarter reprieve.
For all the news from the Essex Platform Tennis Club, visit our web site.
Pioneering Teamwork?
NOVEMBER 29, 2009
LONGMEADOW, MA
The Pioneer Valley Men's 95+ was held in Longmeadow, MA November 21, hosted by the Field Club & Country Club, organized by tournament director Rob Durfee.
The tournament was won by Heath and McCormick, who reportedly beat down a few dogs in the final. The fellows in the shot on the left did not win the tournament, despite their brilliant teamwork.
| | | | |
| --- | --- | --- | --- |
| Caserta-Cunningham "Mine!" | Rob Coster | Johnny Cunningham | Kevin O'Brien |
Broderick & Stulac Take Home CT Classic Men's Title
NOVEMBER 22, 2009
WEST HARTFORD, CT
In the Connnecticut Classic Men's Paddle Tournament, held Sunday, November15 in West Hartford, CT Drew Broderick & Mike Stulac defeated Jerry Albrikes & Johdn DuRandt to claim the title.
Lovejoy & Shea Wring Out Victory
ANN SHEEDY
NOVEMBER 15, 2009
WEST HARTFORD, CT
Even the remnants of Hurricane Ida couldn't dampen the enthusiasm of the 40 hardy competitors who played in the Connecticut Women's Classic. The weather was a bit of a tease with the rain diminishing for a time but always coming back with a vengeance. Fortunately, the competitors all seemed to bring enough changes of clothing so that at least for a few minutes they could be dry.
Green Mountain Open Hosts Men & Mixed
NOVEMBER 15, 2009
NORWICH, VT
The Green Mountain Open tournament, featuring both men's and mixed events, was held last weekend at the Norwich Racquet Club and the Woodstock Sports Center. Many thanks to tournament directors David Barlow and Todd Tyson.
In the Mens final Marc Porter and Peter Harvey Defeated Jamie Hayes and Keith Komline 6-2,6-3. In the mixed,Asa and Per Nilsson defeated Cynthia Knight and Trip Morse 6-4,4-6,7-6.
Below on left: (l-r) Komline, Hayes, Porter, Harvey. Below on right: Mixed finalits.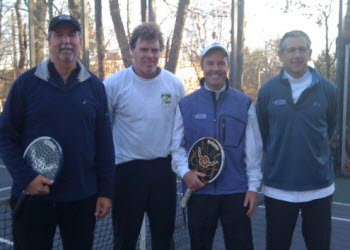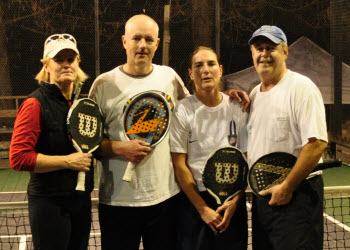 Albrikes-DuRandt Capture RI
NOVEMBER 2, 2009
WESTERLY, RI

Jerry Albrikes and Johan DuRandt defeated Alex Seiler and Naren Dhamodharen, 6-7, 6-1, 6-1 to capture the Rhode Island Men's, and some impprtant Region II President's Cup points, last weekend. The tournament was held at the beautiful Shelter Harbor Inn in Westerly.
Mixed Played on Glorious Island Day
OCTOBER 30, 2009
NANTUCKET, MA

This year's Nantucket Mixed Invitational was moved to Sunday due to a lousy forecast for Saturday. While the weather wasn't quite as bad a predicted, Sunday turned out the be goegeous and 14 teams joined the fun.
The championship title was won by Jessie Glidden and Luke Thornewill, who defeated Amy and Jai Stiga 6-4, 1-6, 6-2. In the Championship Reprieve Jong and Wendy Yang bested Margaretta Andrews and Tim Dugan 7-5, 7-6, and in the Consolation Maureen Reed and Tuck Meyer prevailed over Anne Lanman and Marsh Chambers 6-2, 6-3.
Region II on Facebook
OCTOBER 30, 2009
REGION II
Region II invites you to join their group on facebook .

Come Play in Nantucket
OCTOBER 12, 2007
NANTUCKET, MA
NANTUCKET PLATFORM TENNIS ASSOCIATION
23 SASAPANA ROAD
NANTUCKET, MA 02554
Nantucket Mixed Invitational – October 24th, 2009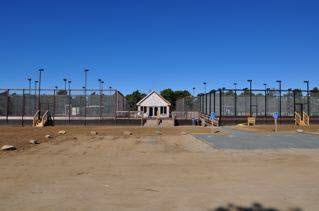 Welcome once again to the long-standing Nantucket Mixed Invitational Tournament! We hope that our old friends, as well as new players, will be able to come. Please consider coming to the island for this terrific weekend – there aren't many mixed events left, and ours is one of the best – great paddle, great company and great food!
This year we're trying something different – a one-day tournament. We have 4 courts now at our new location, and are aiming for a draw of 16 teams. The team entry fee includes continental breakfast and lunch at the courts on Saturday, and beer/wine/cheese on Saturday evening at the hut.
Because it can be difficult to get to the Island due to fog/uncertain weather, every player must be on-Island by Friday night to be eligible to play on Saturday . Failure by a team to show up for a scheduled match will result in that team being disqualified from the tournament (and we all know what that does to the entire draw!).
Registration forms and entry fees are due no later than Friday, October 16th . This applies to on-Island teams as well as our visiting players!
You will need a rental car, taxi or a ride from one of the local members to get to the courts. The telephone number in the hut is 508-228-5406. For questions about the draw/starting times, please contact Margaretta Andrews at 508-228-3767 (h), (508) 221-6776 (c) or margarettaandrews@comcast.net .
So...please get that registration in right away, get a group of paddle enthusiasts together, make reservations, and pack your gear for a great paddle weekend!