Region II News 2010-2011
Foye and Godiksen Win Essex (CT) Men's B Tournament
JAMEY BURNS
APRIL 23, 2011
ESSEX, CT

A little snow and a delayed start didn't slow down Michael Foye and Steve Godiksen as they won this year's Essex (CT) Men's B Tournament in early January. They defeated John Bauman and Rich Goldfeder 6-3, 6-2 in the finals. Earlier, three set matches were the order of the day in almost all of the brackets. In the semis, Foye and Godiksen eliminated Phil Johnson and John Cunningham 6-2, 3-6, 6-4 while Bauman and Goldfeder outlasted Dan Nash and Brad Hoffman 4-6, 7-6 (5), 6-4.
Cartier & Godikson, Morneau & Morneau Take Shoreline Classic Men's, Mixed
MARCH 30, 2011
WESTERLY, RI

Cartier and Godikson - Morneau and Morneau have captured the 2011 Shelter Harbor Inn's Shoreline Classic paddle tournaments. A great weekend March 26th and 27th of fun and paddle with perfect weather; and 14 men's teams and a remarkable 23 mixed doubles teams.
2011 Island B
MARCH 23, 2011
NEWPORT, RI

Congratulations to Dan McCormick and Steve Althamus for winning the Island B Men's tournament last weekend, and to all the winners and finalists.
Essex Wins Third Big Paddle
GEOFF CARTIER
MARCH 1, 2011
WEST HARTFORD, CT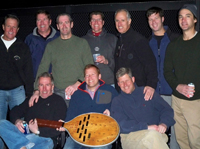 The Essex Platform Tennis Club won its third straight Big Paddle on Saturday. The interclub competition pits Essex against Shelter Harbor, Longmeadow, and the day's host, the Hartford Golf Club. Each club fields five teams who face off against each other in round robin play.
Denefrio & Rupley Win at Schuyler Meadows
FEBRUARY 26, 2011
LOUDONVILLE, NY

Hope Rupley and Carey Ann Denefrio (pictured) won the 2011 Schuyler Meadows Women's B by defeating the top seeds Simone Reynolds and Phyllis Kindelan 6-3, 6-2 in the finals.
Porter & DuRandt Capture Western New England
FEBRUARY 15, 2011
LONGMEADOW, MA
Matt Porter repeated as champion in the 21st annual Western New England Championships, teaming this year with Johan duRandt to take Region II's fifth and final President's Cup event of the season. The event was held at Longmeadow's Field Club on February 12, 2011. Porter and duRandt made relatively quick work of last minute entrants Mark Fischl and Anton Mavrin in the final, 6-3, 6-4. Although the final lacked some of the drama of others in recent years, that was in no way a reflection on the skills of the combatants, which were considerable.
Mother & Son Win the RI Mixed
FEBRUARY 8, 2011
WESTERLY, RI

Ten teams competed in the mixed tournament at the Shelter Harbor Inn on Nov 21. In the semi-finals Carrie Rabuse and her son Michael Montobano defeated Jim Dey and Leah Nero 6-3 7-6 and Duncan Welch and Amy Esterbrook defeated Peter and Ann Harvey 6-2 7-5. In the finals Carrie and Michael defeated Duncan and Amy 6-2 6-4. Peter and Karen Lyons beat Rob Gay And Leslie Haskins and third place was won by the Harveys over Dey and Nero.
Caputo & Cartier Capture Shoreline 95's
FEBRUARY 8, 2011
ESSEX, CT

Tom Caputo and Geoff Cartier defeated John and Matt Holmes in a hard fought match to win the Shoreline 95's at the Essex Paddle Tennis Club on Saturday. The weather cooperated for most of the day as Steve Heath and Ned Handy won the quarterfinal reprieve over Ross Smith and John Cunningham. Roddy Diotalevi and Phil Johnson won the Consolation over Fred Lyle and Ryan McGetrick. Tom Riggio and Brant Smith's victory over Tim Grimes and Phil Davis in the Consolation Reprieve rounded out a great day of paddle. Thank you to everyone who participated.
2011 New England Women's PCQ
FEBRUARY 5, 2011
SOUTH HAMILTON, MA

Congratulations to Ann Knoblock & Wendy Yang for their victory in the 2011 New England Women's PCQ, and to all the winner and finalists.
Complete Coverage
Anderson/Anderson Take New England in 3 Sets
JANUARY 26, 2011
DUXBURY, MA

Congratulations to the team of Anderson & Anderson for their vistory in the New England Men's B. They defeated Maxey & Smith in a 3 set final, 5-7, 6-1, 6-1.
Complete Coverage
2011 Madison Women's PCQ
JANUARY 26, 2011
MADISON, CT
Results
1st Meghan McMahon, Kitty Palmer
2nd Trish Bloom , Deidre Reddon
3rd Barb Coster, Betsy Bergstrom
4th Kate McGetrick, Ann Foye
5th Leah Nero, Heather Mahan
6th Paula Fazli, Carolyn Carolyn McCoy
7th Casey O'Brien, Sally Riggio
8th Liz McMahon, Gretchen Biggs
9th Kathy Kulig, Joan O'Connor
10yh Ann Harvey, Nuffie Murphy
Meyers & Holl Win Frigid Nor' Eastern
DAN McCORMICK, Tournament Director
CHARLES H. LEVERONI, Tournament Organizer
JANUARY 24, 2011
MARBLEHEAD, MA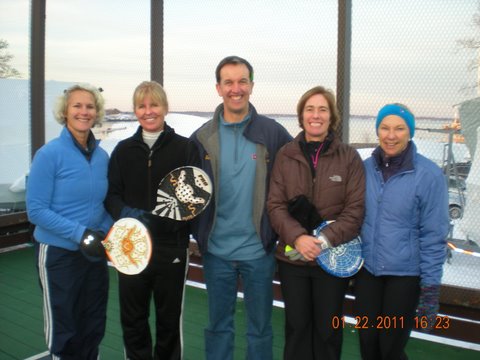 Thanks to all 15 teams for braving the mid-teen temps Saturday morning and competing in our 2nd annual event! Your participation made this a great day and there seemed to be a lot of smiles (frozen) on all your faces. So it looks like we'll do it again in 2012!
Congratulations to the well traveled West Hartford team of Hilary Meyers & Laurie Holl who won the 2011 Nor' Eastern(YC) Ladies "B Tournament over our own EYC member Nancy Bildner & her partner Sarah Merck 6-1, 7-5.
Complete Coverage
What do cheese, chocolate, ladies, wine and paddle have in common?
CHARLOTTE GILET
BOSTON, MA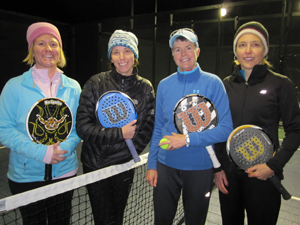 They and the tourney participants made for a really fun Boston Open this past Saturday!
I received an email from Chrissy Johnston from Pittsburgh in August asking for event info, followed by Ruth from Rochester's email – I thought holy smokes people are coming to the event and there isn't even an application yet! You all were a wonderful addition to the event and MUST come back next year (come on….you can stay at the Cougarville hotel and maybe next year you'll actually get invited to the wedding versus crashing?). And, my heartfelt thanks to the Region II participants like Mary Mayotte Ford who promised me last year to play this year if I'd just give her a darn glass of wine – she kept her promise. It's all about the people.
Complete Coverage
Doody & O'Connor Win Brae Burn Men's B
DECEMBER 15, 2010
WEST NEWTON, MA

Congratulations to the team of Matt Doody & Dave O'Connor for winning the 35th Brae Burn Men's B tournament. They defeated Dave Jenkins & Drew Sawyer in the final, 7-5, 6-3. Arnin Khadduri & Richard Blond won the Consolation. Mitch Rock & Jerry Sisitsky took the Last Chance. Bill Carbeau & Jed Gilfov prevailed in the Reprieve. Jay Brandeis & Bill Horne were victorious in the Quarter Reprieve.
Fun and Excitement Mark Pioneer Valley Men's 95+
ROB DURFEE
NOVEMBER 22, 2010
LONGMEADOW, MA

Once again, we had a great turnout for the 3rd annual Pioneer Valley tournament.
An accessible location in Longmeadow, MA, combined with the 95+ team age requirement, creates a fun and exciting mix of teams. The tournament drew players ranging in age from 40 to 66 from CT, NJ, NY & MA, with experience at the local club level to PCQ players and even a former national champion.
Complete Coverage
Dardis & Shay Claim CT Classic Women's NRT/PCQ
NOVEMBER 22, 2010
WEST HARTFORD, CT

The Connnecticut Classic Women's PCQ/NRT was held this past Saturday, November 20. It was the season's first east coast women's ranking tournament. Number 1 seeds Cynthia Dardis and Amy Shay took top honors, defeating Keri Flynn and Liz Jaffe in a 7-5, 6-4 final.
Complete Coverage
Seiler and Dhamodharin Win in Rhode Island
JIM DEY
NOVEMBER 22, 2010
WESTERLY, RI

We had 11 teams in the Men's Rhode Island Open on Saturday October 30, 2010. Seedings held up as #1 seed Alex Seiler and Nareen Dhamodharin beat Peter Harvey and Marc Potter #2 see 6-3, 6-4 in the finals.
In the semi's Porter and Harvey beat #3 seed Mike Fried and Steve Flanagan 6-3, 6-4 and Seiler and Dhamodha beat #4 seed Geoff Cartier and Steve Heath 6-3, 6-4.
The Reprieve was won by a new and exciting team Matt Porter and Carl Gregor over Rob Pierce and Bill Durfee 6-3 6-3. The Consolation was won by Jay Brandeis and yours truly Jim Dey over Phil Shanley and Andy Holberg 6-1 6-4.
2010 Green Mountain Open Men and Mixed
NOVEMBER 9, 2010
NORWICH, VT

Congratulations to the winners and finalists in the Green Mountain Open Men's and Mixed.
In the Men's Open, Jeff Morneau and Per Nilsson defeated Errol Natross and Don Jenkins 6-2, 6-4.
In the Mixed, Fritz and Sandra Odenbach defeated Jeff and Kate Morneau 6-1,4-6, 6-4.
Camp Birch Hill Hosts Men and Mixed
DAN McCORMICK
NOVEMBER 2, 2010
NEW DURHAM, NH

The Camp Birch Hill Open was hosted in beautiful New Durham, New Hampshire on October 23rd & 24th by Rich Morell camp owner & hands-on director.
The Men's draw featured past, current and future paddle greats from Region II and the doubles draw was every bit as competitive as the Men's.
Complete Coverage
Top Seeds take Oden Cox on Spectacular Day
ANN HARVEY
OCTOBER 23
WESTERLY, RI

Congratulations to number #1 seeded team, Tricia Bloom and Deirdre Redden!
It was a spectacular fall day and the paddle was equally spectacular. The winners defeated the #2 seeded team, Leah Nero and Barb Coster in the newly combined Oden Cox Memorial/RI Open PCQ held at the charming Shelter Harbor Inn in Westerly, RI this past Saturday.
Consolation winners Asa Nillson and Barbara Horne had a close match against Martha Hosp and Betsy Parot. The Quarter Reprieve was taken by Ann Harvey and Courtia Worth.
Full Coverage and Slide Show
Hall of Fame Museum Benefit Honoring Winnie Hatch
AUGUST 1, 2010
WEST HARTFORD, CT
Save the Date: Monday, October 4, 2010
Join us for a benefit at The Hartford Club honoring 2009 Hall of Famer Winnie Hatch. Proceeds to benefit the Platform Tennis Hall of Fame Museum. Complete Information