Region V News 2009-2010
Alan "Mr. Paddle" Graham Inducted into Hall of Fame
MARCH 17, 2010
CHICAGO, IL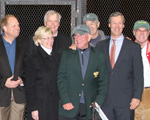 Alan Graham probably thought he was going to spend the evening at another great CPTC League Finals Night; watching the men's league play-off finals, having a burger and a beer, and socializing with his many paddle friends. What he didn't know was that he was about to be inducted into the Platform Tennis Hall of Fame, the sport's highest honor. More
Starlight Singles Championship
MARCH 15, 2010
CHICAGO, IL

If you play platform tennis in Chicago, you have probably received the invitation for the Starlight Singles Championship. Louis Jacobsohn and others have organized a singles tournament to support the Starlight Foundation. Starlight Midwest is a nonprofit dedicated to helping seriously ill children and their families cope with their pain, fear and isolation through entertainment, education and family activities. With league play wrapped up for the year, it's a great time to have a little spring fling and try out singles. Details
Enthusiasm Grows at the St. Louis Invitational
FEBRUARY 25, 2010
ST. LOUIS. MO

Lots of effort from enthusiastic locals, and an APTA exhibion and clinic, are spreading the fever for paddle in St. Louis and hellping to grow their Men's PCQ tournament.
Read the complete coverage of the 2010 St. Louis Platform Tennis Invitational.
3 Parts Bondurant and 1 Part Johnson in the Winner's Circle in Indianapolis
FEBRUARY 23, 2010
INDIANAPOLIS, IN

The 34th Annual Indianapolis Platform Tennis Tournament was a thrilling experience for both players and fans! IN the Open dividion, the team of Scott Bondurant and Mark Johnson pulled out a 3 set victory over Brian Heil and Denny English in the Final. Congratualtions also go to Heath and Snow (Consolation), Buttrick and Quinto (Last Chance), Hough and Noble (Quarter Reprieve) and Woldenberg and Sullivan (Reprieve). Bondurant also won the 95 Final with his brother Chip 3 in sets over Scott Pecor and Gary Feldman.
Extreme Cold Couldn't Deter 10th Annual Kansas City Men's Open
MARK FISCHL
JANUARY 19, 2010
KANSAS CITY, MO

Though it is gaining momentum, the brand identity of platform tennis in Kansas City ranks somewhere just above curling and perhaps a bit below horseshoes. Our friends stare in odd amazement as we explain that, on Tuesday nights, we tend to play our sport in shorts, preferably in near-freezing temperatures. They think we're nuts.
Complete Coverage & Slide Show
152 Teams Compete in Chicago Series Tournaments
JANUARY 18, 2010
CHICAGO, IL

Chicago may very well have set a record for participation in a 1 1/2 day event. 152 men's teams came out to play in the CPTC's annual "series" tournaments. This number of teams, just a little over last year's 145 teams, rivals the biggest national tournaments that draw from the whole country. Not shabby for a local league event.
These tournaments split players into tiers based on their league series. The top players are excluded because they have so many national level tournament options. The four tournament included: Series 4-6, Series 7-10, Series 11-14 and Series 15-18.
Congratulations to the winners:
| Series | Winners | Finalists | Score | |
| --- | --- | --- | --- | --- |
| 4-6 | Rowland-Rowland | Figora-Kinst | 6-2, 3-6, 6-2 | Full Draw |
| 7-10 | Casey-Lombardi | Gray-Pfisterer | 6-4, 6-1 | Full Draw |
| 11-14 | Hester-Lyons | Becker-Phillips | 6-4, 6-2 | Full Draw |
| 15-18 | Shookman-West | Higginson-McWeeney | 6-3, 3-6, 6-3 | Full Draw |
Mike Marino & Brian Uihlein Take 1st Hinsdale Title
DECEMBER 13, 2009
HINSDALE, IL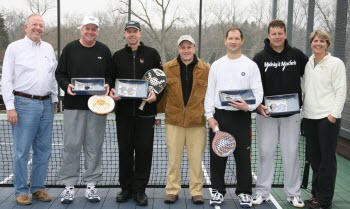 Plaftorm tennis has been exploding in Hinsdale, which is turning the corner from being the western frontier in Chicago's paddle scene to being a formidable center of play.
The first Men's Hinsdale Challenge, a new National Ranking Tournament and President's Cup Qualifier, drew a draw filled with top flight talent.
Complete Coverage, Photos and Video
(In photo l to r: Bill O'Brien, Scott Bondurant, Mark Johnson, Van Stapleton, Mike Marino, Brian Uihlein, Mary Doten)
Clarkson & Head Champs at IL Intermediates
NOVEMBER 29, 2009
CHICAGO, IL

The annual Illinois Men's Intermediates tournament was held November 21-22 at clubs across the North Shore of Chicago. The tournament restricts teams to pairings whose combined league series adds up to 4 or higher. While this keeps the top players from partnering up, the level of the tournament is still quite high. After all, the Chicago league has 18 series.
An interesting twist to this event is inclusion of three man teams. Any two partners can play together in any round, but the pair that starts a match together must finish it together. This gives an extra lift to a team that thinks they may not have the stamina to make it trough the rigors of an entire tournament. In practice,only one team signed up as 3, Fritzsche-Hasley-Landman, and they came home with the Consolation Reprieve title.
The main draw had nearly 64 teams and included a full complement of back draws. In the semis, 4th seeded Bice-Johnson defeated unseeded Kaspers-Kaspers 6-4, 6-3 and number 2 seeds Clarkson-Head moved past 6th seeded Baccich-Rowe 7-6, 7-5. In the finals Clarkson-Head pulled through in a close 3 setter, 6-3, 6-7, 7-6.
Back draw winners:
Consolation: Clingan-Walker
Reprieve: Flagstad-Graves
Quarter Reprieve: Jacobsohn-Whipple
Consolaton Reprieve: Fritzsche-Hasley-Landman
Last Chane: D'Alise-Lombardi
Full Draws (Excel)
2009 Chicago Platform Tennis Charities
NOVEMBER 5, 2009
GLENVIEW, IL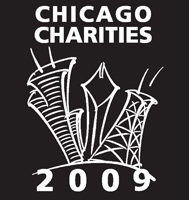 The draws are out, the players are arriving, and the perennially popular Chicago Platform Tennis Charities is under way. As the weekend progresses, we'll let you know what's happening and who's winning, and will give you some photos to share the action.
Full Coverage
Engel & Martin Win Milwaukee Men's
OCTOBER 28, 2009
MILWAUKEE, WI
In the Milwaukee Men's Open, a perennial favorite in the region, Marty Engel and Wade Martin took the title in a 3 set final over Nate Parsons and Dane Schmigdall, 7-6, 4-6, 7-5.
Full Coverage
Doten & Schwartz Take Milwaukee Women's
OCTOBER 25, 2009
MILWAUKEE, WI
The Milwaukee Open is always a great start to the midwest's season of NRT/PCQ tournaments. This year 14 women's teams competed in an an extremely stong draw. The majority of the teams hailed from Chicago, and many of them warmed up the previous day playing league matches. Unfortunately, both that warm up day and the day of the tournament were wet. It was just plain raining for the early rounds, and the hut took on the feel of a laundromat with all the clothes hung up to dry. But the weather didn't dampen the positive attitudes of the players, and the weather cleared fr the later rounds.
Full Coverage
Junior Jamboree Energizes Chicago
OCTOBER 22, 2009
CHICAGO, IL
The 2nd Annual Chicago Junior Paddle Jamboree went off without a hitch on a gorgeous Sunday. Three clubs, over 165 children, and 14 PPTA pros came together for a fun filled afternoon of paddle. More
The Junior Jamboree Returns to Chicago
OCTOBER 13, 2009
CHICAGO, IL
There's still time to sign up for the 2nd Annual Chicago Junior Jamboree on Sunday, October 18. Registration closes Friday, October 16.
Host clubs this year include Exmoor, Lake Bluff, Winnetka, Sunset Ridge, Evanston, Saddle & Cycle and Hinsdale PD.
The event is free and open to anyone aged 7-18. Juniors are invited to come and learn basic skills, history and evolution of the game, and be introduced to the best outdoor winter activity going.
Activities will be supervised by local PPTA pros and many volunteers.
Prizes, favors, food, drinks and raffle awards will be givn out at all sites.
For more information, contact:
SARAH WILLIAMS at miamimerger@sbcglobal.net
JEAN KEMPNER at Jean.Kempner@evanstongolfclub.org
ALAN GRAHAM at alangr33@comcast.net
NATE PARSONS at pptan8@yahoo.com
Premier Cup Results
OCTOBER 10, 2009
NORTHFIELD, IL
Check out detailed results from the Premier Cup tournament.
Fifth Annual Premier Cup Tournament
JASON GRAY
SEPTEMBER 30, 2009
NORTHFIELD, IL
The 5th Annual Premier Cup is set to take place at Sunset Ridge Country Club in Chicago on October 10th & 11th.



Sunset Ridge boasts one of the nicer Platform facilities around and is proud to be this year's host which has the strongest field to date.
www.sunsetridgecc.org
2100 Sunset Ridge Rd Northfield, IL 60093-1063
(847) 446-5222
Saturday's round robin play will start @ 9 AM and Sunday's placement matches will begin @ 10 AM.
Peter Berka, Director of Racquet Sports at Sunset Ridge along with Jason Gray and tournament sponsors Premier Platform Tennis and Wilson Racquet Sports are proud to announce this year's field and invite all Platform enthusiasts to be apart of the exciting action throughout the weekend!

The group pairings will be officially announced Friday, October 9th at the official draw party to be held at the Wilson Global Headquarters.
1.Scott Mansager/Chris Gambino
2.Steve Derose/Jon Lubow
3.Mike Cochrane/Mike Stulac
4.Mike Marino/Brian Uihlein
5.Denny English/Brian Heil
6.Brian O'Connoer/Drew Broderick
7.Peter Berka/Drew Eberly
8.Scott Bondurant/Mark Johnson
Along with the event, the APTA will be organizing an evening of clinics and an exhibition at Salt Creek Country Club in an attempt to help promote and grow the game and help promote this year's event on Friday, October 9th .

For more info on the event at Salt Creek please contact the APTA and for the Premier Cup please contact Jason Gray( FBRacquetSports@hotmail.com ) or Peter Berka( PBerka@SunsetRidgeCC.org ).
Salt Creek Club Installs Courts
JUNE 23, 2009
HINSDALE, IL
Construction is in full swing at Salt Creek Club. From all signs, Jim Garber is doing a magnificent job on the pavilion. Reilly Green Mountain have put together the first of four courts.
Going into the fall, there will be even more people playing paddle in Hinsdale. The SCC will field 3 or 4 league teams, transferring players from the over-crowded courts at KLM. Hinsdale Park District teams will have a few more home matches next season.

100 Chicago Ladies Play in Summer League
JUNE 18, 2009
WINNETKA, IL
Chicago has already staked out territory as one of the biggest leagues in the regular season, and now the ladies of the Chicago area are expanding into the summer.
Joanne Lurie of the Winnetka Platform Tennis Club and Carol Iseberg of Tennaqua have put together a loose and easy summer league. They expected a few dozen women at most, but by the enrollment deadline 100 women had signed up. They were pleasantly astonished at the turnout. It had not really occurred to them that they would have to turn people away.
The league has several attractions, not the least of which is that there is no charge. The clubs are allowing the play for free as long as at least one player in a group is a member. Players supply their own balls.
Teams were formed across clubs and include players of various levels. Each team has 8-10 players, of which 6 play each week. Match times and locations are determined by each group of players. It's a very easy going structure only possible in the summer, when court time is not an issue. But who knows, maybe the Midwest is at the vanguard of a trend to take paddle to a year around calendar.

Chicago summer league players (l-r) Amy Rogers, Joanne Lurie (organizer) and Steph Kozak