EFCC/MGC Junior Open

APTA Official Sponsor: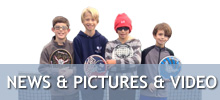 2022-2023
APTA Junior Tour
Region I
Date:
Sunday, January 8, 2023
Location:
Essex Fells, NJ
Essex Fells & Montclair Golf Club (Host Clubs)
Contact:
Sven Burus
sburus@efcc1896.com
347-781-6388

Entry:
Online Entry
All players need to be APTA Junior members.
Join the APTA
Entry Fee:
$120 per team
Entry Deadline:
January 5, 2023
Details:
Boys 12U, Boys 15U, Boys 18U, Girls 12U, Girls 15U, Girls 18U
Age on October 1, 2023 determines age group placement.
More Details:
Start time 9am.
Entry fee covers favor, snacks, balls, drinks and prizes for winning teams.
No refunds after 1/5/23 for any reason. This event will be played rain or shine (or snow). In the event of a major weather incident (like a blizzard), we may need to reschedule for a future date.