2008 APTA Nationals
APTA Nationals
Download the Results (in Microsoft Excel format):
Men's
Women's
PHOTOS BY TRENT WELLOTT
MARCH 13-16, 2008
ROCHESTER, NEW YORK
The Nationals Committee arranged for two professional photographers to attend the events in Rochester, New York. They took some marvelous shots and had these available to be printed at Pictage, an on-line photography site, through June 2008.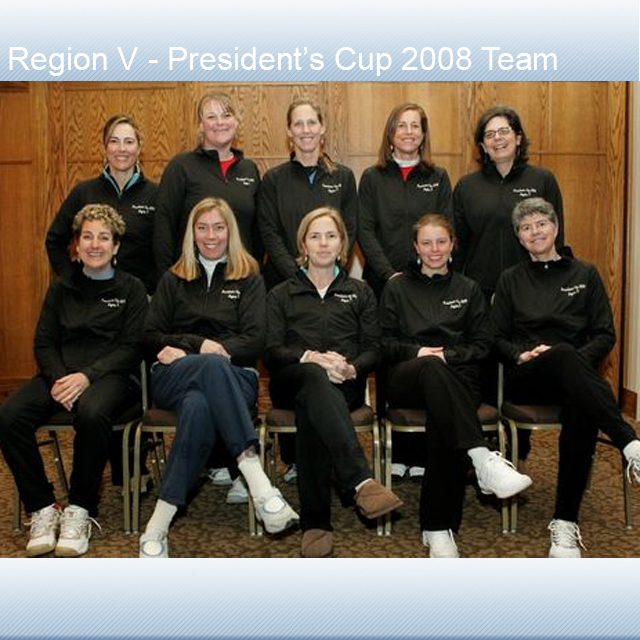 JEAN KEMPNER
MARCH 9, 2008
CHICAGO, ILLINOIS
Top seeds Flip Goodspeed and Scott Mansager took the 45s victory without losing a set. The Hall of Fame inductees beat fourth seeds Rob Pierce and Leo Power in the semis, 6-3, 6-3, and then second seeds Scott Bondurant and Bill Fiedler in the finals, 6-2, 6-3.
Pictured: 45s Champions Flip Goodspeed and Scott Mansager with finalists Scott Bondurant and Bill Fiedler

Pictured: Consolation Finalists Dan Williams and Dave Polayes with Consolation Winners Ray Murphy and Mike Sullivan.

Pictured: Quarter Reprieve Finalists John Hough and Scott Estes with Quarter Reprieve Winners Steve Kendall and Peter McNitt

Pictured: Last Chance Winners Steve Izzo and Bennett Weiss with Finalists Tom Buerger and Tom Omundson.

Pictured: Tournament Directors Jean Kempner (winner 55s), Howard Sipe, and Alan Graham (finalist 65s).

Second seeded team of Jean Kempner and Jim McNitt took the 55s draw, beating Don Campbell and Jay Stanley in the semis, 6-2, 6-3, and defeating top seeds Steve Baird and Hank Irvine in the finals, 6-3, 6-2.
The unseeded team of Jim Bishop and Mike Hanna took the 65s draw by storm, beating Hank Irvine and Howard Sipe in the quarters, defeating top seeds Dey and Spears in the semis 6-4,3-6,6-2 and defeating Alan Graham and Stu Opdycke in the finals, 6-2, 3-6, 6-3.
APTA Mixed Doubles Nationals
MIKE GILLESPIE
MARCH 2, 2008
NEW CANAAN, CONNECTICUT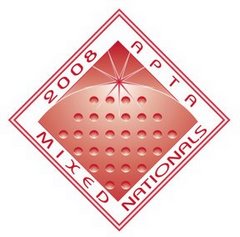 Judging by the amount of silverplated platters they took home, you would think that newlyweds Kerri Delmonico and Mike Stulac of New York City registered at New Canaan's That Personal Touch on Main Street. Delmonico and Stulac, who were married this past year, pulled off a rare double feat earlier today, winning two national platform tennis championship in a single weekend. On Friday afternoon, they won their first National Husband-Wife Championship, defeating Tonia and Tim Mangan of Bayville, NY, by a score of 6-1, 6-3. Two days later they won their first Mixed Doubles Open title, defeating three-time winner Cindy Prendergast of Wilmington, DE, and her partner, Canadian Rusty Wright, also in straight sets, 6-3, 6-2.
It was an exciting weekend of platform tennis in New Canaan as the three-day event drew 188 players from across the country, traveling from as far away as Michigan, Illinois, Ohio, Pennsylvania, Delaware, Vermont, Rhode Island, and even Canada, in addition to several teams from the tri-state region.
As a testament to the widening popularity and growing competition in platform tennis, there were two big upsets in the main draw. In the third round, the No.1-seed, four-time winners and this year's defending champions Bobo Delaney and John Milbank were ousted by the duo of Sandra Krusos and Randy Vigmostad of Long Island, 7-5, 2-6, 7-5. Krusos won two NCAA Division I singles tennis titles while at Stanford University. Vigmostad, another former collegate tennis player at the University of Arizona, played professionally on the men's tour. Another major surprise occurred in the quarterfinals of the tournament when the No. 2-seeded team of Aila Main and Mike Cochrane were upset by Kelly van Calcar and Mark Ruppert, 7-5, 3-6, 6-4.
Among the many local teams competing in the championships, New Canaan's Meg Brossy paired with Juan Arraya of Greenwich and scored a very impressive win over reigning men's national champion Scott Estes, Jr., who partnered with his sister Jill Feher, in the third round. Brossy and Arraya played one of the most exciting matches of the tournament in the next round, being narrowly edged out by Krusos-Vigmostad, 7-6 (6), 7-5.
The 2008 National Mixed Doubles Platform Tennis Championships was made possible through the cooperation of the Country Club of New Canaan, the New Canaan Field Club, the Lake Club, Wilton Riding Club, Woodway Country Club, and the Town of New Canaan, who all generously contributed the use of their courts and facilities for the tournament.
APTA Men's Doubles Nationals 50s, 60s, 70s, 145s
BOB BROWN
FEBRUARY 24, 2008
SCARSDALE, NEW YORK
The 2008 Platform Tennis Senior Nationals for age categories 50+, 60+, 70+ and 145+ (combined ages) were contested over the four day weekend February 21-24, 2008. The 145+ event was held at Sleepy Hollow Country Club, chaired by Rich Lombard, and the other three events were held at the Fox Meadow Tennis Club in Scarsdale chaired by Bob Brown and Paul Doyle.
The 50+ event was won by Bob Kleinert, from Franklin Lakes, NJ, and Jim Kaufman, from Greenwich, CT, in straight sets, 6-4, 6-2 over the top seeded team of Tim McAvoy from Phoenixville, PA and John Stefanik from Newtown Square, PA. In the 60+ event, Gary Cochrane from Scarsdale, NY and Tom Caputo, Greenwich, CT reached the finals, losing to the defending champions, Scott Estes, Chatham, NJ and Dan Galves from Savannah, GA, 6-0, 6-3. In the 70+ event, Bill Childs, Dorset, VT and Rich Lombard from NYC, defeated Roy Anderson and Bob Callaway both from Rowayton, CT. In the 145+ event, Childs and Lombard repeated, winning the final over Bob Brown of Scarsdale and George Lynch from Woodstock, VT.
For the first time in many years, the weather was a factor, as the snow storm on Friday, February 22, caused the cancellation of the 60+ tournament and postponement to Sunday, February 24. Most of the teams were able and willing to accommodate the change in schedule and the event was successfully completed in one day.
Over the extended weekend, some stellar platform tennis play was witnessed by small but enthusiastic audiences, especially in the final of the 50+ championship.
Photos provided by Bob Brown
Pictured: Bob Brown; John Stefanik, Tim McAvoy (50+ finalists); Jim Kaufman, Bob Kleinert (50+ winners); Paul Doyle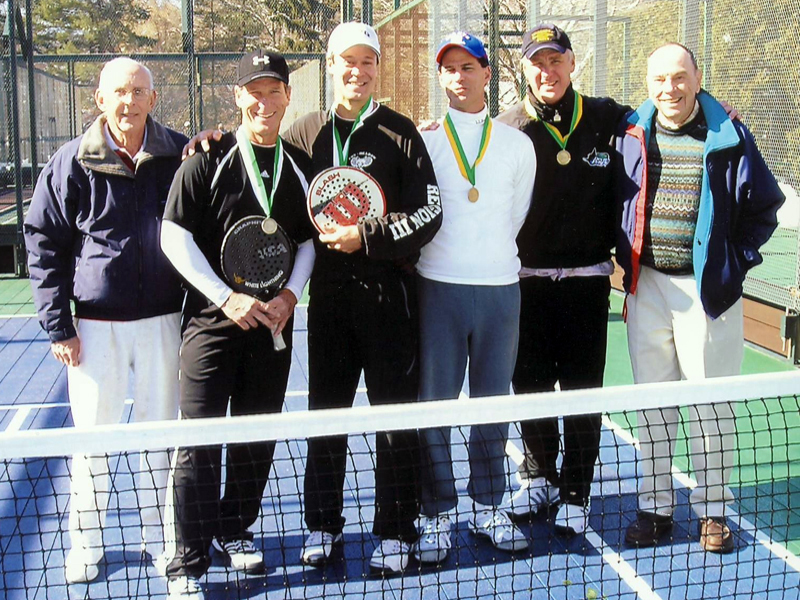 Pictured: Scott Estes, Dan Galves (60+ winners); Tom Caputo, Gary Cochrane (60+ finalists)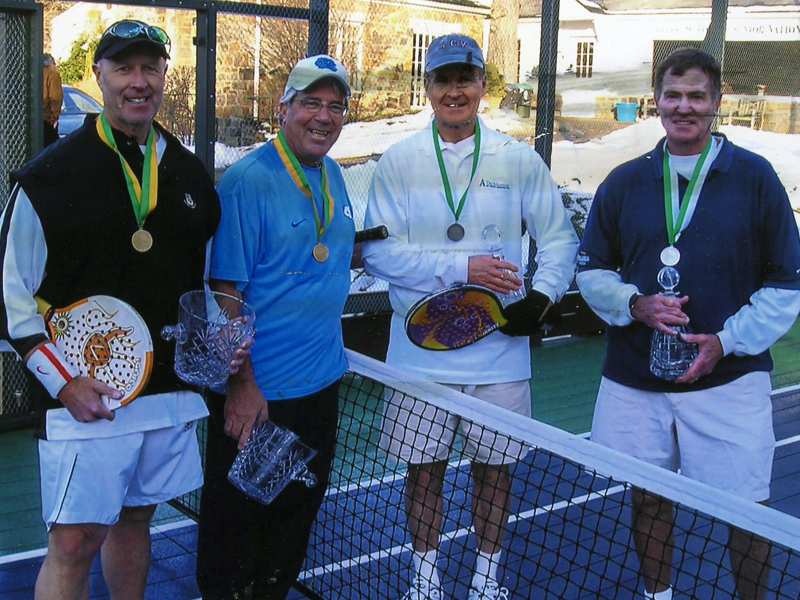 Pictured: Bill Childs, Rich Lombard (70+ winners), Roy Anderson, Bob Callaway (70+ finalists)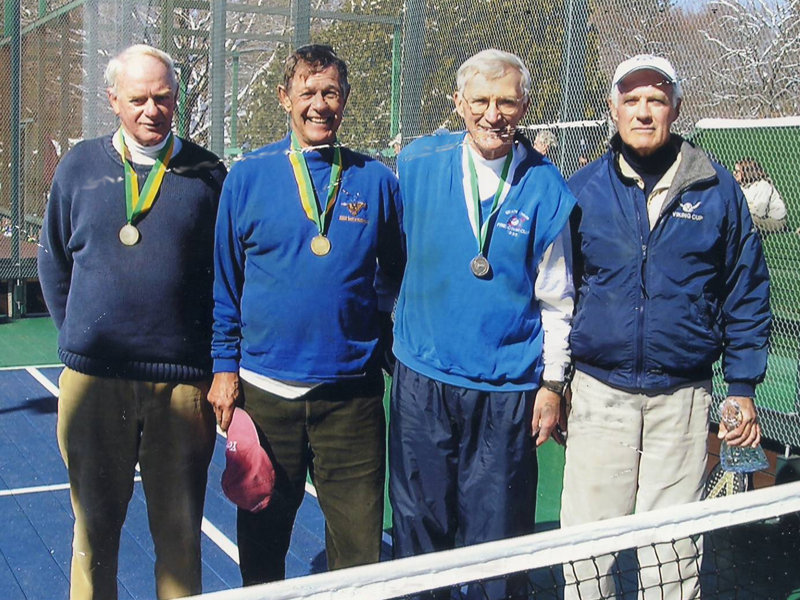 Pictured: Bill Childs, Rich Lombard (145s winners); George Lynch, Bob Brown (145s finalists)