Johan Laver and Cory Hubbard Win First Men's PTI Regionals
March 9, 2022
Bronxville, NY
Tournament Director Nick Bergman writes: The APTA Eastern Men's PTI Open Regional Championships, a qualifier for Nationals, was a huge success! They were held in New York at Siwanoy Country Club and Fox Meadow Tennis Club on Saturday, March 5.
After some teams moved from the draw directly into Nationals (due to ranking points), there were 18 teams left to battle for the final two spots. Five states were represented in the draw. Perfect weather and tons of great players made for a really fun tournament.
In the end, the final two teams had an exciting three-set battle to decide the winners. Neither team had many ranking points and the only way into Nationals would have been by getting this far. Both teams earned their spots at Nationals.
Winners Johan Laver and Cory Hubbard (Connecticut) defeated Russell Benkaim and Russell Taylor (Maryland) 6-2, 3-6, 6-1.
The APTA thanks Tournament Director Nick Bergman, host Siwanoy Country Club, Pavle Jefferson and Fox Meadow Tennis Club for co-hosting and a great big thank you to all the players for coming.
RESULTS
Main Draw: Cory Hubbard/Johan Laver def. Russell Benkaim/Russell Taylor, 6-2, 3-6, 6-1
Quarter Reprieve: Willen Feygin/Will Persson def.John Saager/Win Wharton, 5-7, 7-6, 6-0
Consolation: Milo Johnson/Bruno Santarelli def. Trey Meyer/Tim Stonecipher, 6-3, 6-4
Consolation Reprieve: David Papis Elon/Chari van der Merwe def. Vasil Surduk/Daniil Tarantinov, Default
Last Chance: Mathias Degardin/Valentin Mounoto def. John Pallotta/Colin Sacco, 3-6, 7-5, 6-4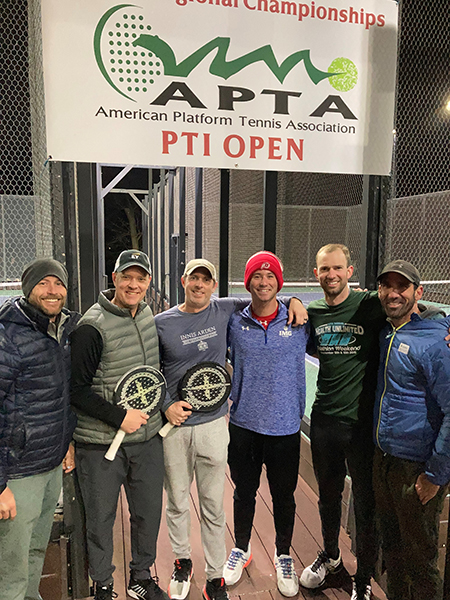 L to R: TD Nick Bergman, Winners Johan Laver/Cory Hubbard, finalists Russell Benkaim/Russell Taylor, pro Pavle Jefferson