2022 Boston Open Recap
January 27, 2022
Weston, MA
2022 Boston Open Women's Grand Prix Final Results (doc), (pdf)
2022 Boston Open Men's Grand Prix Final Results (doc), (pdf)
The Boston Open Men's and Women's Grand Prix boasted of the strongest draw of the season, with 18 of the top 20 women and all top 20 men making the trip. Frigid temperatures on Saturday morning created rock balls. Sunday was slightly warmer. Host Weston Golf Club brought in surround seating bleachers with heaters, perfect for the die-hard fans dug in for the entire weekend.
WOMEN
Undefeated on the APTA TOUR this season, Florentina Hanisch and Ana Marija-Zubori (1) were definitely the favorites to win but many teams played exceptional paddle in the fight to the final. The draw was packed; case in point a round of 16 match with Amy Shay and Jolene Sutter against former Boston Open champions Jade Curtis and Martina Ondrejkova. Shay/Sutter have worked well together this year and moved on, only to lose in the quarterfinals to 2020 National Champions Macie Elliott and Marcela Rodezno (4). All four top seeds made it to the quarterfinals, but unseeded Roxy Enica and Gabi Niculescu brought firepower against Annica Cooper and Myrthe Molenveld (2) to move on. Kerri Delmonico and Lauren Gebbia (3) fought hard in their win against Alison Morgan and Charlotte Sikora, and Hanisch/Zubori won against Jessica Guyaux and Jaclyn Williamson.
Both semifinals were 6-3, 6-3. Enica/Niculescu and Hanisch/Zubori prepared for Sunday's final. The women played between the men's semifinals and final. The stands were filled with over 200 spectators who may not have known what was coming—one of the strongest matches in the women's game. This was Enica and Niculescu's first tournament the entire season. Enica and Niculescu are both known for their highly effective overheads and they used them to keep their opponents constantly off balance. Hanisch/Zubori, known for an excellent team dynamic, put on a great show. Enica/Niculescu won the first set 6-2 but couldn't close out the tiebreaker in the second set. No one left the stands for the third set—crushing forehands, smart screen work, both teams working in sync—but it was Hanisch/Zubori who closed it out at 7-5 for the title.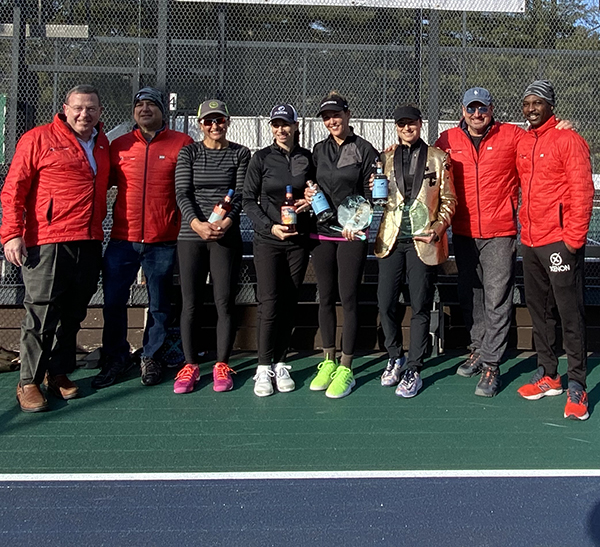 L to R: Sponsors Disciplined Alpha LLC, Finalists Gabi Niculescu and Roxy Enica, Winners Florentina Hanisch and Ana Marija-Zubori, Tournament Director Tomas Christian and Genius Chidzikwe
MEN
The round of 16 at the Boston Open, from a 32-team field, tested the mettle of some very hot teams. Drew Broderick and Tomas Christian handled the fifth-ranked midwestern duo Tyler Fraser and Adam Morgan; Sven Burus and Mikk Irdoja (4) cut it close in their victory over Ned Levin and Ilya Mandel, Juan Arraya and Mark Parsons (3) won with two breaks over Philadelphians Scott Falatek and Vlatko Najdek. The only three-setter was a war between Filip Rams and Mike Wagner against Scott Kahler and Nathan LeFevre—Rams/Wagner won 6-4, 4-6, 7-5.
The quarterfinal matchups were interesting. John Hughes and Marc Powers—three-peaters at the Boston Open—lost their chance at a title to Broderick/Christian. Burus/Irdoja were defeated by the young, animated team of Chris Humphreys and Felipe Osses-Konig. Arraya/Parsons and Johan du Randt and Stephen Mitchell won confidently over Rams/Wagner and Brian Compton/Graham McNerney, respectively. The men's semifinals were short and sweet, with du Randt/Mitchell and Broderick/Christian heading into the finals.
Broderick/Christian have played together in four tournaments this season—this is their second final after the Atlantic Classic. Du Randt/Mitchell definitely have great synchronicity, but Broderick is known for his ability to extend points, and Christian's speed and patience complemented his more experienced partner. After splitting sets in almost three grueling hours, day turned into night, and the third set began with a surprising new strategy by du Randt/Mitchell—end the points quickly any way possible. The last set was over in 18 minutes, with du Randt/Mitchell winning, 7-6, 6-7, 6-1.
The APTA thanks the Tournament Directors Drew Sawyer and Genius Chidzikwe, APTA Tour Director Jackie Cameron, Live Streaming Co-Chair Anne Waldron, the ENet crew, host Weston Golf Club, and the Belmont Hill Club, Brae Burn Country Club, Concord Country Club, The Country Club, Dedham Country and Polo Club, Nashawtuc Country Club, Wellesley Country Club, and Winchester Country Club for their hospitality, the commentators, the many volunteers, the hundreds of fans, the local sponsors Disciplined Alpha LLC, Worcester Air, Narragansett and Bully Boy Distillers, everyone who donated to Good Sports, and all the competitors from near and far.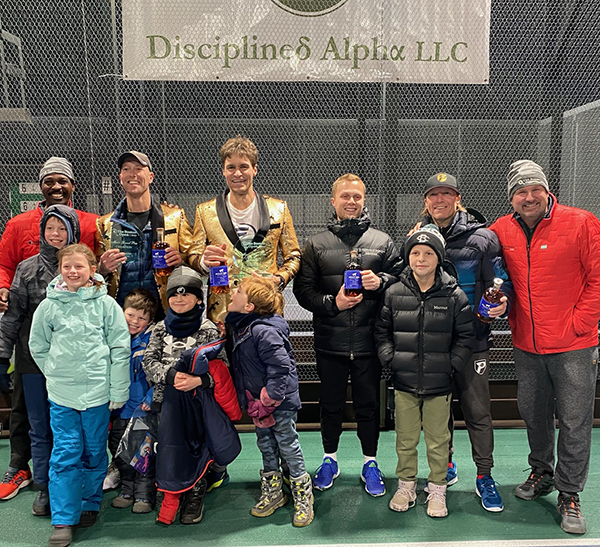 L to R: Tournament Director Genius Chidzikwe, Winners Stephen Mitchell and Johan du Randt, Finalists Tomas Christian and Drew Broderick, Tournament Director Drew Sawyer, Front Row is family