Ricky Heath and Pete Rose Best at APTA TOUR Bourbon Ball
February 7, 2022
Louisville, KY
2022 Bouron Ball Men's NRT Final Results (doc), (pdf)
The Bourbon Ball joined the APTA TOUR this year, reminding everyone that Kentucky is a fun place to play the game! Unseeded Ricky Heath (Carmel, IN) and Pete Rose (Winnetka, IL) won the 28-team draw, defeating the first and third seeds on their way to the final against unseeded Mitch Granger and Alex Lambropoulos (Lake Forest, IL).
Thank you to Tournament Directors Tyler Owens and Edwin Lewis, host club Louisville Country Club, Louisville Boat Club, and Big Spring Country Club for their courts, the volunteers, the fans, and all the players who competed well!
Thank you to sponsors Jefferson's Bourbon, Land Rover, What Chefs Want!, and Xenon Paddle for your support.
RESULTS
Main Draw: Ricky Heath/Pete Rose def. Mitch Granger/Alex Lambropoulos, 6-3, 6-2
Quarter Reprieve: Zach Held/Brad Smith def. Ben McKnight/Vukasin Teofanovic, 7-5, 6-1
Reprieve: Niclas Nilsson/Claes Persson def. Dan Hansen/Joe Koebele, 6-2, 6-1
Consolation: Mark Barry/Klint McEnery def. Jonathan Cantwell/Peter Hammond, 6-0, 6-1
Consolation Reprieve: Kyle Bates/Nick Isaacs def. John O'Bryan/Davin Sederquist, 6-1, 6-1
Last Chance: Bruce Hungerford/Brett Lynch def. Jeff Gips/BJ Koval, 6-0, 6-0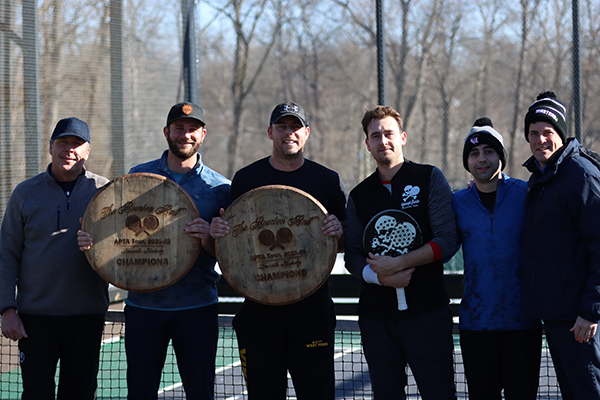 L to R: TD Tyler Owens, Winners Pete Rose/Ricky Heath, Finalists Mitch Granger/Alex Lambropoulos, TD Edwin Lewis (Photo Credit: PassingShotPhotography)