Geoff Cartier and John Paternoster Shine at CT Shoreline 95+
January 25, 2022
Essex, CT
Tournament Director Brent Dickman writes: The 2022 Connecticut Shoreline Men's 95+ held on Saturday, January 22, at the Essex Platform Tennis Club, was a great success. Participants from seven different paddle clubs had combined team ages ranging from 96 to 123 years old. Sportsmanship was tremendous as well. The only major controversy was a dispute at the end of the day over which team was the oldest. We may never know for sure; but unofficially, the title goes to a team of elderly gentlemen from Stonington COMO.
Throughout the day, opponents of Geoff Cartier and John Paternoster were heard saying 'the match was way closer than the score indicates.' Alas, Cartier/Paternoster, out of Essex, could not be stopped. They beat formidable opponents Matt Arciero and Aram Buldoc, from the Suffield Country Club, in the semifinals. Meanwhile, Kevin Joyce and Brent Dickman bested Bryan Adinolfi and Glenn Marshall in a long, grueling battle in the other semifinal. Cartier/Paternoster prevailed over fan favorite Kevin Joyce and partner Dickman to once again claim the championship title.
The consolation final was an all Longmeadow, MA, affair. Mike Shields and his partner Jonathan "Spence" Spencer prevailed in a three-set battle over the team of Larry Eagan and Steve McKenna. After falling to Adinolfi/Marshall in the quarterfinals, Glenn Ufland and Phil Johnson (Guilford, CT) went on to win the quarterfinal reprieve. The other Phil Johnson (Rhode Island) and his partner Dan Stanton were champions of the consolation reprieve.
The APTA thanks Tournament Director Brent Dickman, the Essex Platform Tennis Club, the volunteers, and all the players for competing well.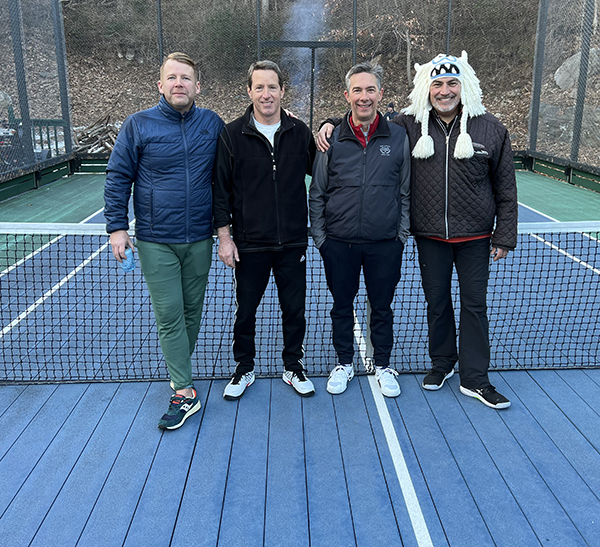 L to R: Winners Geoff Cartier/John Paternoster Finalists Brent Dickman/Kevin Joyce.