Nathan Crick and Marc Powers Sharp at Charlotte Men's NRT
January 11, 2023
Charlotte, NC
Director of Racquets at Olde Providence Racquet Club Tim Buwick writes: A picture-perfect seasonably warm day greeted players from three regions competing in the Charlotte Men's Open NRT on Saturday, January 7th. Olde Providence Racquet Club was the host site for the fourth annual event, which featured a draw of 20 teams vying for the Mehmet Varinli Memorial Championship Trophy.
As expected, the number one and two seeds met in the final, yet with an unexpected twist. Tommy Beecher was a last-minute replacement for Claes Persson, who came down ill. Nic Nilsson and Beecher advanced to the final, where they met the dominant duo of Nathan Crick and Marc Powers. Crick/ Powers cruised to victory, 6-1, 6-1, to take the title.
Teams traveling north on I-85 from Atlanta had a strong showing in the tournament. The pairing of John Harden and Anthony Palmenter and Peter Lauer and Bob Stratton both made the semifinals of the main draw, while Tyler Droll and Andrew Mellow won the Quarter Reprieve. MacKay Drake and Mark Morneau took the Consolation bracket.
With court expansion approved for 2023 at Olde Providence Racquet Club, look for a bigger and better event next year. Special thanks to Sugar Creek Brewing Company, Potbelly BBQ, and Wilson Sporting Goods for satisfying the festive crowds at this year's CLT NRT.
The APTA thanks Tournament Director Tim Buwick, the staff at OPRC, volunteers, and all the players for a great NRT event. For complete results, go to Live Scoring.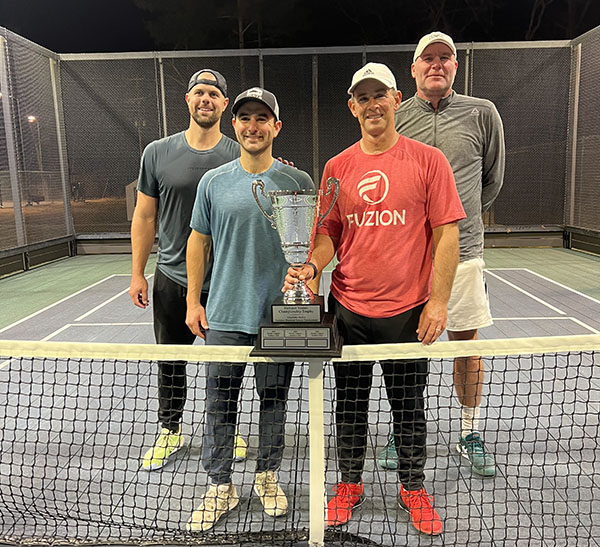 L to R Finalist Tommy Beecher Winners Marc Powers Nathan Crick Finalist Nic Nilsson