Chicago Charities Grand Prix Recap
November 5-7, 2021
Golf, IL
2021 Chicago Charities Women's Open Final Results (doc), (pdf)
2021 Chicago Charities Men's Open Final Results (doc), (pdf)
Last year, Illinois was on lockdown. This year, teams from all over the country competed against each other for prize money, APTA Cup points, and just because the world was open again.
The Chicago Charities history of donating part of the proceeds to a charity was enhanced by the offering of the largest purse on the APTA TOUR.
WOMEN
The women's tournament started on Friday, November 5, with 48 teams competing at host Glen View Club, North Shore Country Club, Prairie Club, Skokie Club, and Winnetka Platform Tennis Club. In the quarterfinals, all of the top eight seeds qualified and the top four seeds won in two sets. On Saturday morning, with sun adding some challenge, both semifinals were long, intense, athletic paddle battles. 2021 National Champions Florentina Hanisch and Ana Marija Zubori (1) needed the third set tiebreaker to defeat 2020 National Champions Macie Elliott and Marcela Rodezno (3), 7-5, 2-6, 7-6 (7-3), to move on to the finals. New pairing Martina Ondrejkova and Wendy Shpiz (2) defeated Jessica Guyaux and Jaclyn Williamson (4) in the other semifinal battle.
In the final, Hanisch/Zubori, who had won their first APTA TOUR event a week earlier at The Witch, played confidently, going for big serves and pressuring from the net. In end, they had more weapons than Ondrejkova/Shpiz to win, 6-3, 6-3.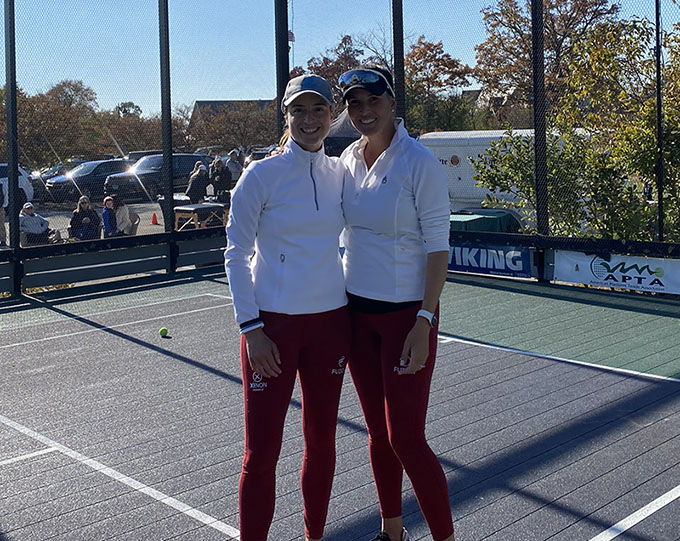 Winners, Ana Marija Zubori and Florentina Hanisch
WOMEN'S RESULTS
Main Draw: Florentina Hanisch/Ana Marija Zubori def. Martina Ondrejkova/Wendy Shpiz, 6-3, 6-3
Quarter Reprieve: Amy Shay/Jolene Sutter def. Alison Morgan/Alice Tunaru, 6-3, 6-3
16 Reprieve: Vic Cran/Lindsey Herchel def. Svetlana Schroeder/Shawna Zsinko, 6-2, 6-2
2nd Round Consolation: Olivia Fraser/Marie Matrka def. Sari Hirsch/Lisa Korach, 6-3, 6-1
1st Round Consolation: Emily Heinlein/Kristin Kranias def. Jill Mark/Cassie Rose, 7-5, 6-2
Last Chance: Nichole Humphrey/Sarah Troglia def. Eileen Grant/Marcia Kenner, inj. def.
MEN
In a 69-team draw (only Tournament Director John Nobles would welcome such an odd number), the men competed on the courts at host Glen View Club, Evanston Golf Club, Exmoor Country Club, Indian Hill Club, Lake Shore Country Club, Prairie Club, Skokie Country Club, Sunset Ridge Country Club, Westmoreland Country Club, Winnetka Platform Tennis Club, and the Winter Club.
The closest match in the round of 16 was Filip Rams and Mike Wagner (8) versus Drew Broderick and Tomas Christian (9), 7-5, 7-5. Chris Humphreys and Felipe Osses-Konig (11) battled John Hughes and Marc Powers (2) in the last quarterfinal match of the day, 3-6, 6-0, 6-3. In other quarterfinal action, Brian Compton and Graham McNerney (6) dispatched Sven Burus and Mikk Irdoja (3), 6-4, 6-0, Juan Arraya and Mark Parsons (4) held off Tyler Fraser and Adam Morgan (5), 7-5, 6-4, and Johan du Randt and Stephen Mitchell (1) defeated Rams/Wagner, 6-3, 6-3.
Sunday morning, the crowd witnessed two fabulous fast-paced, semifinal match ups. Compton/McNerney held off a second set tiebreaker over Humphreys/Osses-Konig, 6-2, 7-6, and Arraya/Parsons turned the match around over du Randt/Mitchell, 3-6, 7-5, 6-3.
Compton/McNerney were back in the finals of the Chicago Charities, this time battling the East Coasters Arraya/Parsons, who created more offense, winning at 6-4, 6-4.
Thank you to Tournament Director John Noble, who has been running the Chicago Charities for years, with help from an excellent team of volunteers and the Glen View Club's accommodating staff. Big thanks to APTA Tour Directors Jackie Cameron and Karen Nejidlik, Live Streaming Coordinator Anne Waldron, the Live Streaming crew, all the clubs for loaning their courts, the fans for supporting the players, and all the competitors for making the event.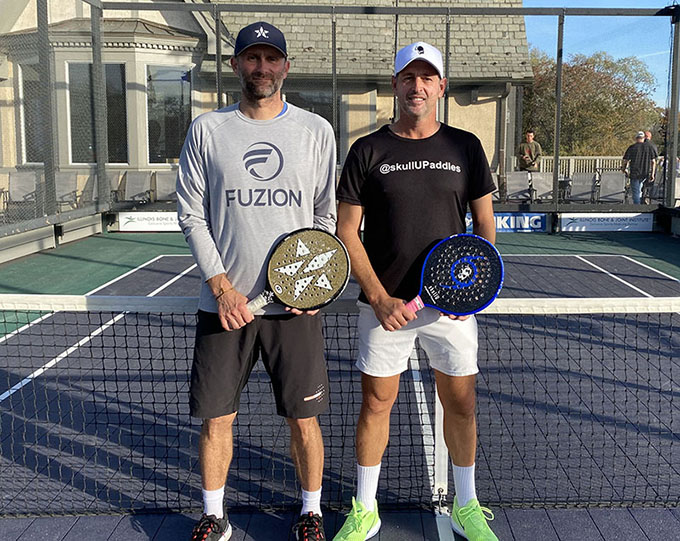 Winners, Mark Parsons and Juan Arraya
MEN'S RESULTS
Main Draw: Juan Arraya/Mark Parsons def. Brian Compton/Graham McNerney, 6-4, 6-4
Quarter Reprieve: Filip Rams/Mike Wagner def. John Hughes/Marc Powers, inj. def.
Round of 16 Reprieve: Scott Kahler/Paul Rose def. Nathan Crick/Randy Lofgren, 6-3, 6-4
Round of 32 Consolation: Andre Ivarsson/Colin Roller def. William Colmar/Brian Panek, 6-2, 6-1
Consolation: Scott Bondurant/Thomas Fawcett def. David Held/George Higgins, 6-4, 6-2
Last Chance: Nitin Gera/Vineeth Gossain def. Peter DeHaan/Dennis Nevolo, 7-5, 6-3