Colorado State Mixed Tournaments Crown New Champions
April 4, 2022
Denver, CO
Tournament Director Cary Hodges writes: A paddle tournament happened in April? That's right, it did thanks to our BFF Covid-19 that was riled up back in January when we typically host the Mixed Doubles event. It appears players don't mind warmer temps because 60 players came together this weekend!
The B final was truly an epic battle between Arapahoe Tennis Club's very own Ellie and Nick Morris and Boulder opponents Angie and Jordan Bailey. The visiting team eked out a very close first set, 6-4, but after a team huddle or two, Ellie and Nick got their thinking caps on and ground out the second set, 7-5. As good teams do, they stuck to their strategy and gradually pulled away, 6-3, to take the match and top honors. What a fun match to watch! Congratulations Ellie and Nick. Next up on the show court was the A final, which pitted long-time duo of Wendy Bermingham and Ian Hintz, seeded #3, against a newly formed team of Kathleen Parker and Jay Schwab seeded #2. On Saturday, Wendy and Ian had upset top-seeded Sarah Shore and Matt Kranich in a wild and crazy three-setter that involved untraditional formations, tactics, and shots. In the other semifinal, Kathleen and Jay used the warm temps to their advantage and held steady for a straight set win over up-and-comer Julia O'Loughlin and party host Ken Croney, 6-3, 6-4.
Under a perfectly overcast sky, Kathleen and Jay used their lefty/righty combo beautifully to control the net with Jay's 'claw' forehand volley while also presenting a difficult back court look with Jay in the deuce corner and Kathleen in the ad giving Ian and Wendy very little room on the court for their overheads. Wendy and Ian got creative with a 'floating I' formation while at net, but ultimately Kathleen and Jay were too solid and came away with a 6-3, 6-2 victory. It should be noted that with this victory, Jay Schwab has successfully completed the Colorado Triple Crown by winning the Men's State Open (with Ian Hintz), followed by the AIPTT (also with Ian) and also the Mixed State Open. Not an easy endeavor. Well done Kathleen keeping Jay focused and on track. Congratulations to all players for another fun weekend of spirited play and even better times off the court with our paddle buddies!
The APTA thanks Tournament Director Cary Hodges, host club Arapahoe Tennis Club, Denver Country Club, and all the competitors for a great event.
A DRAW RESULTS
Main Draw: Kathleen Parker/Jay Schwab def. Wendy Bermingham/Jay Hintz, 6-3, 6-2
Semi Reprieve: Sarah Shore/Matt Kranich def. Julia O'Loughlin/Ken Croney, 6-3, 6-2
Consolation: Annie Stookesberry/Benjamin Burke def. Arika Long/Peter Dinneen, 7-5, 6-3
Consolation Reprieve: Winslow Waxter/Brendan Goffinet def. Lucy Dikeou/Cole Barris, 6-4, 6-3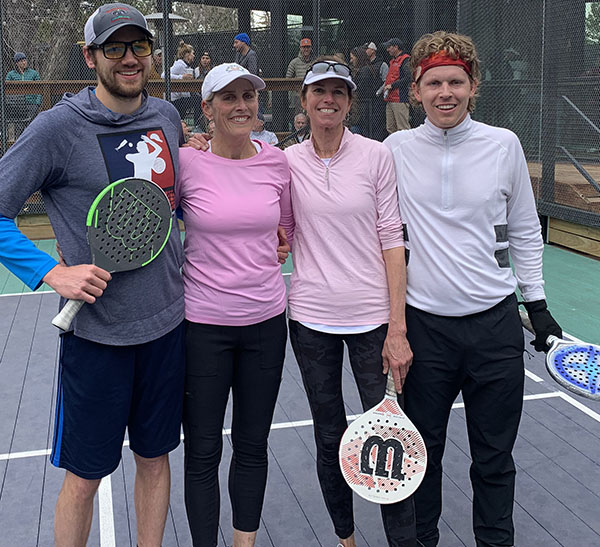 L to R: A Bracket Winners Jay Schwab/Kathleen Parker Finalists Wendy Bermingham/Ian Hintz
B DRAW RESULTS
Main Draw: Ellie Morris/Nick Morris def. Angie Bailey/Jordan Bailey
Quarter Reprieve: Liz Morrisey/Tom Stelter def. Missy de Koning/Christopher Dominick, 6-4, 6-2
Consolation: Sarah Soane/Brendan Soane def. Jessica Davis/Zachary Davis, 3-6, 6-3, 10-8
Consolation Reprieve: Margo Simpson/Will Simpson def. Ann Ellis/Joe Ellis, 6-2, 6-4
Last Chance: Kris Kerr/Bill Mauger def. Sara Davis/Mark Davis, 7-6, 6-4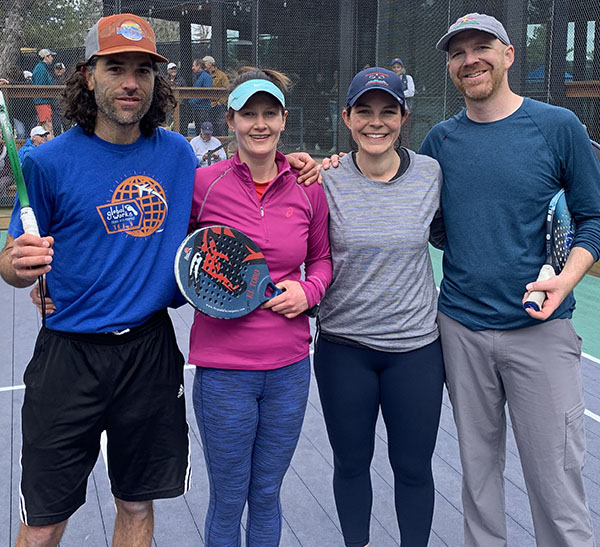 L to R: B Bracket Finalists Jordan Bailey/Angie Bailey Winners Ellie Norris/Nick Morris