Amy Heil and Alice Tunaru Tops at APTA Tour Columbus Women's Open
February 8, 2022
Columbus, OH
2022 Columbus Women's NRT Final Results (doc), (pdf)
Tournament Director Brian Heil writes: The 2022 edition of the Columbus Open went as well as it could have gone considering the ice and snow that crushed us on Wednesday, Thursday, and Friday. The Elysium snow removal team worked nine hours on Friday to make sure the courts were playable for the tournament. Special thanks to Ed, Kyle, Rach, Ry, Sarah, Patrick, Alice, Anneliese, Rich and Gar for working all day on their day off…and of course Chip for taking the picture.
The tournament played out according to the seeds with the local team of Amy Heil and Alice Tunaru, after surviving a round of 16 scare (7-5, 7-6), defeating the number two seeds Vicki Brown and Janet Mazzola in straight sets. Teams from Detroit, Cleveland, Chicago, Cincinnati, Pittsburgh and Rochester all came in to compete this year in what was the most cities represented ever in the Columbus Open.
Thank you to Scioto Country Club for co-hosting with Elysium this year. Thanks to our sponsors—Wendy's, Crest Retirement, Shadetree, Total Platform, and Sketchbook—and to all who donated to make the tournament better. Special thanks to Rich Ihlendorf and Anneliese Adkinson for their extra efforts and constant support of Elysium and Columbus Paddle!
The APTA thanks Tournament Director Brian Heil, host Elysium Tennis, Scioto Country Club, the volunteers, the sponsors, and all the players who competed well!
RESULTS
Main Draw: Amy Heil/Alice Tunaru def. Vicki Brown/Janet Mazzola, 6-1, 6-4
Quarter Reprieve: Gabby Blinn/Lisa Goldberg def. Stacey Hoover/Amy Thimons, 6-3, 6-2
Consolation: Jill Jackson/Allison Thornton def. Emily Mazzola/McCall Monte, 6-4, 6-1
Consolation Reprieve: Heather Lindaman/Tara Meadors def. Jolene Bennington/Ann McAlearney
Last Chance: Diane Watson/Lhea Wiese def. Jan Chorich/Linda McBride, 6-1, 6-0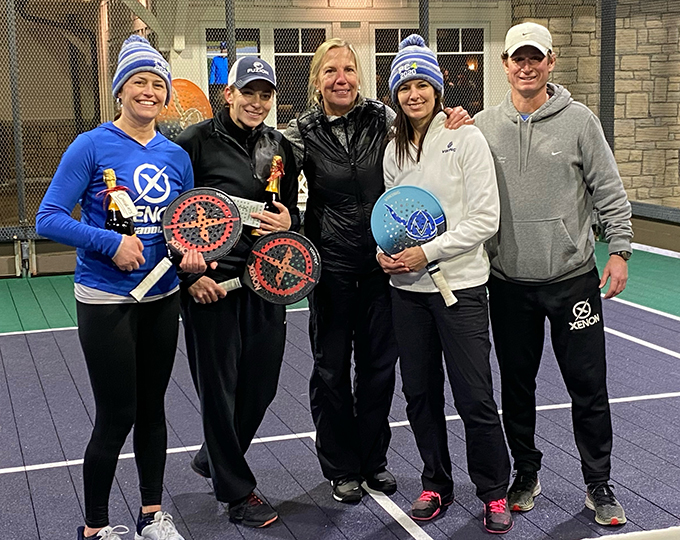 L to R: Winners Amy Heil/Alice Tunaru Finalists Janet Mazzola/Vicky Brown TD Brian Heil