Detroit Invitational Grand Prix Recap
December 10-12, 2021
Birmingham, MI
2021 Detroit Grand Prix Men's Final Results (doc), (pdf)
2021 Detroit Grand Prix Women's Final Results (doc), (pdf)
The last event on the APTA TOUR this year, the Detroit Invitational Grand Prix showcased many of the top men's teams and the top women's teams from around the country. The women's 16-team draw played in morning sun and cool mist in the later rounds. The weather was predicted to be wet and wooly on Saturday, during the men's early rounds, but the wind gusted lower than the predicted 55 mph and only a 10-minute downpour interrupted the action.
WOMEN
The top two seeds, Florentina Hanisch and Ana-Marija Zubori (1) and Jessica Guyuax and Jaclyn Williamson (2) made it to the quarterfinals, but only the tops seeds would make it through. Guyaux/Williamson fought a great three-set match against Amy Shay and Jolene Sutter, but couldn't close the deal. Hanisch/Zubori also had their hands full in the quarters against Maria Matrka and Heather Prop, squeaking through at 4-6, 6-2, 7-6. In the semifinals, Shay/Sutter went on to dispatch Alison Morgan and Charlotte Sikora (in her first tournament this season after injury), and Hanisch/Zubori handled newly local Myrthe Molenveld and Alice Tunaru. The finals paired veteran Shay and perpetually smiling Sutter against the winningest women's team this year, Hanisch/Zubori, who are at the top of their game and still rising. Hanisch/Zubori won, 6-0, 6-2.
MEN
In a 32-team draw filled with top 20 players, the Detroit Grand Prix was captivating. Replete with many 3-plus hour duels, from the round of 16 on, every match was worth a watch. Southern staters Nathan Crick and Randy Lofgren fought off Felipe Osses-Konig and Anton Protsenko to move into the quarters. The top four seeds all made it into the quarterfinals, but only three moved on. Filip Rams and Mike Wagner battled Tyler Fraser and Adam Morgan (3) to win 5-7, 7-5, 6-2, but in the semifinals ran into Juan Arraya and Mark Parsons (2), who won at 6-2, 6-1. Brian Compton and Graham McNerney (4) were in pit bull mode against Johan du Randt and Stephen Mitchell (1), and the top seeds needed a third-set tiebreaker win to get to the finals, 6-2, 5-7, 7-6.
Will paddle fans ever get tired of a Arraya/Parsons vs. du Randt/Mitchell brawl? Nada. This one was headed into a third set, until du Randt/Mitchell methodically chipped away at the deficit in the second set tiebreaker from 4-1 on to victory, 7-5, 7-6. The APTA thanks Tournament Directors Lincoln Wirgau and Bill Smith who were masters at event management, host Orchard Lake Country Club and staff, all the clubs who offered their courts, the volunteers, and to all the men and women who competed well in the Motor City.
WOMEN'S RESULTS
Main Draw: Florentina Hanisch/Ana-Marija Zubori def. Amy Shay/Jolene Sutter, 6-0, 6-2
Quarter Reprieve: Jessica Guyaux/Jaclyn Williamson def. Maria Matrka/Heather Prop, 7-6, 6-1
Consolation: Vic Cran/Lindsey Herchel def. Svetlana Schroeder/Shana Zsinko, 6-0, 6-3
Consolation Reprieve: Gabby Blinn/Olga Martinsone def. Emily Mazzola/McCall Monte, 6-0, 6-0
MEN'S RESULTS
Main Draw: Johan du Randt/Stephen Mitchell def. Juan Arraya/Mark Parsons, 7-5, 7-6
Quarter Reprieve: Tyler Fraser/Adam Morgan def. Chris Humphreys/Nathan LeFevre, 7-6, 6-2
Reprieve: Felipe Osses-Konig/Anton Protsenko def. Rashid Hassan/Ajay Khurana, 6-3, 3-6, 7-6
Consolation: Yancy Dennis/Gabriel Friedrich def. Ben McKnight/Vukasin Teofanovic, 6-2, 6-4
Consolation Reprieve: Dave Cosgrove/Mike Parks def. Blake Burstein/Richard Marsh, 7-5. 6-2
$25,000 Prize Money:
1st place: $2,500/player - $10,000
2nd place: $1,250/player - $5000
Semis Winners/Finalists: $625/player - $5000
Quarter Reprieve Winners/Finalists: $312.50/player - $2500
Thank you to the Sponsors:
Wilson Partners
Jack McNaughton
Brandon Finkel
Bob Woodruff Foundation
Grand Steel
Gen Oil
Thursday Night Guys
Dobi
Fortis Net Lease
DIAG
Etkin Equities
CBRE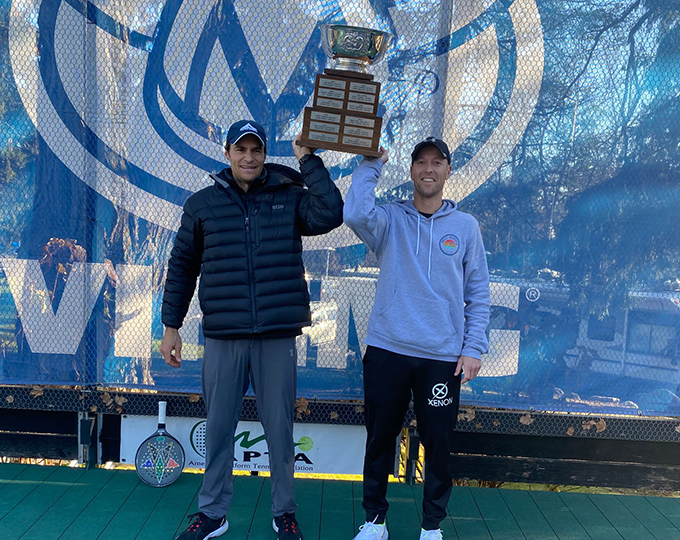 L to R: Winners Johan du Randt and Stephen Mitchell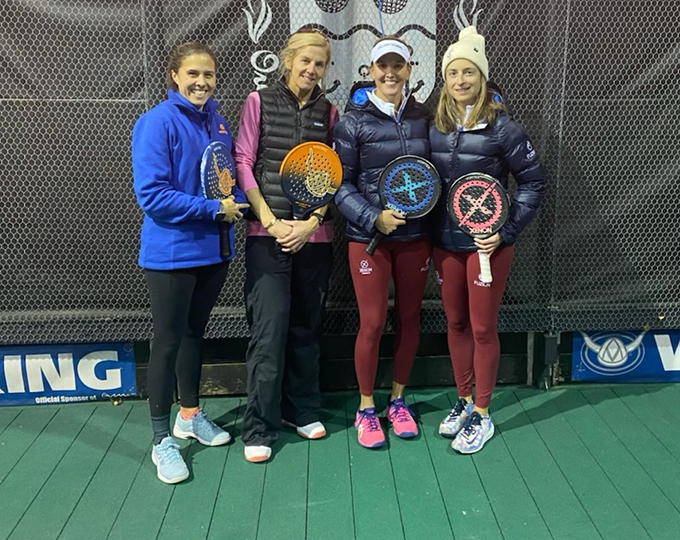 L to R: Finalists -Jolene Sutter and Amy Shay, Winners- Florentina Hanisch and Ana-Marija Zubori