John Kyrios and Jay Mahoney First at Ferocious Forties
February 6, 2022
Dedham, MA
Tournament Director Evan Ambrose writes: The Ferocious Forties Men's PTI 40+ paddle tournament was held on February 5th, 2022. This was the fourth year of this event. A record field of 32 teams competed at Dedham Country and Polo Club, The Country Club, Wellesley Country Club, and Needham Platform Tennis Club. Special thanks to these clubs and their staff for getting the courts playable by 8:00AM the morning after an ice storm.
John Kyrios and Jay Mahoney are this year's champions. Bob Donahue and Tom Errath won the event in 2020 and were back in the finals this year. They fought off several match points in the final set of the tournament. Kyrios/Mahoney were not to be denied, and captured the title match, 6-3, 7-6 (7-5).
Great job by all competitors getting through 60 matches in this event. The sportsmanship and camaraderie between the players were exceptional. Dedham Country and Polo Club looks forward to hosting again next year.
The APTA would like to thank Tournament Director Evan Ambrose for another stellar event—he is also an excellent proponent of Junior paddle tennis—and the Dedham Country and Polo Club, the volunteers, and all the competitors.
RESULTS
Main Draw: John Kyrios/Jay Mahoney def. Bob Donahue/Tom Errath, 6-3, 7-6 (7-5)
Reprieve: Sam Moody/William Moody
Consolation: Ajay Agarwal/Scott Friend
Last Chance: Steven Gardos/Ben Jonash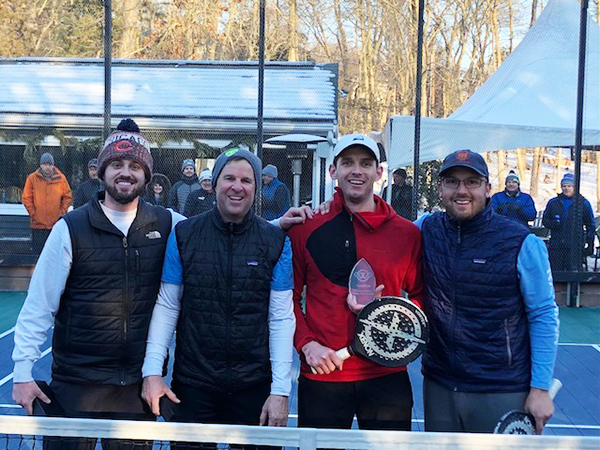 L to R: Finalists Tom Errath/Bob Donahue Winners John Kyrios/Jay Mahoney