Spencer Caravaggio and Sandy Cvetkovic Hot at Hinsdale Challenge NRT
February 14, 2022
Hinsdale, IL
2022 Hinsdale Challenge Women's NRT Final Results (doc), (pdf)

Tournament Director Mary Doten writes: The Hinsdale Challenge Women's NRT took place on an uncharacteristically warmish Chicago day on Feb. 11th. A full draw of 32 teams competed all day. Top seeds Sandy Cvetkovic and Spencer Caravaggio proved that they were just a tad better than the rest of the field with solid paddle all day. They took out Svetlana Schroeder and Shawna Zsinko in the final. Shroeder/Zsinko, seeded third, defeated second seeds Hallie Bodman and Marina Anderson in their semifinal.
Some new teams emerged as ones to keep an eye on. Kerri Roth and Rachel Young took down fourth seeds Sydney Berens and Gabby Blinn in the second round and reached the semifinals before losing to Caravaggio/Cvetkovic. Denise Murphy teamed up with newcomer Olga Martinson to take the quarter reprieve title from new mom Chelsea Nusslock Mittal and newbie Naz Green.
The APTA thanks Tournament Director Mary Doten, host club Hinsdale Paddle Club, all the volunteers, and the women athletes who competed well!
RESULTS
Main Draw: Spencer Caravaggio/ Sandy Cvetkovic def. Svetlana Schroeder/Shawna Zsinko, 6-2, 6-4
Quarter Reprieve: Olga Martinsone/Denise Murphy def. Naz Green/Chelsea Mittal
Reprieve: Stacy Brown/Jen Johnson def. Kristen Evans/Sandy Wang, 6-4, 6-2
Consolation: Sally Cottingham/Susie Davis def. Sara Aldinger/Cheryl Imo, 6-0, 6-1
Consolation Reprieve: Laura Ulrich/Nadine Woldenberg def. Lindsey Bruso/Julie Reighard, 6-3, 7-6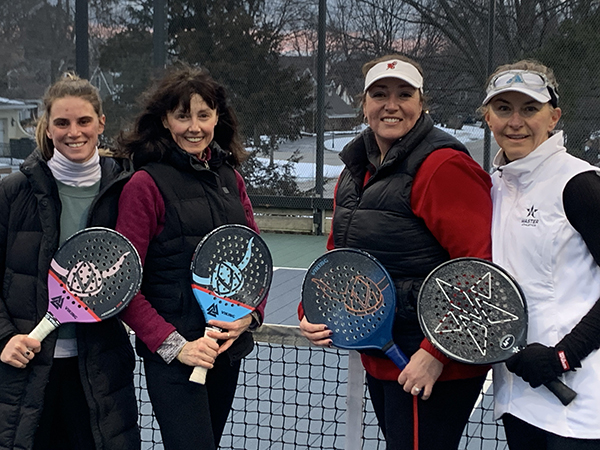 L to R: Winners Spencer Caravaggio/Sandy Cvetkovic Finalists Shawna Zsinko/Svetlana Schroeder