Alex Hume/Trevor Spracklin Mighty at Mid-Atlantic Men's
December 14, 2021
Bethesda, Maryland
2021 Mid-Atlantic Men's NRT Final Results (doc), (pdf)
Tournament Director Nate Engler writes: "Platform tennis came back to the Mid-Atlantic Men's NRT for 2021 after taking 2020 off! Twenty-two (22!) teams came to the DC area to compete in the Mid-Atlantic's. Top seeds Scott Falatek and Vlatko Najdek made it to the finals, only dropping a total of six games. On the bottom half, the unseeded team of Trevor Spracklin and Alex Hume came through to the finals with a tough three-set win over the second seeds Ilya Levin and Ned Mandel.
In the final, Spracklin/Hume quickly took the first set 6-3. Falatek/Najdek found their groove in the second set, evening the score with a win of 7-5. In the third set, Spracklin/Hume got the break at 4-3 to go up 5-3. After some great shot-making, they were able to come away with the victory with a final score of 6-3, 5-7, 6-3. Congratulations to our champions. We look forward to having everyone back next year!"
The APTA would like to thank Tournament Director Nate Engler for running a great event, along with the team at host Congressional Country Club for putting together a great dinner and lunch. A big thank you to Joe Mesmer at Columbia Country Club for hosting the Consolations and to all the players for competing well.
RESULTS
Main Draw: Alex Hume/Trevor Spracklin def. Scott Falatek and Vlatko Najdek, 6-3, 5-7, 6-3
Quarter Reprieve: Nolan Bacchieri/Adam Salam def. Dale Cathell/Andrew Orban, 2-6, 6-2, 1-0
16 Consolation: Brian Power/Ben Shapiro def. Logan Moore/Jeff Wiedemann, 7-6, 2-6, 1-0
16 Consolation Reprieve: Kyle Gerber/Antonio Soruco def. Paul Burgin/Mike Cobb Jr., 7-6, 7-5
32 Consolation: Patrick Coan/Phaon Derr def. Cosmin Chiujdea/Stephen Walz, 6-2, 6-2
32 Consolation Reprieve: Harris Rosenblatt/Barton Rubenstein def. Beck/Keen, inj. def.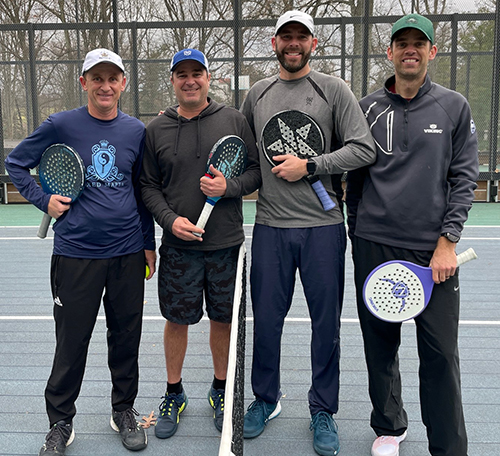 L to R: Finalists Vlatko Najdek/Scott Falatek Winners Trevor Spracklin/Alex Hume