Boardman and Danaher Best at NE Women's PTI 50+
March 9, 2023
South Hamilton, MA
Congratulations to the New England Women's PTI 50+ winners Anna Boardman and Kristen Danaher!
Myopia Director of Racquets Scott Slobin writes: Congratulations to Anna Boardman and Kristin Danaher on winning the Women's New England 50 PTI+ Championship on Friday, March 3. In the finals, they defeated Jen Whitman and Lisa Mims, 6-4, 6-4.
Rescheduled due to bad weather, 23 teams battled for the championship. Thanks to Essex County Club, Manchester Athletic Club, and Cape Ann Paddle for the use of their courts, and Myopia Hunt Club for hosting.
The APTA thanks TD Scott Slobin, Myopia Hunt Club, and the volunteers for a great event.
Results
Main Draw: Anna Boardman/Kristin Danaher def. Jen Whitman/Lisa Mims, 6-4, 6-4
Quarter Reprieve: Susie Carey/Dar Heikkinen versus Nell Coues/Alison Harden DNF
Reprieve: Pam Randazzo/Nancy Leccese def. Daniela Hofer-Gautschi/Maria Georgaklis
Consolation: Christine Duvivier/Maureen Kelley def. Margaret Pierce/Barbara Iler
Reprieve Consolation: Jill Evers/Amy Jones def. Gretchen Curtis/Tanis Meakin
Last Chance: Kacie Cran/Wendy Brady def. Olivia Rugo/Nancy Garvey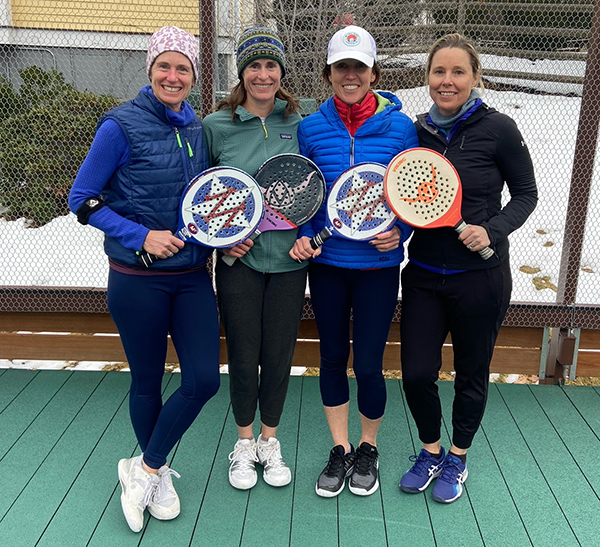 Winners Anna Boardman/Kristin Danaher, Finalists Jen Whitman/Lisa Mims