NJ Winter Classic Hosts 46 Teams
May 9, 2022
Morristown, NJ
The NJ Winter League Classic—the last official event on the APTA Tournament Calendar—took place on April 23. Belated Congratulations to Bobby Post and Andrej Samets for their 6-2, 6-3 victory in the A Bracket over Pat Kelly and Jamie Ferriero. In the B Bracket, congratulations are in order for Tom Nielsen and Clyde Wardle for winning a three-setter, 6-2, 6-7, 6-2, against Carter Massengill and Chris Sula.
Big thanks to Tournament Directors Rob Schenone and Blake Anderson, host club Morris County Golf Club, Beacon Hill Club, Fairmount Country Club, Minisink Club, Morristown Field Club, Noe Pond Club, Short Hills Club, and Spring Brook Country Club.
Complete results can be found on Live Scoring.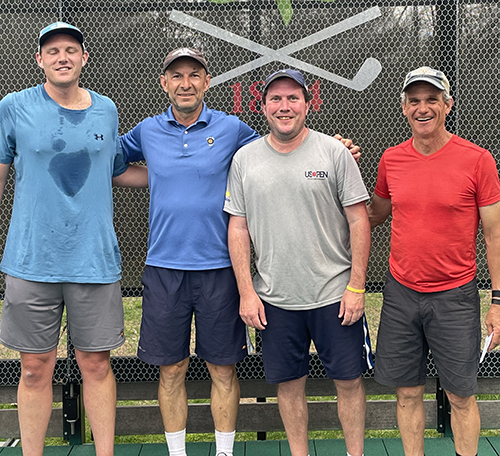 L to R: A Bracket Winners Bobby Post/Andrej Samets Finalists Pat Kelly/Jamie Ferriero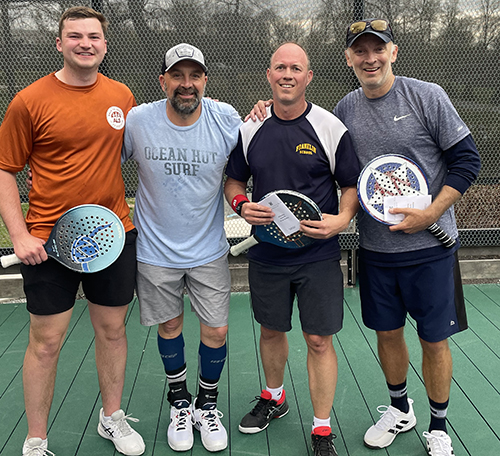 L to R: B Bracket Finalists Carter Massengill/Chris Sula Winners Tom Nielsen/Clyde Wardle