Jake Garmey and Bill Power Claim Pioneer Valley Men's 95+
December 15, 2022
Longmeadow, MA
Congratulations to the Pioneer Valley Men's 95+ winners Jake Garmey and Bill Power!
Tournament Director Gary Weiner writes: "On Saturday, December 3, despite rain for most of the day, 24 teams with players traveling from Georgia, Ohio, New York, Rhode Island, and Connecticut showed up in Longmeadow. Play started at 8:30 AM and the last point in the consolation reprieve was won around 5:15 PM.
The winners in the main draw were the second seeds Jake Garmey and Bill Power, who defeated the top seeds Jerry Albrikes and Geoff Cartier, 6-0, 6-2.
Notwithstanding the weather, we had a great day with some slippery conditions, good food, beverages, and tournament play. We thank the team of volunteers who helped run the tournament so smoothly—Candace Weiner, Lauren Life, Kathy Waddington, and Kaylee Hamer—for organizing playing, dealing with the players needs, setting up, and cleaning up, an all-day job. We also thank the Field Club's resident brewmaster Joseph Stiefel for once again providing the beverages.
The weather made it an interesting day but all who participated enjoyed the day.
The APTA thanks Tournament Chairs Gary Weiner and Tom Kietzman, the Longmeadow Field Club, the volunteers, players, and committed fans.
RESULTS
Main Draw: Jake Garmey/Bill Power def. Jerry Albrikes/Geoff Cartier, 6-0, 6-2
Quarter Reprieve: Nate Burns/Marshall Chapin def. Dan Morneau/K.C. Kadow 2-6, 6-3, 6-0
Consolation: Per Nilsson/David Wartman def. Kyle Bast/Mark Bast (default)
Consolation Reprieve: Rob Durfee/Will Plaut def. Sean Keane/Gary Weiner, 6-2, 6-4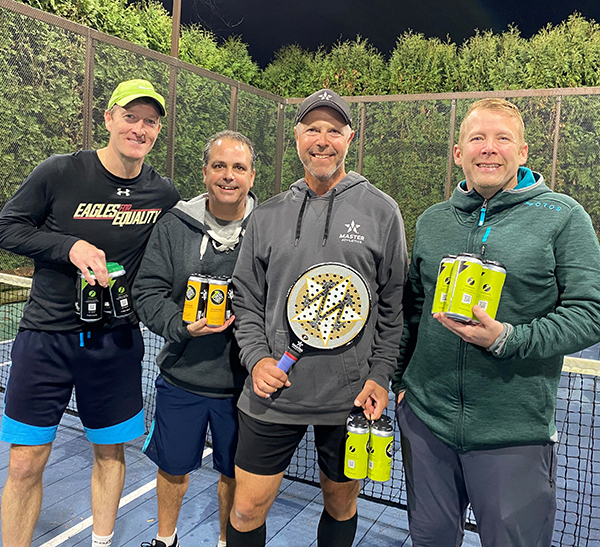 L to R Winners Bill Power/Jake Garmey Finalists Jerry Albrikes/Geoff Cartier