Schwab and Hintz Super at St. Louis Men's NRT
February 6, 2023
St. Louis, MO
2023 St. Louis Men's NRT Final Results (doc), (pdf)
2023 St. Louis Dick Baldwin Men's 110+ Final Results (doc), (pdf)
Tournament Director Alan Douglas sent in this recap of the St. Louis Men's NRT and Men's 110+: Dick Baldwin Invitational 110+ We played an 8-team event in the Dick Baldwin 110+ tournament. It was a beautiful day for paddle and the event was defended by last year's champs, Frank Childress and Frank Sant. Team Frank defeated tournament namesake Dick Baldwin and his partner Peter Hantack in a hard-fought contest. In the consolation final, Rod Remolina and Brian Windisch from Springfield, Ill. defeated Brad Cytron and Bruce Erickson in a well-contested match.
Open NRT In the Open draw, we had some long and well-contested matches. The tournament was won by second seed Ian Hintz and Jay Schwab over the first seed Eric West and Joe West, 6-2, 6-4. This is Ian Hintz's fourth St. Louis title and third with Jay Schwab. Both finalists played tough semifinal competition. West/West defeated the St. Louis father-son team of Bob and Charlie Curtis while Hintz/Schwab defeated locals Matt Bishop and Peter Hantack in a tight three-set match. We had a fabulous crowd out for the finals on a beautiful St. Louis afternoon.
Thank you to all the incredible players who once again exemplified outstanding sportsmanship throughout the weekend. We enjoyed a wonderful party Saturday night hosted by Troy Duncan that included great food and games.
The APTA thanks Head Paddle Pro Alan Douglas, host club Creve Coeur Racquet Club, Bellerive Country Club, St. Louis Country Club, their staff, volunteers, and players.
OPEN RESULTS
Main Draw: Ian Hintz/Jay Schwab def. Eric West /Joe West, 6-2 6-4
Quarter Reprieve: Paul Feder/Kyle Schoff def. David Bremer/Steve Wohlford, 7-5, 6-4
Consolation: Brad Bietau/Grant Priddy def. Greg Marifian/Mark Marifian, 6-4, 6-2
16 Reprieve: Tony Teufel/Piotr Wianecki def. Ted LeMatty/Todd Zimmerman, 6-1, 7-5
16 Reprieve Also-Ran: Steve Kadyk/Greg Shaw def. Bruce Erickson/Bill O'Dowd, 6-4, 6-2
Consolation Quarter Reprieve: Frank Childress/Matt Jessee def. Dylan Steffans/Rob White, 7-5, 3-6, 10-8
Consolation 16s Reprieve: Bill Richards/David Richards def. Carlton Blood/Richard Ness, 7-5, 5-7, 10-6
DICK BALDWIN 110+ RESULTS
Main Draw: Frank Childress/Frank Sant def. Dick Baldwin/Peter Hantack, 6-0, 6-2
Semi-Reprieve: Dave Bremer/Tom Fluri def. Peter Gunther/Rick Randall, 7-6, 6-2
Consolation: Rod Remolina/Brian Windisch def. Brad Cytron/Bruce Erickson, 6-4, 6-4
Consolation Reprieve: Dan Guirl/Cody Wilson def. Richard Baldwin/Billy Georges, 6-0, 6-1
Complete results can be found on Live Scoring.
Congratulations to St. Louis Men's Open NRT winners Jay Schwab and Ian Hintz!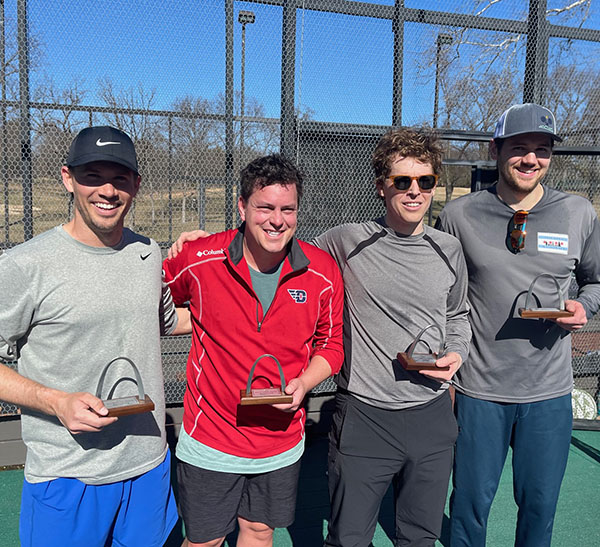 L to R Finalists Eric West/Joe West, Winners Ian Hintz/Jay Schwab
Congratulations to St. Louis Dick Baldwin Men's 110+ winners Frank Childress and Frank Sant!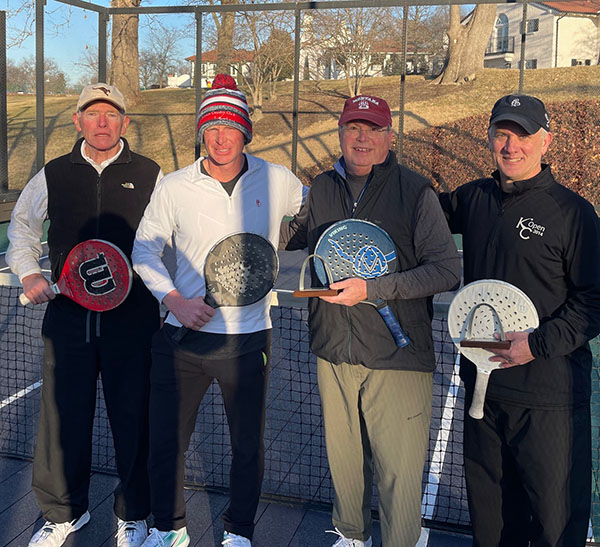 L to R Finalists Dick Baldwin/Peter Hantack Winners Frank Childress/Frank Sant