Carpenter and Beverley Tops at Tar Heel Open
February 14, 2023
Chapel Hill, NC
Congratulations to Tar Heel Men's Open winners Justin Beverley and Matthew Carpenter!
Co-Tournament Director Rich Green writes: The Tar 2023 Heel Men's Open took place February 11th at the Chapel Hill Tennis Club in Carrboro, North Carolina. Eleven teams graced the two courts that were made possible by the first-ever APTA Grow the Game assistance in 2006. This year there were many players from the Charlotte area, two teams from Minnesota on a golf trip to play their first-ever APTA event, and players from Maryland and Connecticut.
We were fortunate to have great paddle weather, 40s and 50s and cloudy, as opposed to sunny 70s or rain which were present mere hours prior to and just after tournament play. More than ever, play was evenly matched from top to bottom. All matches were competitive and many had a chance to win the championship. Congratulations to Matt Carpenter and Justin Beverely.
The APTA thanks first-time tournament director and Director of Racquets at the Chapel Hill Tennis Club Michal (Z) Zaluski, Rich Green (a previous APTA board member and great proponent of southern paddle tennis), host Chapel Hill Tennis Club, and the volunteers and players.
RESULTS
Main Draw: Justin Beverley/Matt Carpenter (Charlotte) def. Rich Green/Michal Zaluski (Chapel Hill), 6-2, 6-2
Consolation: Jake Galt/Bryant Pfeiffer (Minnesota) def. Tom Goulian/James Troutman (Charlotte), 7-5, 6-1
Last Chance: Michael Brady/Tom McElhenny (Charlotte) def. Chris Johnson/Theodore Waldeck (Minnesota), 6-4, 6-1
Complete results can be found on Live Scoring.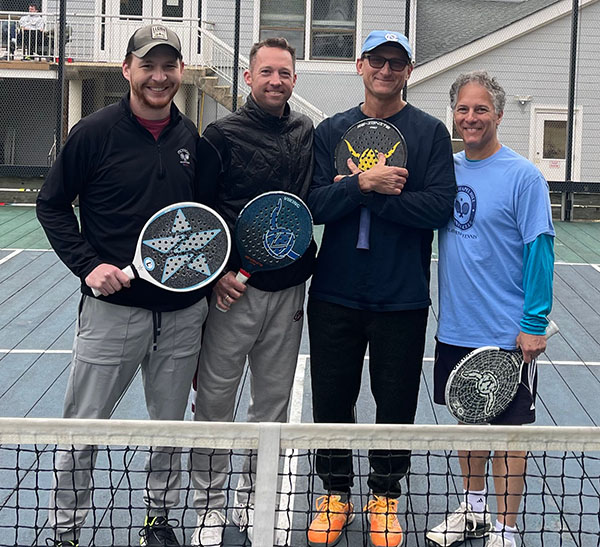 L to R. Winners Matt Carpenter/Justin Beverley Finalists Michal Zaluski/Rich Green