Heather Prop and Marie Matrka Win West Penn Women's NRT
December 6, 2021
Pittsburgh, PA
2021 West Penn Women's NRT Final Results (doc), (pdf)
Ninety (90!) players from Rochester, Charlotte, Cleveland, Cincinnati, Chicago, Bozeman, and Pittsburgh entered the 2021 West Penn Women's Open NRT.
With 12-time winner Jessica Guyaux having to withdraw her registration, the time seemed right for new names to appear on the West Penn Women's trophy. However, the second seeds Vicki Brown and Janet Mazzola of Cleveland went out in the quarters to eventual finalists Kate Kapanowski and Mary Wilson of Pittsburgh. The first, third, and fourth seeds all made their way to the semifinals. Heather Prop and Marie Matrka (1) of Cincinnati had a relatively comfortable semi, defeating Dionne Pike and Hillarie Parrinello (3) of Rochester, 6-0, 6-2. Kapanowski/Wilson needed three sets to defeat fellow Pittsburghers Fran Bolanis and Sarah Stallings (4). All new names on the trophy was not to be as Heather Prop garnered her third West Penn title with partner Matrka, who were too strong and too steady for Kapanowski/Wilson, winning 6-1, 6-1.
Thank you to Tournament Directors Michael Diven/Jarod Medvetz, host Fox Chapel Racquet Club, Edgewood Country Club, Fox Chapel Golf Club, Longue Vue Club, North Park, Oakmont Country Club, Pittsburgh Field Club, and Wildwood Golf Club for their courts, all the volunteers, and all the players who competed well.
A special thanks to Diane Staggers, Ann Borland, Pittsburgh Paddle, Scott Kahler and Terri Gollinger without whom the tournament would not have been possible. Also thanks to all of the wonderful volunteers from St. Clair Country Club.
RESULTS
Main Draw: Marie Matrka/ Heather Prop def. Kate Kapanowski/Mary Wilson, 6-1, 6-1
Quarter Reprieve: Vicky Brown/Janet Mazzola def. Karen Crick/Kristin Davin, 6-3, 6-1
16 Reprieve: Wan Collier/Isabelle Nejedlik def. Kelsey Friday/Mary Lisa Siegel, 6-1, 6-1
32 Reprieve: Julie Kolenda/Sue Phillips def. Lisa Phillips-Spiess/Lhea Wiese, 6-2, 6-4
32 Reprieve Consolation: Gina Astorino/Lara Bentz def. Betsy Segall/Krisitie Steitz, 6-4, 6-0
Consolation: Heidi DiNucci/Colleen Geyer def. Annetta Knott/Melanie Richman, 7-5, 6-4
Last Chance: Kate Kovalan/Melanie McLean def. Linda Hines/Allison Westwood, 6-1, 6-4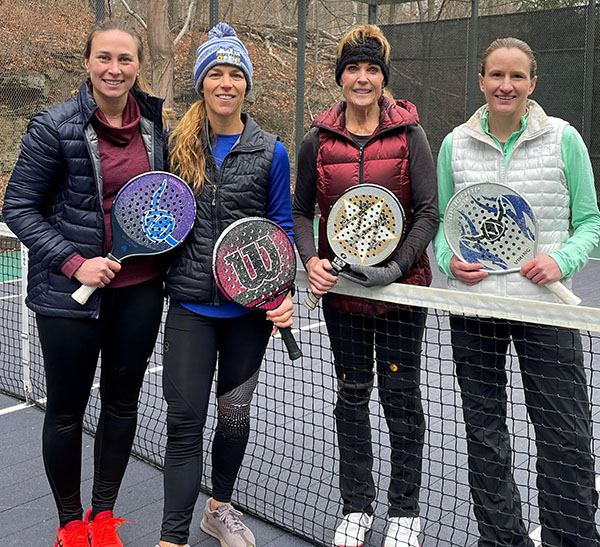 L to R: Finalists Mary Wilson/Kate Kapanowski Winners Heather Prop/Marie Matrka