2022 Westchester Open Results
January 10, 2022
Rye, NY
2022 Westchester Open Men's NRT Final Results (doc), (pdf)
2022 Westchester Open Women's NRT Final Results (doc), (pdf)
The Westchester Open, the year 2022 opener on the APTA TOUR, started on a snow day, affecting the women's draw a bit due to hazardous driving from some parts. The men arrived on Saturday after the storm left the area. It was classic cold paddle weather.
WOMEN
The top four seeds sailed into the quarterfinals, as did Maria Manley/Pam Ruoff and Georgina Alexandre/Elizaveta Lalic. Alison Morgan/Charlotte Sikora, and Kelly Brown-Cobbs/Gussie O'Sullivan each had three-setter battles to arrive in the quarters. Live Streaming captured Amy Shay/Jolene Sutter (4) thwarting Manley/Ruoff. Kerri Delmonico and Lauren Gebbia (3) handled Alexandre/Lalic, Annica Cooper and Martina Ondrejkova (2) lost to Morgan/Sikora in a match tiebreaker, and Florentina Hanisch and Ana Marija Zubori (1) defeated Brown-Cobbs/O'Sullivan. The semifinals found Hanisch/Zubori and Shay/Sutter headed to the finals after two-set wins each.
These four just met last month at the Detroit Open where Hanisch/Zubori dominated at 6-0, 6-2. Live Streaming commentator Gerri Viant said, "Shay is such a student of the game, but Hanisch/Zubori gave her so many different looks." Fischl said, "Hanisch/Zubori have the best two serves in the game."
The Friday evening finals in Westchester started off a little slowly for Shay/Sutter getting down 3-1 but after holding Sutter's very long service game, they got it to 5-4, even fighting off three set points, before giving up the fourth set point, 6-4. Hanisch/Zubori continued the roll, but Shay/Sutter adjusted and made the #1 ranked team work harder for final set, at 6-4 again. Hanisch/Zubori have now won every major tournament they've competed in since winning the 2021 National Championship.
MEN
The four top seeds, John Hughes and Marc Powers (1), Juan Arraya and Mark Parsons (2), Drew Broderick and Marek Czerwinski (3), and Chris Humphreys/Anton Protsenko (4), all made it into the semifinals. Humphreys/Protsenko needed the match tiebreaker to move forward against Ilya Levin and Thomas Nolan, and Broderick/Czerwinksi cut it close in the second set against Tomas Christian and Sven Lalic, 6-1, 7-6, before continuing on. The top two seeds dominated their first sets in the semifinals, 6-0, before taking a little more time in the second to move into the finals.
While the level of play was solid throughout the tournament, the second set of Hughes/Powers vs. Arraya/Parsons could not have been more athletic or entertaining. As Live Streaming commentator Mark Fischl said, "This level is outrageous." Hughes/Powers cruised through the first set, 6-1, working flawlessly as a team.
From low screen wristers to the most solid volleys on both sides, there were few errors that couldn't be helped. After getting to 6-6 in the second set, and every fan wanting more, there was some relief when Hughes/Powers won at 9-7 because the momentum shifts were too much to bear.
The APTA thanks Tournament Director DJ Geatz, host Westchester Country Club and its staff, Apawamis Country Club, the volunteers, the Live Streaming crew, all the fans, and the players who competed well.
Additional thank yous to local sponsors Grant and Sons Liquor, Mission, Grayson and Associates Law Firm, Curry Automotive, Exclusive Bridal Shop, Lemon Perfect, and Skull U.
WOMEN'S RESULTS
Main Draw: Florentina Hanisch/Ana Marija Zubori def. Amy Shay/Jolene Sutter, 6-4, 6-4
Quarter Reprieve: Georgina Alexandre/Elizabeta Lalic def. Maria Manley/Pam Ruoff, 6-3, 6-3
Consolation: Lynn Kiro/Vanessa Petrini def. Bobo Delaney/Stacie Stephens, 6-1, 6-3
Consolation Reprieve: Karen Urban/Patricia VanTassel-Cromie def. Kate Schneider/Laila Truelson, 6-4, 6-2
Last Chance: Clarissa O'Hern/Sylvia Reich, walkover
MEN'S RESULTS
Main Draw: John Hughes/Marc Powers def. Juan Arraya/Mark Parsons, 6-1, 7-6
Quarter Reprieve: Nathan LeFevre/Felipe Osses-Konig def. Ilya Levin/Thomas Nolan, 6-2, 6-3
16 Consolation: Brian Power/Max Wennakoski def. Cosmin Cotet/Ricky Sanford, 1-6, 6-4, 1-0
16 Consolation Reprieve: Yancy Dennis/Gabriel Friedrich def. Miguel Cobbs/Gregory Evans, 2-6, 6-3, 1-0
32 Consolation: JC Cotto/Ben Scott def. Jorge Gonzalez Rubio/Felix Yamasato, 6-3, retire
32 Consolation Reprieve: Dan Hansen/Joe Koebele def. Osvaldo Benitez/Federico Yanez, 6-3, 7-6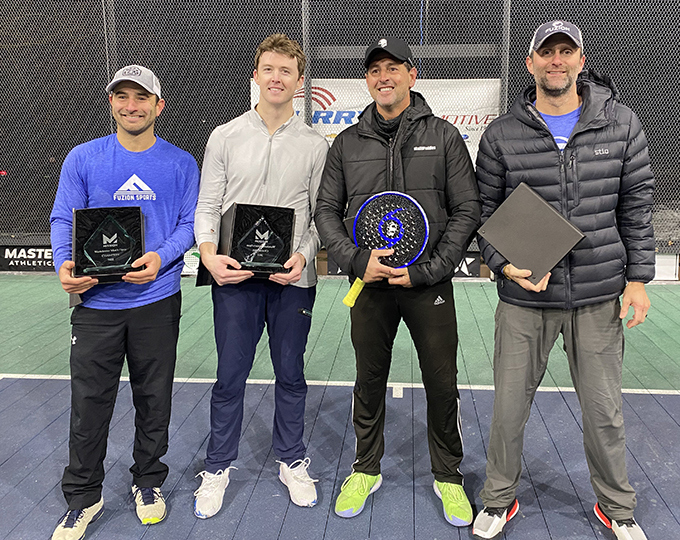 L to R: Winners Marc Powers/John Hughes Finalists Juan Arraya/Mark Parsons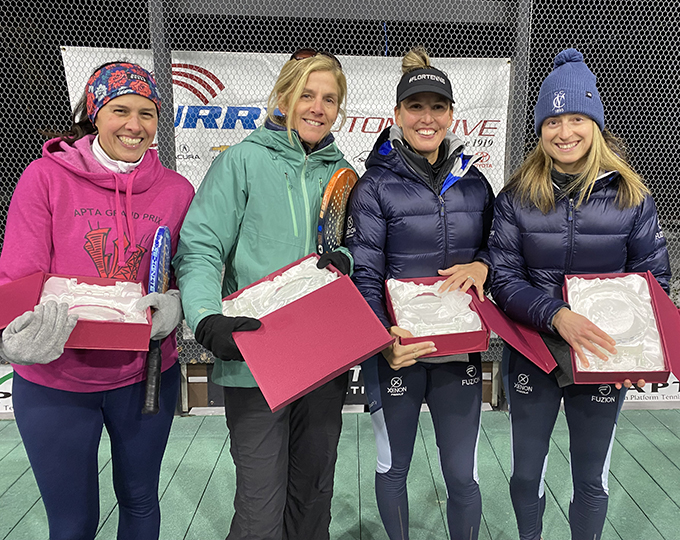 L to R: Finalists Jolene Sutter/Amy Shay Winners Florentina Hanisch/Ana Marija Zubori