2019 Board Member, Mark Holtschneider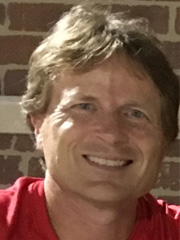 Mark Holtschneider was born and raised in Baltimore, Maryland. His family converted their horse farm into a swim and tennis club when he was a teenager. A few years later, they built their own ground-level, blacktop paddle court. Two standard courts followed.
Mark has been very involved in the Baltimore platform tennis scene since the 1980s, captaining many club teams, helping to start interclub leagues, and recruiting new players to the game. Mark has traveled the Region III tournament circuit, primarily playing with his brothers, Wayne and Frank, and more recently with Teddy Easter. Mark has played President's Cup various times over the years. Tim McAvoy and Mark created the Mason-Dixon Cup as an annual season-opening competition between the North and South of Region III.
Mark previously served as Vice-President of the APTA Board during President John Horine's tenure. He also completed the term vacated last year by Reb Speare.
Mark is a CPA and attorney, currently serving as the General Counsel of Lexington National Insurance Corporation. He is married to Debbie (a President's Cup player, too) and has three sons.