2019 Board Member, Peter Lauer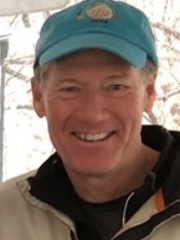 Peter Lauer, a Pittsburgh native and Atlanta resident, founded Peachtree Paddle, is a former twoterm APTA Board Member and Region VII President, and formed and led the Growth Committee from 2007-2012. His committee, the brain-child of then-president Mark Fischl, worked on 30 court building projects around the country during his tenure.

Peter grew up playing platform tennis from a very early age at the Fox Chapel Racquet Club in Pittsburgh. He competed actively in the Junior National circuit, achieving a number two ranking in 1978 after he reached the finals of the 18 & Under Nationals in Rumson, NJ.

As an adult, Peter has lived in 10 different cities around the country and always sought out and played paddle. In 2002, he and his wife, Liz, moved from DC to Atlanta, her home town, with their children. In 2004, with Taylor Bowen, Peter organized a paddle exhibition at Ansley Golf Club (on a court that Scott Bondurant helped acquire 10 years before), to (re) introduce Atlanta to our great sport. In 2005, Peter formed the Peachtree Paddle League (www.peachtreepaddle.org) and held the first Annual Peachtree Invitational Tournament with 13 teams. This year, they will hold the 14th annual, with room for 66 teams.

Paddle in Atlanta has grown to 1,000 people playing at 14 courts, including the successful Bitsy Grant public venue with 3 courts, championed by Freddy Goldenberg and supported by the APTA.

Peter's main claim to fame: He has played in the Men's Open National Championships in five decades beginning in the 1970s. His best showing was the third round with partner and Tournament Chair Walt Peckinpaugh in 1993 in Cleveland. Peter's stated goal is to someday host the tournament in Atlanta.