2020 Board Member, John McElhenny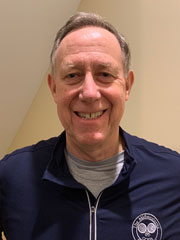 John grew up in a family of five boys who honed their racquet skills on the tennis courts of the Douglaston Club, Queens, New York. Participating in youth development programs and high school tennis led John to pursue a lifelong enjoyment of tennis, which to this day is a focal point of competitions at the family vacation home in Lake George, New York. Tennis was the family game, at least until paddle came along.

John was introduced to paddle eight years ago by Jason Gray, an avid ambassador for the game and former Head Racquet Pro at the Four Bridges Country Club in Mason, Ohio. Having relocated to Cincinnati from the Boston area, paddle provided an immediate connection to partners, teammates, and ultimately new friends. The competitive nature of the game and camaraderie hooked John from the get go. Competing regularly in local tournaments and The Midwesterns with his brother Tom as his partner provided an opportunity for the brothers to forge a special bond as they battled together in their sport of choice. Move over tennis, paddle is the new family game!

Professionally, John has extensive financial management experience gained through leadership positions at Western & Southern Financial Group, where he currently serves as Vice President, Finance, and a lengthy career at Fidelity Investments. Throughout his career, John has helped emerging businesses grow, promoted sound business decision making, and provided strong financial stewardship. John earned an MBA from Northeastern University and an undergraduate degree from Colgate University.

A self-described "paddle junkie," John can usually be found on the courts three times a week at Hyde Park Country Club, playing in GCPTA league matches, men's open play, and whenever someone is looking for a game. When not playing paddle, John has been a leading fundraiser for Ride Cincinnati, a grass roots bike ride campaign whose mission is to transform cancer research and care in the Cincinnati region.

John and his wife, Caren, have two grown children, John and Lisa, who along with their spouses reside in Minneapolis and Cleveland, respectively. John and Caren welcomed the arrival of their first grandchild, Reid, in 2019.

As he joins the Board, John is excited to combine his financial acumen and love of paddle to help grow and improve the game for all members.