2022 Board Member, Anne Waldron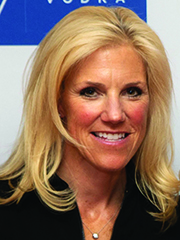 Anne Waldron is thrilled to be a part of the APTA Board. She became obsessed with the sport of platform tennis when she and her family joined The Stanwich Club in 2014. While she has not been playing paddle for very long, she may be the sport's biggest fan. Her contributions started small at the club level, as team captain and club committee member, but they have grown significantly over the years.

After meeting Tiernan Cavanna at Chicago Charities in 2018, Anne was tapped to Co-Chair fundraising for the 2020 Nationals in Darien, CT. Following Nationals, Anne was asked to work with Gerri Viant on the APTA Live Streaming crew, and to become Gerri's successor leading the Live Streaming efforts on the APTA TOUR. In addition to volunteering her energies there, in October 2021, Anne and Max LePivert, Director of Racquets at The Stanwich Club, ran The Witch Tournament, part of the inaugural APTA TOUR. Currently, as the Co-Chair of the APTA Live Streaming Committee, Anne volunteers for days at the major events held around the country. She enjoys spending time with all involved bringing paddle to a broader audience.

Anne was raised on the North Shore of Boston, and received a BA from Colby College and a MBA in Finance from Vanderbilt University. Before moving to Fairfield County with her growing family, Anne lived and worked in NYC in investment banking. Anne enjoys cooking and adding her favorites recipes to her food blog, Quickchickkitchen.com, playing tennis, skiing, and numerous water sports. Anne likes to say you can find her on the paddle courts, but she actually lives in Darien, CT with her husband and three children.