2022 Board Member, Ben McKnight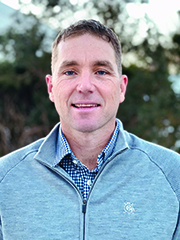 Ben was first introduced to platform tennis by his father while growing up in Sewickley, PA. Many years later, after moving to Chicago to start a career, he rediscovered the game of paddle and fell in love with it. Ben has been competing in the Chicago Platform Tennis Charities League for the past 23 years. One highlight for him was winning the 2019 APTA Masters Men's 45+ Nationals.

Ben has served in various paddle capacities as a member of the Glen View Club, is the originator and tournament director of the Cabin Fever Classic, chairs the CPTC PTI committee, and is part of the CPTC's new live streaming team.

Ben currently lives in Wilmette, IL, and has two children, Madelyn and Evan. His wife, Adriane, is also a paddle enthusiast and long-time player in the Chicago women's league. Ben is an equity options trader at the Chicago Board of Options Exchange. He graduated from Georgetown University, where he was a captain of the soccer team.