2022 Board Member, Laura James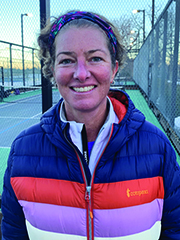 Laura played paddle for 18 years while living in Darien, Connecticut, before moving to Colorado. She played in many leagues, including the Fairfield County Women's League and in many APTA sanctioned and local tournaments in CT and CO. She ran the David Gogolak Memorial Mixed Doubles tournament in Darien for seven years, captained the Tokeneke Club ladies paddle team for seven years, and chaired the paddle committee there for three years.

Her work experience in platform tennis includes marketing for Paddleplayer.com, where, among other things, she travelled to the 2015 Nationals in Chicago as a marketing representative. She also volunteered at the 2016 Nationals in Darien as an Area Captain, responsible for coordinating match locations and administering Live Scoring.

She participated in the formation of the Colorado Platform Tennis Association, focusing on social media and membership. She is part of the team that started the first public-access, co-ed paddle program in Denver at Meadow Creek Tennis and Fitness Club. Her latest venture is working with a team to develop a paddle program in Glenwood Springs, CO, and attracting out-of-state groups to use it as a paddle destination.

Laura is celebrating 30 years of marriage this year to her husband Ethan; they have two sons: Rob (25) and Brian (24) and three rescue dogs. She is a board member of the Denver Tennis Club, loves to cook delicious meals with her harvest at the Historic Montclair Community Garden, and enjoys venturing out to hear live music and comedy and watching live sporting events.