2023 Board Member, Andrew Haines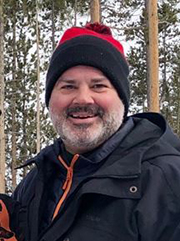 Andrew Haines
Andrew began his paddle journey on the municipal courts of Maplewood, New Jersey, in the early 2000s. After playing for a few years with the same seven buddies, Andrew formed the first Maplewood team to play in the New Jersey Men's Platform Tennis Association (NJMPTA). Twenty years later, the paddle program in Maplewood is strong with six men's teams and two women's teams.

Although he occasionally stumbles deep into a tournament back draw, most of Andrew's accomplishments are off the paddle court. In addition to building the paddle program in Maplewood, Andrew also serves on the NJMPTA board focusing on league schedules and technology.

Professionally, Andrew is a "fintech guy" (financial services technology) leveraging technology to deliver innovative solutions that disrupt legacy business models. Andrew received a degree in business administration/finance from the University of Delaware and a Master of Science in information management from the Stevens Institute of Technology.

After years as a "paddle widow," Andrew's wife, Gail, finally relented and joined the paddle community. PTI conversations now dominate dinner conversations to the delight of their children, Madeline and Spencer.