2023 Notice of Annual Meeting
Posted March 20, 2023
Notice of Annual Meeting May 4, 2023
The Annual Meeting of the American Platform Tennis Association will be held on Thursday, May 4, 2023, in Pepper Pike, OH, in order to (1) Elect Directors to serve for the term of three years (in accordance with the APTA By-Laws), and until their successors are elected and qualified, and (2) To act upon such matters as may properly come before the Board.
Vote
Board Members are elected or re-elected by the members of the association at the Annual Meeting. For those of you who cannot attend the meeting, we offer the opportunity to vote by proxy, either by mailing in the form below, casting your vote after receiving an emailed proxy link, or voting online via the APTA website.
At the May 2023 meeting, we will see the retirement of Jim Getgey. Proposed for election are Andrew Haines and Josh Kritzler. Proposed for re-election are Demian Johnston and John McElhenny.
This group is charged with making decisions about the rules, regulations and finances of the APTA.
Please take time to vote.
Mailed, emailed or faxed proxies must be received by Wednesday, May 3, 2023.
Proxy in MS Word Format
Use this version if you want to fill in the form and send via email. Your computer must be able to open a MS Word document.

Click on the link above to
Open the proxy document
Fill in the form
Save
Attach the document to an email
Send the email to:
apta@platformtennis.org

Proxy in pdf format
Use this form if you want to mail or fax the form.

Click on the link above to
Open the proxy document
Print it out
Clip off the proxy portion
Fill it out and mail or fax it
Fax: 412-963-1545
Address: APTA, 109 Wesport Drive, Pittsburgh, PA 15238
2023 APTA Board Candidate Profiles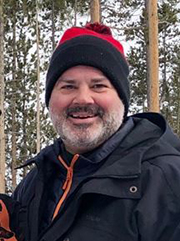 Andrew Haines
Andrew began his paddle journey on the municipal courts of Maplewood, New Jersey, in the early 2000s. After playing for a few years with the same seven buddies, Andrew formed the first Maplewood team to play in the New Jersey Men's Platform Tennis Association (NJMPTA). Twenty years later, the paddle program in Maplewood is strong with six men's teams and two women's teams.

Although he occasionally stumbles deep into a tournament back draw, most of Andrew's accomplishments are off the paddle court. In addition to building the paddle program in Maplewood, Andrew also serves on the NJMPTA board focusing on league schedules and technology.

Professionally, Andrew is a "fintech guy" (financial services technology) leveraging technology to deliver innovative solutions that disrupt legacy business models. Andrew received a degree in business administration/finance from the University of Delaware and a Master of Science in information management from the Stevens Institute of Technology.

After years as a "paddle widow," Andrew's wife, Gail, finally relented and joined the paddle community. PTI conversations now dominate dinner conversations to the delight of their children, Madeline and Spencer.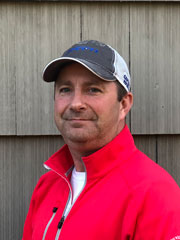 Demian Johnston
In the fall of 2007, Demian was introduced to platform tennis while attending an introductory exhibition [hosted by Connie Jones] at the Roxbury Swim and Tennis Club in Stamford, CT. He was immediately hooked and has been playing every chance he gets. So grateful for the gift of paddle, Demian jumped at the chance to volunteer, organizing club round robins and serving in multiple roles within his club.

While Demian's achievements on the court are modest, he routinely participates in several local leagues and a number of local tournaments throughout the year. He's no stranger to his fellow players or the back draws of these tournaments.

Since 2016, Demian has been serving on the board of the Fairfield County Platform Tennis league, one of the oldest and largest leagues in the country, boasting over 1600+ players, 118 teams, and 37 clubs. As a 20+-year software industry veteran, Demian has developed technology to create league schedules, tournament draw construction, and mobile friendly scoring solutions.

Demian was first elected to the APTA board in 2020 and served as Technology Committee Chair. Demian also volunteers on the Audit, Live Streaming, Governance & Nominating, and Executive Committees. He was also proud to facilitate the use of video conferences and online resources for a virtual 2020 APTA League Summit, and ongoing APTA business. He is increasingly visible for his role as chair of the Platform Tennis Index (PTI) Algorithm Committee and has begun to publish a series of PTI-related videos on YouTube as "The PTI Guy." He is nominated for his second term on the APTA Board.

Demian was raised in South Burlington, VT, and received a BS in Mathematics/Computer Science from Carnegie Mellon University in Pittsburgh, PA where he met his wife, Lori. They live in Stamford, CT, where they have raised two children, Maura and Kieran.
Josh Kritzler
Josh Kritzler is the Co-President and COO of Legends Global Technology Solutions (GTS) division as well as the COO of the Legends Global Partnerships division. He joined the company in 2022 and oversees the growing GTS business, which works across Legends 360-degree platform of services, leveraging data and analytics, insights, innovation, and digital solutions to enable value and revenue for clients. In addition, Josh runs the day-to-day business operations of the Legends Global Partnerships Group whose clients include the PGA, Cirque Du Soleil, US Olympics 2028, the Buffalo Bills stadium project, and many others.

Prior to joining Legends, Josh was Co-Founder and Partner of 4FRONT, a global sponsorship, data and analytics, innovation, and digital media agency. 4FRONT was acquired by Legends in early 2022 and became part of Global Technology Solutions. Founded in 2007, Josh grew 4FRONT, with his business partner, into a thriving organization with offices in Chicago, Dallas, and Denver, working with a diverse portfolio of sports and entertainment clients around the globe.

Most importantly, Josh is the dad of Miles (12), Lila (10), and Hudson (8) and husband to Natalie. When not carpooling to hockey, soccer, baseball, and tennis practices, Josh spends his free time on the paddle court where he currently plays in the Chicago Legends division as well as for the Wilmette Series 2 team. Paddle highlights include co-captaining the Winnetka Series 1 team to three straight series titles. Was Brian Compton on the team for all of those titles? Can't recall.

Josh also coaches both sons' baseball teams, holds the volunteer position of President of Old Willow Club, and sits on the Chicago Board of "Good Sports."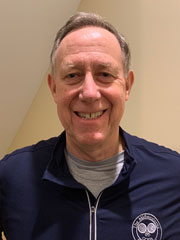 John Mcelhenny
John grew up in a family of five boys who honed their racquet skills on the tennis courts of the Douglaston Club, in Queens, New York. Participating in youth development programs and high school tennis led John to pursue a lifelong enjoyment of tennis, which to this day is a focal point of competitions at the family vacation home in Lake George, New York. Tennis was the family game, at least until paddle came along.

John was introduced to paddle 10 years ago by Jason Gray, an avid ambassador for the game and former Head Racquet Pro at the Four Bridges Country Club in Mason, Ohio. Having relocated to Cincinnati from the Boston area, paddle provided an immediate connection to partners, teammates, and ultimately new friends. The competitive nature of the game and camaraderie hooked John from the get-go. Competing regularly in local tournaments and The Midwesterns with his brother Tom as his partner provided an opportunity for the brothers to forge a special bond as they battled together in their sport of choice. Move over tennis, paddle is the new family game!

Professionally, John has extensive financial management experience gained through leadership positions at Western & Southern Financial Group, where he served as Vice President of Finance, and a lengthy career at Fidelity Investments. Throughout his career, John has helped emerging businesses grow, promoted sound business decision-making, and provided strong financial stewardship. John earned an MBA from Northeastern University and an undergraduate degree from Colgate University.

A self-described "paddle junkie," John was a constant presence on the courts at The Hyde Park Country Club, playing in GCPTA league matches, men's open play, and whenever someone was looking for a game. When not playing paddle, John was a leading fundraisers for Ride Cincinnati, a grassroots bike ride campaign whose mission is to transform cancer research and care in the Cincinnati region. While briefly living in the Cleveland area as he transitioned into retirement from corporate life, John had the pleasure of witnessing the grand opening of the Cleveland Flats Platform Tennis Center and playing as a club member in its inaugural season. John was active in advocating for and coordinating APTA support for the Cleveland Platform Tennis Foundation in its quest to bring paddle to new audiences in the downtown region.

Having recently relocated to the town of Scituate on the south shore of Boston, John is enjoying competing in the South of Boston league and mixing it up with his new paddle buddies at the Scituate Racquet & Fitness Club.

John and his wife Caren have two grown children, John and Lisa, who along with their spouses reside in Minneapolis and Cleveland, respectively. John and Caren love to spend time with their three grandsons.

As he seeks a second term as Board Treasurer, John is excited to continue combining his financial acumen and love of paddle to help grow and improve the game for all members.