2022 Hall of Fame Nominees - Ana Brzova And Viki Stoklasova
January 5, 2022
Ana Brzova And Viki Stoklasova Elected Into the Platform Tennis Hall of Fame
APTA's highest honor is bestowed only on individuals who have had the greatest achievements in playing platform tennis and/or the biggest impact on the growth and development of the sport. This year's inductees, Ana Brzova and Viki Stoklasova, had great success together from their first days on-the court and dominated the women's game for many years.
TEAM ANA BRZOVA + VIKI STOKLASOVA
In 2011, the partnership was born. Ranked #7 In their first season.
Ranked #1 for three years running—2012-2015.
Won back-to back National Championships 2013 and 2014.
ANA BRZOVA
Three-peated as National Champion with two partners, Viki Stoklasova and Liz Cruz, 2013, 2014, and 2015.
Won her first National Championship at the Indian Trail Club, where she has been a head platform tennis professional for over 13 years.
After a two-year injury hiatus, she found success with many partners in Grand Prix tournaments. In 2018-2019, she reached the semifinals at Nationals with Amy Shay. In 2020-2021, Ana won the Lake Invitational with Roxy Enica; this partnership also saw two semifinal finishes at Grand Prix events in Boston and Short Hills.
Ana's signature shot is her outstanding volley, where she gets right on top of the net and hits her volley back straight and deep and doesn't give her opponents much to work with.
FUN FACT: At a past Chicago Charities, Ana was spotted sitting high up on an umpire's chair. Having lost in the quarters, she volunteered to umpire several matches.
FUN FACT: Ana is originally from Macedonia but grew up in South America, Australia, and Moscow, as the daughter of a diplomat, and speaks five languages.
VIKI STOKLASOVA
Two-peated as National Champion with Ana Brzova, 2013 and 2014.
Ranked in the top 7 from 2011-2016 with Ana Brzova.
Ranked #3 in 2018-2019 with Jade Curtis; won two consecutive Grand Prix events together in Boston.
Broke down opponents with surgeon like precision; she had the ability to see where the openings were and possessed the composure to hold her shot before ultimately delivering a point ending winner, often with her signature soft roller.
FUN FACT: Born in Slovakia, Viki earned tennis All-America honors at the University of South Alabama where she graduated with an MBA.
FUN FACT: Viki and her husband were finalists at the 2015 Husband/Wife Nationals. They have two daughters.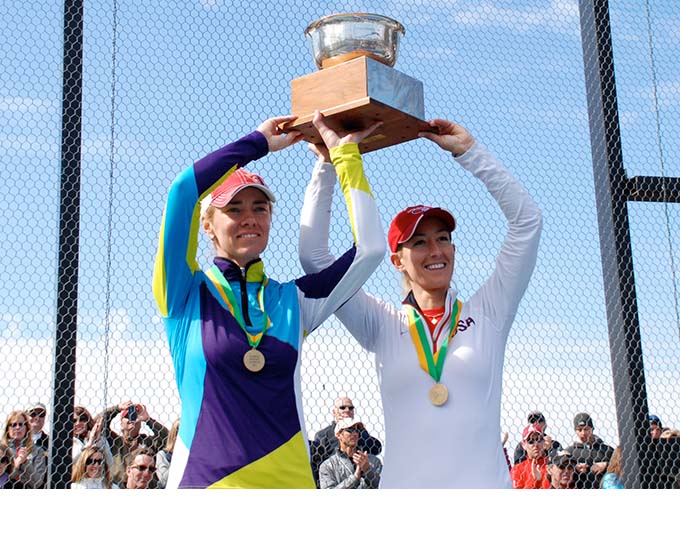 L to R: Viki Stoklasova/Ana Brzova