2022 Notice of Annual Meeting
Posted February 15, 2022
Notice of Annual Meeting May 12, 2022
The Annual Meeting of the American Platform Tennis Association will be held on Thursday, May 12, 2022, in Summit, New Jersey, in order to (1) Elect Directors to serve for the term of three years (in accordance with the APTA By-Laws), and until their successors are elected and qualified, and (2) To act upon such matters as may properly come before the Board.
Vote
Your APTA Board of Directors reorganizes each year following the Annual Meeting. Board Members are elected or re-elected by the members at this meeting. We ask that you vote by proxy, either by printing and mailing the form below or by casting your vote after receiving an emailed proxy.
At the May 2022 meeting we will see the retirement of Peter Rose and Gerri Viant. Proposed for election are Laura James, Ben McKnight, Mandy Odenbach Newell, and Anne Waldron. Proposed for re-election is Peter F. Lauer.
This group is charged with making decisions about the rules, regulations and finances of the APTA.
Please take time to vote.
Mailed, emailed or faxed proxies must be received by Wednesday, May 11, 2022.
Proxy in MS Word Format
Use this version if you want to fill in the form and send via email. Your computer must be able to open a MS Word document.

Click on the link above to
Open the proxy document
Fill in the form
Save
Attach the document to an email
Send the email to:
apta@platformtennis.org

Proxy in pdf format
Use this form if you want to mail or fax the form.

Click on the link above to
Open the proxy document
Print it out
Clip off the proxy portion
Fill it out and mail or fax it
Fax: 412-963-1545
Address: APTA, 109 Wesport Drive, Pittsburgh, PA 15238
2022 APTA Board Candidate Profiles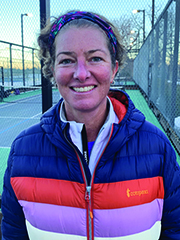 Laura James
Laura played paddle for 18 years while living in Darien, Connecticut, before moving to Colorado. She played in many leagues, including the Fairfield County Women's League and in many APTA sanctioned and local tournaments in CT and CO. She ran the David Gogolak Memorial Mixed Doubles tournament in Darien for seven years, captained the Tokeneke Club ladies paddle team for seven years, and chaired the paddle committee there for three years.

Her work experience in platform tennis includes marketing for Paddleplayer.com, where, among other things, she travelled to the 2015 Nationals in Chicago as a marketing representative. She also volunteered at the 2016 Nationals in Darien as an Area Captain, responsible for coordinating match locations and administering Live Scoring.

She participated in the formation of the Colorado Platform Tennis Association, focusing on social media and membership. She is part of the team that started the first public-access, co-ed paddle program in Denver at Meadow Creek Tennis and Fitness Club. Her latest venture is working with a team to develop a paddle program in Glenwood Springs, CO, and attracting out-of-state groups to use it as a paddle destination.

Laura is celebrating 30 years of marriage this year to her husband Ethan; they have two sons: Rob (25) and Brian (24) and three rescue dogs. She is a board member of the Denver Tennis Club, loves to cook delicious meals with her harvest at the Historic Montclair Community Garden, and enjoys venturing out to hear live music and comedy and watching live sporting events.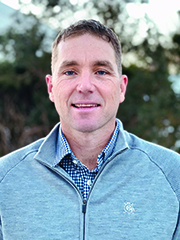 Ben McKnight
Ben was first introduced to platform tennis by his father while growing up in Sewickley, PA. Many years later, after moving to Chicago to start a career, he rediscovered the game of paddle and fell in love with it. Ben has been competing in the Chicago Platform Tennis Charities League for the past 23 years. One highlight for him was winning the 2019 APTA Masters Men's 45+ Nationals.

Ben has served in various paddle capacities as a member of the Glen View Club, is the originator and tournament director of the Cabin Fever Classic, chairs the CPTC PTI committee, and is part of the CPTC's new live streaming team.

Ben currently lives in Wilmette, IL, and has two children, Madelyn and Evan. His wife, Adriane, is also a paddle enthusiast and long-time player in the Chicago women's league. Ben is an equity options trader at the Chicago Board of Options Exchange. He graduated from Georgetown University, where he was a captain of the soccer team.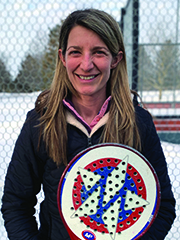 Mandy Odenbach Newell
Mandy grew up around the paddle courts in Rochester, New York. She played ice hockey in high school and Division 1 field hockey at UCONN. She continues to be competitive with paddle and has been known to sub on the adult "D" league hockey teams in town. She enjoys skiing and drives a really cool minivan to bus around her three kids.

Mandy worked in the printing business for 12 years before taking over as League Commissioner for the Rochester Paddle League, and running the platform tennis program at Shadow Lake Golf & Racquet Club. She started the ROCPaddle clothing brand, and you may have seen her do "the worm" on the dance floor at a few tournaments over the past years.

Mandy lives in Penfield with her husband, John, and their children, Avery, Reese and Jordan. In the off-season, she can be found on Lake Ontario racing the family sailboats (Lighting & Melges 15) and spending time at Keuka Lake and Old Forge in the Adirondacks. Her father, Fritz Odenbach, is a former board member and is a member of the Platform Tennis Hall of Fame.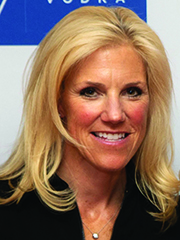 Anne Waldron
Anne Waldron is thrilled to be a part of the APTA Board. She became obsessed with the sport of platform tennis when she and her family joined The Stanwich Club in 2014. While she has not been playing paddle for very long, she may be the sport's biggest fan. Her contributions started small at the club level, as team captain and club committee member, but they have grown significantly over the years.

After meeting Tiernan Cavanna at Chicago Charities in 2018, Anne was tapped to Co-Chair fundraising for the 2020 Nationals in Darien, CT. Following Nationals, Anne was asked to work with Gerri Viant on the APTA Live Streaming crew, and to become Gerri's successor leading the Live Streaming efforts on the APTA TOUR. In addition to volunteering her energies there, in October 2021, Anne and Max LePivert, Director of Racquets at The Stanwich Club, ran The Witch Tournament, part of the inaugural APTA TOUR. Currently, as the Co-Chair of the APTA Live Streaming Committee, Anne volunteers for days at the major events held around the country. She enjoys spending time with all involved bringing paddle to a broader audience.

Anne was raised on the North Shore of Boston, and received a BA from Colby College and a MBA in Finance from Vanderbilt University. Before moving to Fairfield County with her growing family, Anne lived and worked in NYC in investment banking. Anne enjoys cooking and adding her favorites recipes to her food blog, Quickchickkitchen.com, playing tennis, skiing, and numerous water sports. Anne likes to say you can find her on the paddle courts, but she actually lives in Darien, CT with her husband and three children.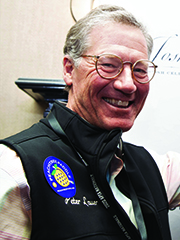 Peter Lauer
Peter Lauer, a Pittsburgh native and Atlanta resident, is a former two-term APTA Board Member and Region VII President, and formed and led the Growth Committee from 2007-2012. His committee, the brainchild of then-president Mark Fischl, worked on 30 court building projects around the country during his tenure.

Peter grew up playing platform tennis from a very early age at the Fox Chapel Racquet Club in Pittsburgh. He competed actively in the Junior National circuit, achieving a number two ranking in 1978 after he reached the finals of the 18 & Under Nationals in Rumson, NJ. As an adult, Peter has lived in 10 different cities around the country and always sought out and played paddle. In 2002, he and his wife, Liz, moved from DC to Atlanta, her hometown, with their children. In 2004, with Taylor Bowen, Peter organized a paddle exhibition at Ansley Golf Club (on a court that Scott Bondurant helped acquire in 1992), to (re)introduce Atlanta to our great sport. In 2005, Peter formed the Peachtree Paddle League (www.peachtreepaddle.org) and held the first Annual Peachtree Invitational Tournament with 13 teams. This year, they will hold the 14th annual with room for 66 teams. Paddle in Atlanta has grown to 1,000 people playing at 14 courts, including the successful Bitsy Grant public-access venue with three courts.

Peter's main claim to fame: He has played in the Men's Open National Championships in five decades beginning in the 1970s. His best showing was the third round with partner and Tournament Chair Walt Peckinpaugh in 1993 in Cleveland. Peter's stated goal is to someday host the tournament in Atlanta.