Duane Hayden and Joe Russo Receive the 2014 APTA Service Award
June 27, 2014
They've served us well!
Duane Hayden and Joe Russo Receive the 2014 APTA Service Award
Two long-time proponents of the game, Duane Hayden and Joe Russo, received the APTA's highest award this year for their impressive involvement in the sport of platform tennis.
Hayden and Russo were surprised by their awards and were feted in their communities. They both have been active in the game of platform tennis for decades and have served the sport in very diverse ways. Avid players each, they continue to be ambassadors for the paddle world in different regions.
DUANE HAYDEN
Lisa Rudloff, Director of Racquets at Huntington Country Club, said, "We gave Duane Hayden his 2014 APTA Service Award on Wednesday, September 10th, at the LIPTA Men's Captains meeting and he was so surprised!"
In her speech paying tribute to Duane Hayden, Rudloff said, "I am here to honor a man we all know, but I would like for you all to know the countless hours of service and dedication he has given to not only Long Island paddle but to our sport at a national level. He runs the annual L.I. Invitational, which has now been named the Duane Hayden Invitational, an honor bestowed him by LIPTA, and he runs or has a hand in the majority of all LIPTA tournament events each season.
"He has brought every National paddle event to Long Island: Juniors, Mixed, Husband and Wife, Seniors and The Nationals in 2002 and, most recently, in 2012.
"At the 2012 Nationals, I had the pleasure of being on the National board with him. All details were covered, thought of, and taken care of seamlessly.
"He was the Platform Tennis Chair at The Huntington Country Club for more than 15 years and an avid paddle player himself. He truly loves our sport, shown by his dedication and willingness to volunteer countless hours running tournaments and events. Anything to make our sport better, he adds his knowledge."
Hayden was President of LIPTA from to 2002-2013, as well as a captain for 35 years of one of the Huntington CC teams. Hayden said, "In 1974, there were six clubs with courts, and those players, including myself, formed the nucleus of the league. Now there are 54 teams with over 1100 members in LIPTA. Apparently people liked it."
His involvement in the game includes observing many different events, and then trying to make the ones he is involved in better. "I've been very fortunate along the way to observe certain people who were good mentors—Arthur Helmus, Bill Jones, Tim McAvoy, Tim Mangan, and Chuck Vasoll. I've also played in a lot of tournaments, including golf events that were very well run, and I transferred that over to paddle."
Why does he give so much of himself to the game? "The paddle community as a whole is quite unique. To a person, they are all very nice, which makes it all very nice to do. I was fortunate that shortly after I became President of LIPTA, technology came along and made it so easy. No more phone calls. It helped everyone. I think our website is great for our members and administrators and I had lots of input on that. I am considerably flattered, honored, humbled, and pleasantly surprised to receive this award."
"Being the humble person he is, Duane will downplay what he has given back to our sport but he is exceptionally deserving of the APTA's Service Award," Tim McAvoy stated. "Duane Hayden has been a leader on and off the Long Island paddle courts for decades, having helped to deliver the 1992 and 2002 APTA Nationals. We worked together as Duane chaired the wonderful 2012 APTA Nationals tournament that the players loved. I have been a friend and admirer of Duane's for over 20 years and his passion for our sport and desire to give back has been unrelenting I could not be happier for him. Well done!"
The APTA recognizes Duane Hayden's contributions to platform tennis from the shores of Long Island to the world theater of Nationals. Thank you!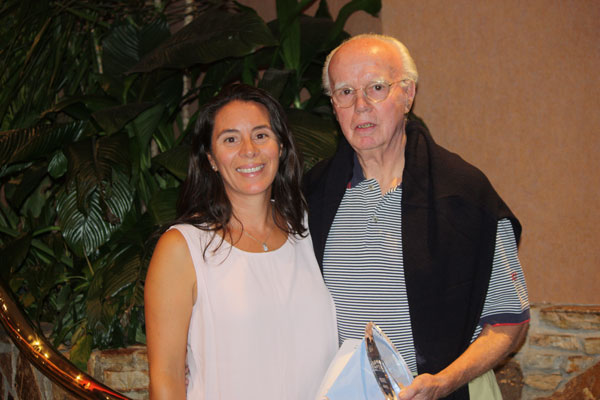 JOE RUSSO
Joe Russo brought asphalt and concrete courts to facilities in Arizona, Maryland, and Florida, after having played and lived in Ramsey, New Jersey, for much of his young adulthood. He then helped build one of the largest platform tennis venues in the country at The Villages.
Other accomplishments: Russo was co-chair with Jones for the Mixed 60+ Nationals held at The Villages in 2013, the first major tournament held in Florida. He still teaches clinics as one of the resident paddle pros at The Villages and was a paddle pro for years in Ocean Pines, MD. He helped start the instructors' courses run by Hank Irvine in Florida, realizing the need for teachers at the large facility. He currently does a great deal of publicity for the game in his area. He connects the snowbirders, who know the game, with the year-round residents who want to learn it.
Russo was presented the APTA 2014 Service Award in a meeting of the Platform Tennis Club of The Villages, Florida, on June 13, at the Eisenhower Recreation Center. Club President Russ Jones presided over the large gathering.
The innovative nonagenarian said, "Russ Jones totally surprised my wife and me. We really appreciated the number of club members who took the time to attend. It was a great honor to receive this award."
A long-time and accomplished golfer, Russo made it clear how much more fun paddle is then walking the links. "Golf is an individual game. Not nearly as friendly. Paddle, though, is played in a confined space, so you have to get along. It is the best combination of all the racquet sports."
Michael Petito, a past president at Ocean Pines, said, "Joe Russo was and still is my mentor, and has also been guiding me along. There is no way that I can ever accomplish what Joe has, by bringing platform to Ocean Pines and The Villages, but he has inspired me to work hard for platform. I would also like to say on behalf of all the membership at Ocean Pines, thank you to the APTA for giving Joe that award last week. He is a marvelous human being."
June Freeman, a member at Ocean Pines, offered a wonderful Joe Russo story. "My husband and I had just moved into the area and were doing a bicycle tour. We happened upon the courts and stopped to watch. We did not have a clue what platform was .Joe came up to us and handed us two racquets and dragged us onto the courts. We didn't know what hit us. We both fell in love with the sport that first time."
The APTA greatly thanks Joe Russo for all he has done for innovating surfaces, promoting the growth of the sport, and bringing Florida into the game.