Chicago Juniors Hit the Road to Junior Nationals
March 1, 2023

CHICAGO PLAYERS FLYING TO JUNIOR NATIONALS
12U GIRLS FROM SUNSET RIDGE/VALLEY LO CLUBS
Twins Arden and Eloise Donnelly, Elin Koltun (who is also a twin), and Reagan Johnson live in the same neighborhood in Glenview, Illinois, and have known each other since they were three years old. This fall, they picked up the sport of platform tennis (along with Elin's sister Avery) and competed in local Junior tournaments with great success.
Eloise and Elin have played tennis together for the past two to three years. Elin also likes skiing, and Eloise plays a little soccer. Putting their tennis and athletic talent together, Elin and Eloise went three for three in tournaments in the Chicagoland area—two at Indian Hill Country Club and one at Skokie Country Club.
Arden and Reagan took third at both Indian Hill events and competed at Skokie as well. Off the court, Arden loves lacrosse, and Reagan plays basketball and travel soccer.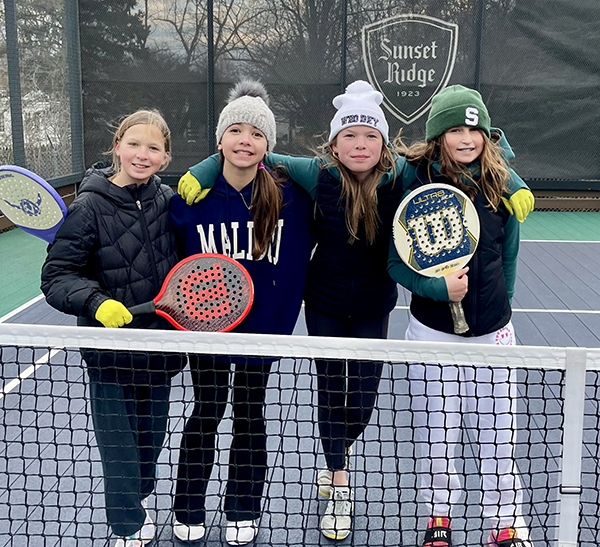 ON THE COURT
Arden and Reagan participate in Junior Paddle at Sunset Ridge Country Club, where Chelsea Mittal was recently hired as an assistant pro and has expanded the junior programming. Reagan said, "It is really fun!" Reagan enjoys the doubles game and particularly volleying.
Arden said, "I like playing Around the World and hitting overheads." Mom Alison Donnelly mentioned that they all like Crazy Paddle, a free-for-all on the court where the ball can bounce as many times as needed.
Elin and Eloise take lessons with Chelsea since they have tennis that conflicts with Junior Paddle. Eloise said, "Chelsea's helped us a lot. On the weekends, I play with my family, too."
Eloise likes hitting her forehand drives and is getting better at screens. Elin really likes volleys and playing at the net.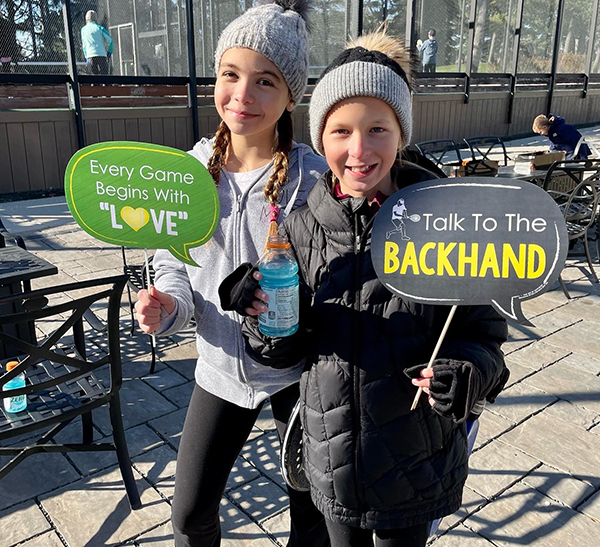 TRIP TO NATIONALS
Making the trip from Chicago to New Jersey was not an endeavor taken lightly. Arden explained, "After Junior Paddle when my mom came to pick us up, we saw there was a flyer on the hut door about Junior Nationals. She said, 'You should do this.' It took us a while to figure out partnerships but I'm glad how it turned out. It was very sudden."
Elin added, "I never thought we would go to Nationals. I am so excited." Reagan and Eloise also mentioned being excited about the trip and playing at Nationals—they remember talking about it at their very first tournament. Now, the three families are creating an entourage, with parents, grandparents, and cousins supporting the young girls in their first national competition.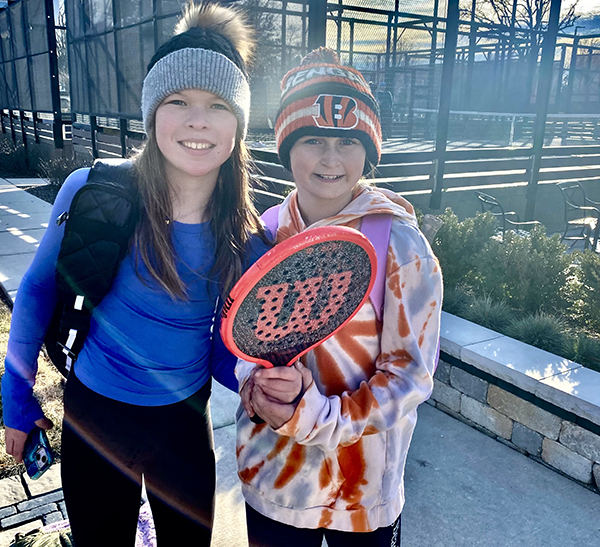 TEAMWORK
Junior Nationals has fielded over 200 players the last few years, mostly from the tri-state area. A Canadian posse has turned it into a tradition, and now a contingent from Chicago will join the ranks. For personal team spirit, Eloise and Elin chose matching purple leggings and white Swiftly tops and Arden and Reagan landed on dark teal Scuba jackets and vests, all from Lululemon.
When the girls were asked what they liked most about their partners, their answers spoke to the deep friendships formed over the past eight years. Eloise said, "Elin, I love playing with you. You are really fun, and you're really good at paddle."
Elin said, "Eloise, you are super, super sweet and I love playing with you. I'm really happy that you ended up being my partner."
Arden said, "I like Reagan because if either of us makes a mistake, she does this thing and says, 'Let's Go!' She's very aggressive and very competitive in a good way."
Reagan said, "What I like about Arden is that we always work so well together. We've gotten this far and she's a really good partner."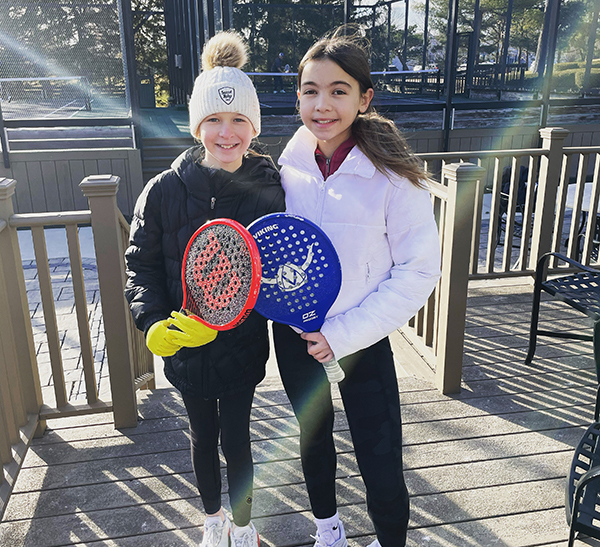 A NOTE FROM CHELSEA MITTAL
Eloise, Elin, Reagan, and Arden are paddle up-and-comers! They've brought a fun, competitive spirit to our Junior Paddle program. It's been a joy working with them and watching them succeed in the local tournaments. Can't wait for them to compete in Nationals, and I'm excited for what the future holds in their paddle careers!