Hut of the Month - The Cedar Club
December 3, 2022
Cedarburg, Wisconsin
This article was compiled by Eric Arvold, David Brock, Brad Brogan, and Beany Welch
What makes The Cedar Club worthy of Hut of the Month coverage? It is the classic story of a few people creating a paddle facility with ingenuity, good humor, and open arms—but also a lesson in tenacity. When member David Brock contacted the APTA about featuring The Cedar Club, it was mostly in jest. Not known for its architectural lines or beautiful interior design, The Cedar Club is a converted garage. The members couldn't be more pleased and are celebrating their 20th anniversary.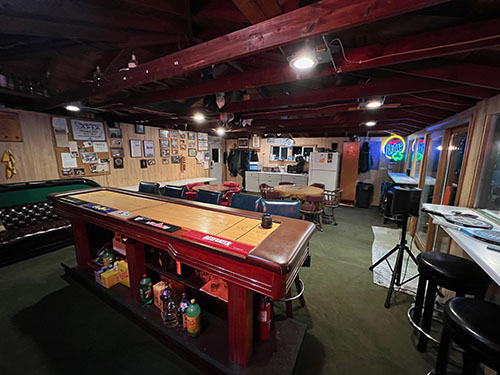 THE HISTORY
The Cedar Club was started in 2002 by five initial owners who were part of a league that played behind a local Tex/Mex restaurant, The Highland House. When owner Tom DeMarsh sold the courts to make room for additional seating and parking, the players were forced to find a new home. After striking out looking for another restaurant to host them—being next door to a bar was paramount on their minds—they took another tack. Current owner Welch went door-to-door in search of a residential property that would have room for courts and a gathering place. Eventually, he found a house in farm country outside the Town of Cedarburg, a suburb 30 minutes north of Milwaukee.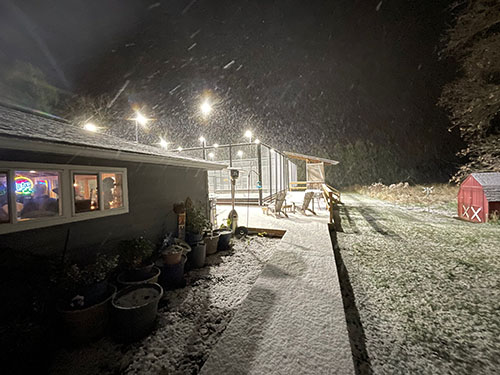 Initially, there were just the five owners and about 15 members at the paddle-only outpost. They found a tenant for the house, took out loans for the two courts (moving one from Ohio), and turned the detached two-car garage into a clubhouse. Reilly Green Mountain installed the courts; Total Platform does the upkeep. Cedar Club Treasurer Brad Brogan said, "Your first impression, maybe based on the garage, is that we might skimp on court maintenance. Not so, our courts are top-notch." A major addition was building a half bathroom on the back of the house before the tenant moved in.
PERFECT PROPERTY
The club is located down a secluded driveway, surrounded by trees. Transforming a garage into a clubhouse took a willingness to innovate. First, the structure was fully insulated, and the ceiling beams were exposed. The interior aesthetic leans toward old country club with moose lodge touches. Founder Beany Welch said, "In fact, a lot of our chairs and a locker to store balls were donated by a country club. We also have a large red leather couch that nobody seems to want to replace." A "Hot Dawg" propane heater keeps up with Wisconsin winters. One large flat-screen TV is mounted over the bar that was handmade from a member's shuffleboard table. F&B includes a pizza oven, a kegerator, and other small appliances. Part of their annual dues goes to the beverage fund. The walls are adorned with tournament plaques, news stories, old photos, a few taxidermy items, a proliferation of neon signs, another large TV, a moveable speaker, and many more unique member contributions. A large antler rack swings from the rafters, loaded with hats tossed in victory or disgust. One of the owners coined the phrase; "If you don't like the way we do things at The Cedar Club, get your own garage."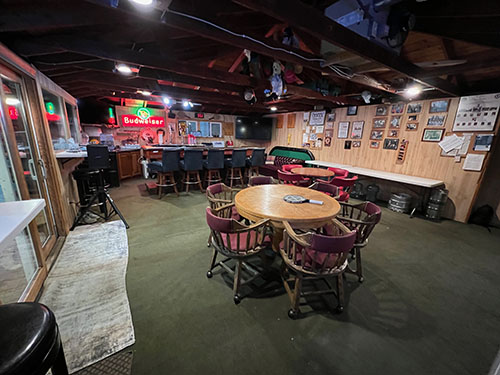 Recently, they opened up the back wall and added new, large windows for better viewing. A few years back they installed sliding glass doors to access the deck. There are two viewing areas around the courts—the firepit (known as The Eternal Flame) and the Einhorn box.
Brogan explained, "Every club has its characters. One such member, Dan Einhorn, won some money somehow and wanted to expand the deck to create a luxury box. Think of it as a suite in an arena. His passion and donation created the affectionately named the Einhorn box. With a velvet theater rope around it, padded seats, a small roof, a railing to rest your drink on, and a private heater, it's the best viewing in the house."
EVENTS WITH AN EYE TOWARD INCLUSION
The Cedar Club is currently enjoyed by over 125 active members. The men's league has a waitlist and the women's league is strong and growing. Most of the top players in the state call it home, but many members joined having never played a racquet sport. League play is Monday through Thursday nights. Official but informal open paddle on Saturday runs for three hours, with a mix of all levels. Annual dues sit comfortably below $1,000 and include all league matches, court time, and balls—not a misprint—making The Cedar Club a great value.
To support the growth of the game, "we only run high/low tournaments so the whole club is involved. We pair our best players with our lower-level players. The newer players get instruction during the tourney—and obviously, they get hit a ton of balls. They are forced to get better. This format along with open paddle has elevated the quickness of players improving," explained Brogan. Both the Fall Classic and Club Championship tournaments donate a portion of the registration fee to a local charity. "It's a full day of food and gifts and fun paddle—just a phenomenal day."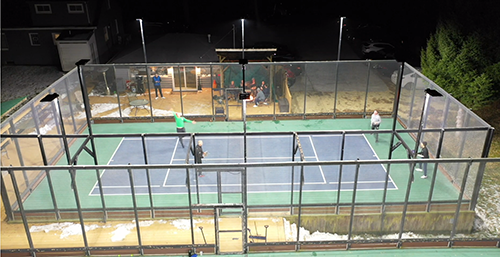 The Cedar Club is the main host site for SMACK, an A/B tournament that includes players from around the Midwest. They also support a charity event called Brew City Charity Open Paddle Event with other local clubs. "We raised over $18,000 last year," Welch said. They also host matches for the Wisconsin State Open and the Wisconsin State Closed events.
MEMBER RUN AND GUESTS WELCOME
The board of directors includes the four active owners—Woody Alverson, Eric Arvold, Brad Brogan, and Beany Welch—President Dale Borowiak, and the facilities manager Martin Vertacnik. Dan Einhorn and Jon Feldbruegge are self-appointed tournament directors. Brad Schmieding, the Excel guy, runs the proprietary ladder algorithm (Schmieding Highly Intuitive Technology System). Brock said, "He schedules every match from October through April and has perfected the home-grown ranking system that provides live, real-time updates, and, of course, is never questioned by members."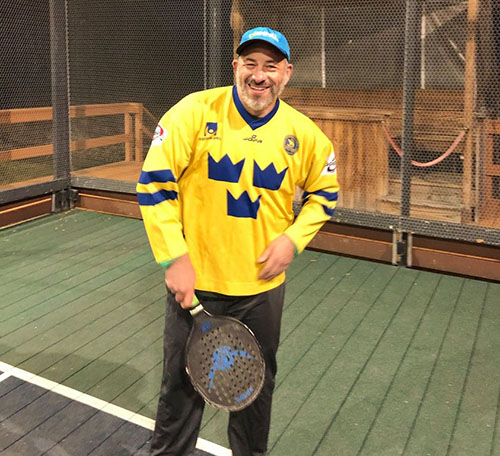 They recently lost Milwaukee area teaching pro, David Pollock, to the Exmoor Club in Chicago. But others have made the pilgrimage from Chicagoland just to experience The Cedar Club's special ambiance. Brogan added, "Cedarburg is the third most visited city in Wisconsin—known for antiquing, a great food scene, and easy access to Lake Michigan." The club and town are always open to visitors, with several quaint B&Bs for overnight guests. The club was featured on a Paddle Hacks (now Inside the Wires) podcast in 2019 after Ben Ashford and Matt McClure got wind of it.
Welch said, "It is amazing the number of people this place has touched. That is what we are most proud of—creating a place to enjoy the great sport of platform tennis, get some exercise, and form new friendships."
The sign outside the entry sums it up: "A place where kids can be kids and adults have the choice."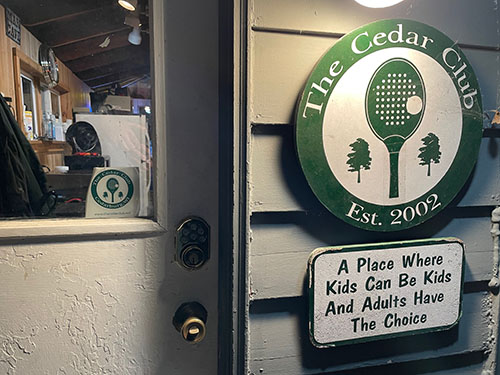 Photos by David Brock and David Jenkins.