Hut of the Month - Worthington Hills Country Club
September 14, 2022
Columbus, OH
Worthington Hills Country Club has always had a well-established racquets program, with 15 tennis courts and 500 active players, and four platform tennis courts. A renovated platform tennis facility has brought new momentum to the paddle programs and inspired tennis players (and golfers) to stay outside in fall and winter and join the game.
WHCC started with two paddle courts in 1972 and added a hut in 1976. A third court was built in the 1980s and the fourth court arrived in 2002. Even with four courts, the programming was somewhat limited due to a lack of gathering space. As WHCC General Manager Greg Steller said, "The first hut was more of a shelter house."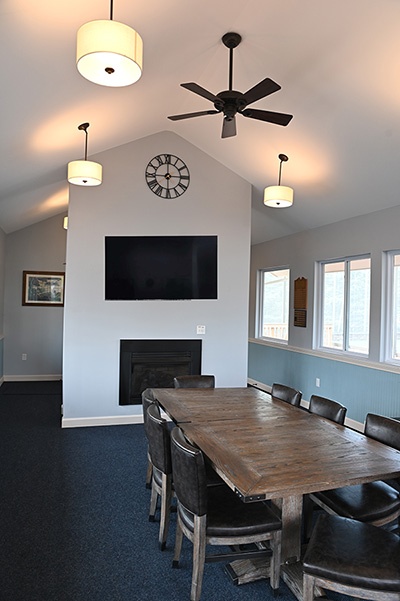 Bruce Crocco, the WHCC Platform Tennis Committee Chair, added, "The story was that the owner of the construction company that built much of the club left behind a work trailer that was then repurposed." Measuring about 300 square feet, the hut fit 10 people at best and had one inadequate heater.
THE PROJECT
In 2018, WHCC proposed a major 2 ½ million-dollar renovation to the membership. Steller said, "Once approved, we revamped our campus in 2019. We tore down most of our pool building and renovated it. We built a brand-new tennis pro shop. Our paddle tennis hut was the third building that was tied into the whole project. We also improved our golf course. It was all completed by February 2020."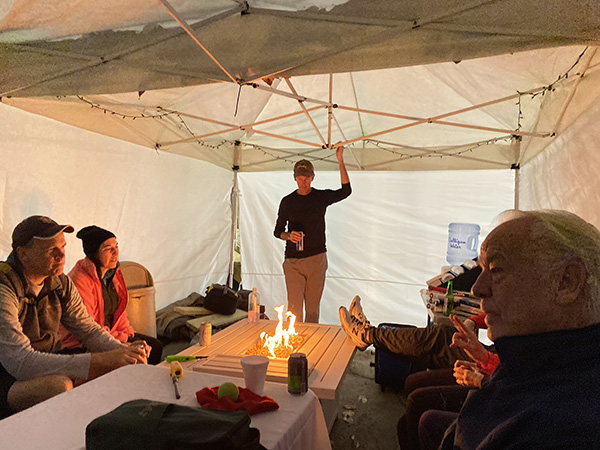 Steller explained, "At first, we thought we could just expand the original hut and take the roof off. The architect got into the structure and saw we didn't have the right supports underneath. So, we tore it down and started from scratch. We were able to put in a larger hut, at 24 x 40, 960 square feet, in the middle of our four courts." During construction, the club erected a tent and portable firepit until the hut re-opened.
Crocco created a committee of avid players who discussed what the club had and what the players and the club wanted. While the specs were much larger than the first hut, space was still at a premium.
MA Design (Meacham and Apel) worked on all three buildings. They previously partnered with WHCC on projects and lead John Eymann is a member and a former paddle tennis player. Steller said, "He was a big help on that basis, knowing the game. He was also very helpful in getting through some of the building codes. MA Design also did our interior design work."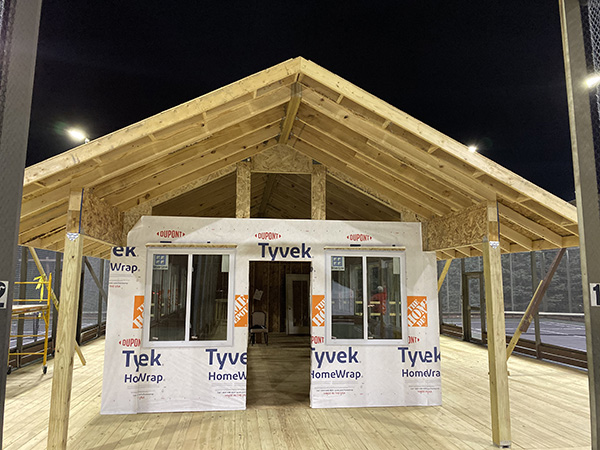 The committee and design firm had a tough decision to make about including restrooms. The area didn't have running water or sewer lines and it would have been very expensive to excavate. A fitness center and a pro shop both had restrooms within spitting distance of the hut. Decision made.
DESIGN
Three very necessary components—viewing, storage, and durability—were thoroughly considered.
Crocco said, "There are now a lot of tall windows, which open, and you can see play on all four courts. We have a large overhang at the entrance and on the sides so there is outside coverage. We've set up a portable fire pit and some rocking chairs." The deck was expanded, wrapping around the hut uninterrupted to the courts, offering a much larger area for viewing and socializing. He laughed, "As we know, paddle people will sit outside and watch paddle in any weather."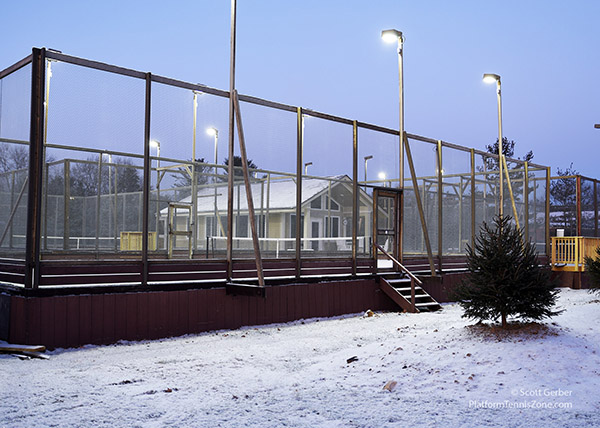 Steller counted off some of the appealing amenities. "The design firm chose beautiful lights and fans. Our indoor-outdoor carpet stands up to snow and salt. Our furniture has a rustic look. We have an indoor fireplace and more heating." Behind the fireplace, hidden from view, is a kitchenette with Corian countertops and cupboards, a refrigerator, a coffee station, and a service closet.
Because most of the hut is for seating and watching, storage needed to be tucked away. Crocco said, "The wall behind the fireplace, instead of just being four inches thick like a normal wall, is about three feet thick. There are deep shelves on the sides and hooks on the back wall. We also found that putting up folding yard tool racks is a perfect place for hanging paddles donated by members who have upgraded—we now have a large collection for our beginners."
The club held an open house in February 2020 for all the members. Not long after, the club had to close it down due to Covid-19, but the decks and courts were still heavily used.
PROGRAMS
Paddle 101 and Paddle 201 programs feed the WHCC league teams as well as offer every member a chance to learn the game. Crocco invests his own time to teach, gratis, because he is passionate about the sport. He said, "This is my 12th year running 101 and about four years ago I started 201. [He also runs and plays in two of the leagues at WHCC] At first it was once a month and now it is once a week."
In the last two years, since the hut was built and Covid-19 cut his work travel schedule, Crocco has ramped up the program. He said, "Paddle 101 is the basics. In Paddle 201, we work on strategy and screens. I used to teach about 10 people a year. In 2020, I taught 44. Most are now playing in the leagues. Last year, another 20 learned and they will join the leagues this year. We also run weekly open play and clinics for players who aren't in the leagues or want to polish their skills. They all want to continue. They have fun and it's really elevated the game at our club. You see all those people out on Friday nights and weekends."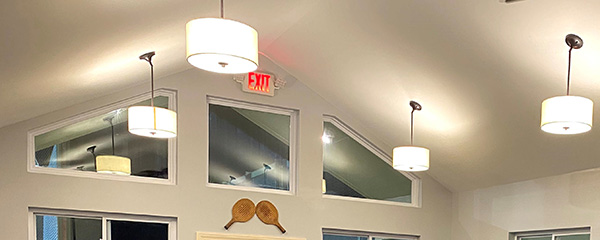 The courts at WHCC are booked solid in the evenings, with leagues every night. Now that the hut and decks accommodate over 50 people, they tend to stick around after matches to watch the next matches. On Fridays, members enjoy fun mixed doubles on all four courts and take over the facility until 10:00 PM.
Steller added, "We also have a good junior after-school program that our Head of Racquets Amos Allison teaches."
As for major tournaments, the club supplies courts for Columbus Open Men's and Women's NRT and has hosted it in the past. In-house, the club runs member-guests, club championships, and social events. A large benefit event held area-wide, The Westy Open, uses WHCC's courts and hut. This fundraiser supports programs at Nationwide Children's Hospital in Columbus and draws well over 100 participants.
CHANGE FOR THE GOOD
The Worthington Hills Country Club membership has about 980 families. About 200 of them are paddle players, active in the leagues or clinics, or social events. Crocco reiterated, "The biggest change is the number. In the last two years, 60 new people have come to learn paddle. Three other things have happened. One, platform tennis has pushed people to tennis in the summer if they were just golfers. Two, our tennis program has grown by about 100 players. And that has driven athletes to join this sport in the winter. Three, the hut has made a world of difference. It was a tired little hut before and now it's big and comfortable and you don't feel bad when you squeeze in because there is enough room. I think the new hut has affected the entire club for the good."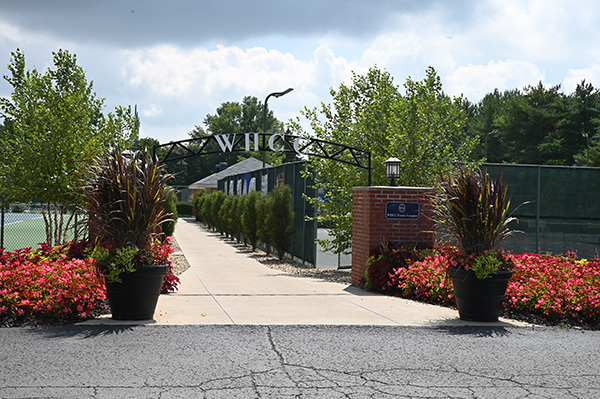 Thank you to Scott Gerber for photos!