Hut of the Month - Fairmount Country Club
August 2, 2022
Chatham, NJ
Timmons House Ups the Ante and Membership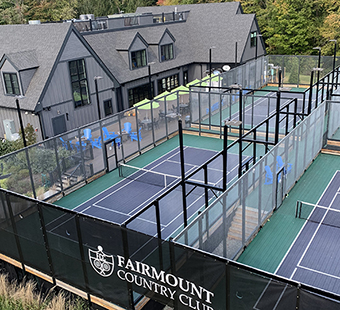 In 2018, the Fairmount Country Club transformed its grounds and became a 12-month club. From zero paddle to five courts and a 10,000-square-foot paddle and pool pavilion (called the Timmons House), FCC created a sport and merrymaking oasis.
Named for the club's first president Francis Timmons, the Timmons House signifies new traditions and a forward-thinking design. At 10,000 square feet, the building includes a full-service bar, indoor seating for 40, a gas fireplace, retractable nano walls, an elevator, a golf simulator, a private lounge, a multi-use event room, Director of Racquets Blake Anderson's glass-enclosed office, off-season dining on a heated deck, and extensive decking for paddle tennis fans with inviting blue outdoor furniture.
GET THE BALL ROLLING
Credit for urging the necessity of adding platform tennis goes to Chris Cooper, a previous board member who was very pro paddle.
Andy Marshall, a very active FCC member, spearheaded the Timmons House project and was a vital part of the building. Andy oversaw most of the design and work done for the entire building.
Anderson explained, "Chris brought Mark Polemeni onto the Board to further the conversation of paddle at the club. The two of them drove this project to where it is today. A lot of members were against the paddle but now are very active players at the club."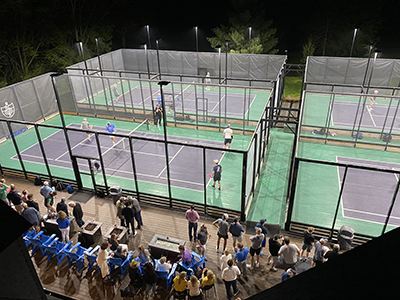 Rooftop viewing
DESIGN INFLUENCE
The entire project—expertly constructed by JBD JGA Design and Architecture—took about 18 months. The paddle courts were placed where the original pool sat. Anderson laughed, "With an errant tee shot, there was definitely a water hazard on the 18th hole." The new pool was constructed on the other side of the Timmons House, in place of an enormous parking lot.
Anderson was hired in the summer of 2018, in the last phase of construction, and remembers one good design change in particular. "The courts were supposed to be a little differently aligned. Someone said they wanted the paddle deck to be bigger, so they changed the layout, and it ended up being really smart. The whole facility is one level, and our deck is massive"
When the nano walls are open, in warmer weather or during large events, the area can easily fit 300 paddle fans and players. The views are unimpeded from bar to courts. Ogando Partners, the interior design team, left no detail overlooked, bringing in zebrawood for the bar, wooden pendants, and an original walnut tabletop with blue resin inlay. All the stools and chairs are neutral mixed wood and steel materials. The ceiling fans are handcrafted. A rectangular gas fireplace takes up one wall.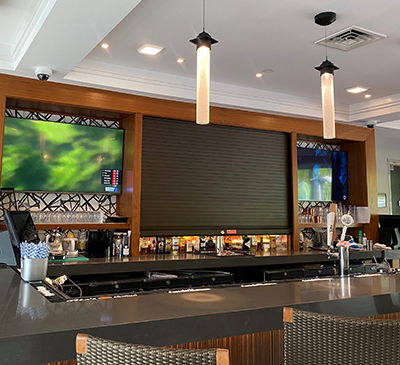 Bar with wooden pendants and zebrawood
Anderson said, "The club wanted an upscale but laid-back atmosphere –we have the dining aspect but there's also the pool. No one knew at the time that paddle would be this busy but the design blends that as well. It has a warm, comfortable vibe."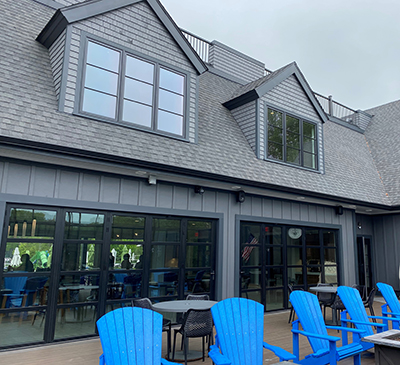 Nano walls
BLEND AND GROW
Shifting from a golf club to a full-year club proved priceless. General Manager Alex McDonald explained, "I'm newish here but I'm local to the area. The Fairmount renovation served as a catalyst for other clubs. Fairmount was making an investment in their racquets facility, so it was time for everyone else to follow suit. The new facility allowed us to be family oriented. We have a lot of members that are joining not just for golf but because we're offering the full picture that wasn't available three years ago." Anderson commented, "The dynamic of golf and paddle is blending really well now. Looking back during the pandemic, the fact that we did have paddle was really a savior of the club in a sense. Otherwise, we wouldn't have the utilization that we do today."
MEMBERSHIP AND REVENUES SOAR
FCC Board Member Brady Schuck said, "Pre-Timmons, we had about 300 members and about 100 kids at the club under the age of 18. Post-Timmons and then Covid (we couldn't have timed it any better), we've added about 125 new members and now have over 400 children under the age of 18. We are the third highest club in New Jersey for membership initiations each of the last two years. It has just been incredible. Paddle was a massive, massive driver of that."
Paddle pushed the tennis and camp numbers up, too, which were declining when Anderson first arrived. Before Timmons, summer camp enrolled about 70 children for four weeks. This summer, 300 kids enrolled for eight weeks.
As for food and beverage, McDonald said, "The paddle activity has allowed the club to achieve all-time-high operational revenue levels—it's driving a lot of F&B traffic. It's paid dividends of multiples. Our Timmons House revenue was $680,000 last year." When the main clubhouse is closed in January and February, the poolside patio is enclosed for dining, to facilitate lunches and dinners where everyone wants to be.
Anderson laughed, "We are also third highest in New Jersey in High Noon sales."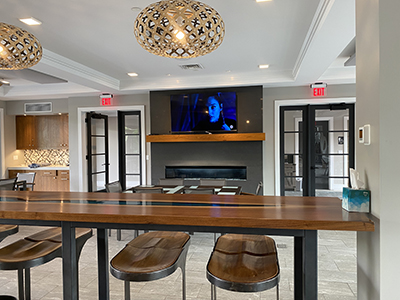 Interior
FUN PROGRAMMING
When the four courts first opened, FCC fielded two men's teams and two women's teams. Three years later, they have seven men's and five women's teams in the league and a fifth court. Schuck said, "We have 150 men and 100 women playing paddle. The paddle community has grown 10-times."
Anderson said, "Paddle right now is year-round for us There's no stopping these animals. This past October, I took in my first assistant, Jon Russo. He was 10 days into the job and said, 'I'm hooked.' He's one of the reasons why our programs have been able to get bigger. I also think it is the fun atmosphere we create and the direction we teach. It's very attractive for someone who hasn't played or is new to the club."
FCC has one of the largest Junior programs with over 120 kids playing, of which 30 are ranked nationally. The Chatham High school paddle team—100 students strong—are given use of the courts for practice and matches.
Anderson said, "One of the biggest programs that I run is an in-house league. We actually don't participate in the New Jersey Winter League strictly because of this. We had 32 men the first year, 64, the second, and last year we had 132 members. We break it down into flights and then we have a big finals night. It's a great party atmosphere." FCC hosts The Chatham Cup, another large competition, between the four clubs in Chatham. Anderson said, "Because it is such a great facility, everybody in town wants access to it. It drives the demand for our club and for the sport."
FINAL WORDS
Schuck concluded, "The Timmons House is a huge win for us from a business model perspective but it's also a great community gathering place."