Leadership Roles - Drew Sawyer
April 21, 2023

BOSTON OPEN GRAND PRIX TOURNAMENT CO-DIRECTOR
Leadership Roles is a new series featuring people in charge—Tournament Directors, Tour Directors, League Heads, etc. Since the 2022-2023 season has officially ended, this may seem an odd time to introduce a new series. However, summertime is a great time to get a jumpstart on an event or brainstorm ideas for next year.
Meet Drew Sawyer—a Co-Director of the Boston Open Grand Prix and Treasurer of the Greater Boston Platform Tennis Association. He has a few areas of expertise that are worth a look:1) finding and retaining sponsors; 2) creating a memorable fan experience; 3) catering to the top players; and 4) working together with a leadership team.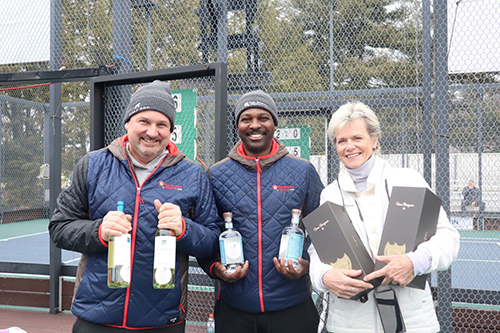 Drew, Genius, and Jackie
JOINING THE BOSTON OPEN TEAM
The Boston Open has held Grand Prix status since 2017, one year after the Grand Prix designation was created by the APTA. Before that, it was always a very competitive tournament primarily for Region II players. For years, Johan du Randt, then Director of Racquets at Weston Golf Club, ran a high-level men's event, inviting the highest-level pros to compete in Boston.
Sawyer and du Randt were surprised when the concept of the Grand Prix Tour was introduced along with a slate of GP tournaments. Boston wasn't given Grand Prix status the first year in 2016 despite having one of the top three most competitive events. Sawyer said, "I told Johan that was BS given the quality of the Boston Open and that we should just raise sponsorship dollars to attract the top players with the biggest purse of the year. When it comes to fundraising, pros are not usually great at raising money—they are constantly on court and their connections aren't always the right connections. Whereas I'm in an office and can take or make calls. Johan and I decided to team up and co-direct the tournament. I went out and raised the money and Johan recruited all the top players. That first year we had the best draw with 9 of the top 10 ranked men's teams. "The next year, the APTA offered us the Grand Prix on the condition that we take over the Women's Boston Open (it had been run in December by two strong women players). The APTA wanted all Grand Prix events to be co-ed. We stepped up our sponsorship fundraising to pool prize money for everyone and have been a Grand Prix ever since." When du Randt moved to The Country Club in Brookline, the Weston Golf Club assistant pro Genius Chidzikwe took over as Director of Racquets. He and Sawyer have been tournament co-directors since. Sawyer made it very clear that he and Genius are a team. He said, "We couldn't do it without each other. It is 1 + 1 equals something greater than 2. If you don't have that, then it becomes a taxing endeavor instead of a teamwork venture. We know what each is responsible for and if there is a problem, we figure it out together. It also makes it much more fun that way."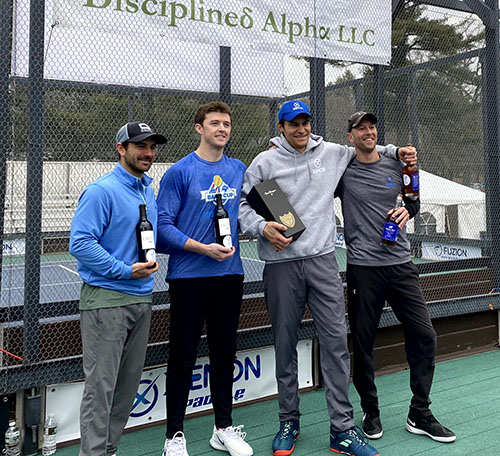 CHANGING ENVIRONMENT FOR SPONSORSHIP
Because of his deep understanding of the financial world—Sawyer is the Founder and Managing Partner at 2SV Capital—articulated the difference between raising money in the 2010s compared to the current environment.
"One of the most important things to realize about raising money for paddle is that, in the beginning, it was really community service dollars you were getting. It is just recently starting to change. Companies were giving money not so much for marketing benefits but really to support local events. The Boston Open partnered with the charity Good Sports. Sponsors liked that. There was some goodwill that came with it. Plus, we raised tens of thousands of dollars for underprivileged children over the years."
As time evolved and the tournaments became larger, and more people were experiencing them, either in person or via Live Streaming and Live Scoring, sponsorship money became more about marketing benefits.
Sawyer explained, "We just had to call people with paddle players in positions of influence in their companies. We got a lot of 'nos' and we just had to keep going. The strategy was to cast a wide net. Our first big sponsor was a bank that offered $10,000 and that was huge. The bank did it for marketing benefits. This was a private bank in Boston and so many of the players were from private clubs, they thought it was a relatively inexpensive marketing dollar to spend. Remedy, Xenon, Viking, Owl's Nest, Narragansett, Bully Boy—these companies are giving dollars or goods in kind because there is a marketing benefit to their brand.
"Columbus + Over has been a sponsor of the GBPTL. They are a real estate company that wanted to get its name out there. Owl's Nest is a resort in New Hampshire, known for its golf and access to ski hills, but no one knew they had paddle. They used the Boston Open to target market our community and now everyone knows they have paddle courts. For small dollars, they really expanded their name recognition."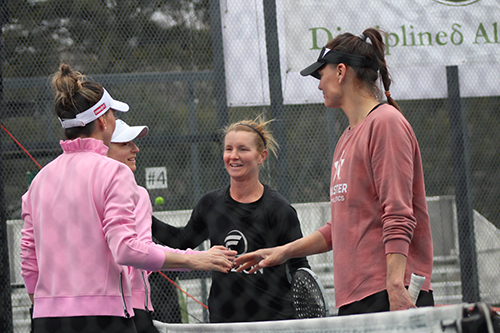 BUILD A COMMITTEE AND A LIST AND A HARD SHELL
Sawyer does not pretend to do any of this alone. "I'm a big fan of getting people with connections involved. We have an informal committee with members from different clubs and we talk and come up with ideas."
Next, he builds a list of targets and goes after them. He is not afraid of the word 'no.' "I've been trying to get Goldman Sachs for five years and they finally called me out of the blue and said, 'Hey I think I have some money for you.'" He laughed, "That's a long sales cycle. Keep asking. You'll get a lot of 'nos.' Who cares? Accept the 'nos.' Some companies will offer a little money but sometimes they go away."
Sawyer understands the tools at his disposal. "In the beginning, Live Streaming had little value since the data wasn't available to sponsors in a coherent format. The APTA is now focused on using YouTube Live as a channel and are getting clean stats—number of unique viewers, number of views, hours watched. This year, the Boston Open had some excellent numbers including some leading stats. I was able to send out that info to our sponsors; it shows we have good data and nice growth."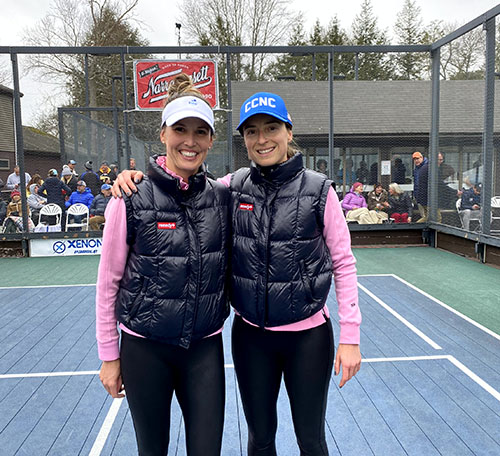 OFFER A GREAT SPONSOR/PLAYER EXPERIENCE
The first year the Boston Open became a Grand Prix, they had the largest prize purse, which impelled other APTA Tour and Grand Prix events to up their ante. It has a Nationals-like atmosphere in a smaller area—akin to a corporate golf outing. Sawyer said, "Because the financial position of the Boston Open is very strong and reliable, between sponsorship and the GBPTA support, we are able to offer more. We have four draws—Men's Open, Women's Open, Men's PTI, and Men's 95+—and many of our sponsors offer trades in kind. We are an $85,000 event. This year we had $25,000 in prize money and great favors for the players.
"One thing we've done for our sponsors is to present them with really nice logoed jackets or vests; they wear them or give them to their clients or team members. They love them and it builds a lot of goodwill. Some sponsorship money went to Boston Open hats. Those went in the gift bag for the top players as well as special volunteers. We offer reserved parking and free food available beyond the lunches. Most years there is a masseuse. We treat the sponsors and players really well."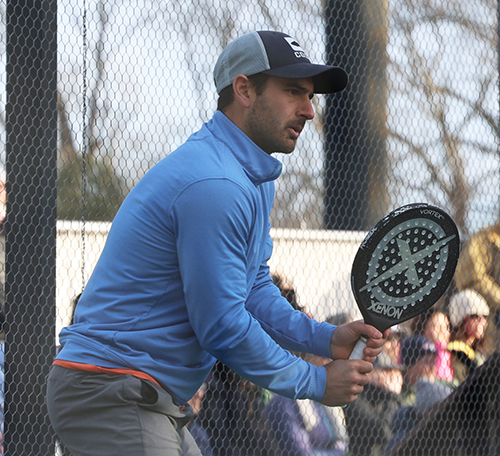 FREE FANTASTIC FAN EXPERIENCE
This year, the Boston Open was blessed with exceptional weather, drawing up to 500 fans on Saturday afternoon and evening, during the women's semifinals and men's quarterfinals.
Sawyer professed, "Make it good for the fans, and the fans will come. Every year we get better at it. In the first year of the Grand Prix, we put up one tent on the right of the main court and pumped in hot air. We could fit a five-row bleacher. That wasn't enough. We wanted to build decking and put in stands all around but that was cost-prohibitive. I found this guy who runs rodeos in Western Connecticut who has bleachers on wheels and tows them behind his truck. When he gets them in position, he hooks up a power drill to the stands and the whole thing opens up, like origami. We spent $8,500 on two stands that were 50 feet across and 10 rows high. We placed them as close to the courts as the fire marshal would allow. We wrapped the stands and pumped heat underneath."
Sawyer's mantra: "Treat the fans well and they will stay. At the Boston Open, they get free beer from Narragansett, free booze from Bully Boy, free food in the afternoon, and some warmth all for a price of zero. We get the word out to the leagues and put posters in the area huts a month before the tournament. If you play paddle in Boston and don't know about our Grand Prix, your head is in the sand."
While the APTA creates the draw, Sawyer's team makes sure they are mindful of the local pros and their fans. "Once the draw is made, we pick who plays where. We control geography. We put Evan Ambrose and his assistant pro at his club in Dedham. They brought in a chef to make omelets Saturday morning. They had over 100 members watching them play their first two matches. Stephen Mitchell and Johan played at Stephen's club Brae Burn Country Club. They had about 40-50 fans there. Usually, I have to ask clubs for courts. This year I had a pro disappointed because we didn't put a match at his club—they were planning a party for his members—but we had a communication breakdown. Next Boston Open, I'll be sure to get matches at his club. It is really good to know that cool paddle parties are going on all around Boston. That is what we are trying to create—fan excitement."
The Boston Open even makes room for out-of-town pros' fan clubs. This year, the New Canaan Field Club came out to support Roxy Enica and Gabi Niculescu, bringing a tent, a living room set-up, and more. They were trying to be unobtrusive, but Sawyer and Chidzikwe made sure they were front and center. Sawyer effused, "They were going to put their tent behind some trees. We put them right in the middle. We happened to have a piece of grass alongside the stands. Next year, I'm going to give them a case of beer for their tent. They had a ball. Maybe we need to recruit more clubs to have cheering sections. They will get special treatment."
The 2023 tournament action was extra special. Sawyer said, "Of the last 14 matches in the men's and women's Grand Prix, 9 of them went to 3 sets. The fans were gaga! They were the most competitive matches. It was crazy!"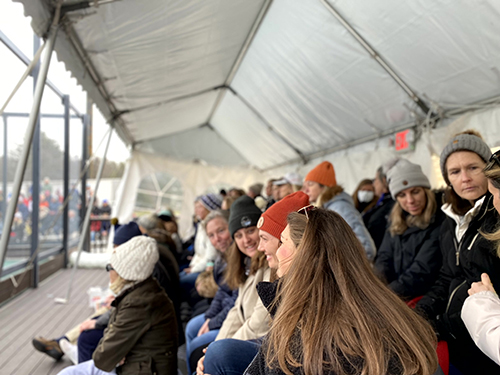 TOURNAMENT TIME
This may be the most important tip Sawyer can offer to tournament directors—don't wait until next season. He said, "Over the summer, I take the lead sponsor out to play golf with Johan and APTA CEO Amin Khadduri."
For all tournament directors, the time closest to the event is the most intense. Sawyer said, "For me, the hardest part is January—the last three weeks before the event is a lot of work. It really impacts my personal business. I always need more help, more people to take on meaningful roles to get stuff done. We spend about $10,000 on staff, for Genius and all the people he gets to do things. Here's an example: We made a poster listing the tournament sponsors. Someone needed to get that printed and delivered to all the huts."
This year, Chidzikwe was injured so he was available all weekend to work with Sawyer. "On the day of the event, I staff a tournament desk to do all the Live Scoring. Hut commanders text the scores into my iPad Our Weston volunteer, PJ Pettinato, gets a ton done. It's all about communication. When I see some part of the draw that isn't getting filled in, I make a call and get players and clubs in motion. There is always something going on to deal with and there is always actual cleanup – random water bottles, plates left around, that I'll pick up as I'm going from place to place."
Crisis averted: "This year, one of our big heaters was leaking diesel fuel—that's a serious fire hazard – so our assistant pro, Cosmin Chiujdea, Genius, and I unhooked it and dragged it as far away from the stands. I called up the company and said, 'Get this thing out of here.' It was during one of the big matches, but no one knew. I can laugh about it now. It saved us a lot of money because we didn't have to pay for that rental."
SATISFACTION
All tournament directors have their reasons for putting in the time and energy. For Sawyer, he wanted to give back to his club and the sport. "This is a big event. This is the way golf pros, tennis pros, and paddle pros make some extra money by running big events. I got involved during Johan's time here and I stayed involved to support Genius. He's a great pro and has done such a great job for our club. We get a lot of enjoyment out of throwing the best tournament of the year. We get a lot of unsolicited compliments from the top players."
Sawyer set the scene: "I love Saturday afternoon—that is when we get the most fans. We have two show courts going at the same time. It's the best vibe in paddle. I've experienced it a few times at Nationals, and this is just a Grand Prix and we're delivering a Nationals-sized audience and energy. Going into the evening, the beer is flowing, the Bully Boy is flowing, the fans get amped up. It gets loud. The place is packed. If we can make the sponsors happy, the top players happy, and the fans happy—that is the secret sauce to running a great kick-ass event."