League Lines - New League in Grosse Pointe Michigan
December 2, 2022
Grosse Pointe, MI
Grosse Pointe is a collection of five small suburbs located on the east side of Detroit and nestled up against Lake St. Clair. With three private clubs and another three municipal facilities (fourteen courts total), the paddle community in Grosse Pointe had plenty of players but few opportunities for organized play—until this fall. An ad-hoc committee of four local players, Greg Brink, David Smith, Scott Stevenson, and Ian Studders got together this summer to discuss the merits of a league focused on offering competitive local matches. It's been a long, strange trip since then, but they've arrived at a great spot. The league now boasts 104 players, 52 pairs, 26 matches played per week, and 1 dancing bear with a paddle. Here is their story.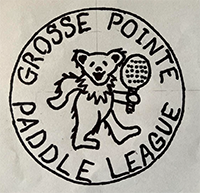 KNOW YOUR COMMUNITY
As a newer player and Grosse Pointe transplant, Studders explained how he discovered the local paddle community, "I started playing with three other close friends at the municipal courts in Grosse Pointe around 2018. Our rules allowed a second serve for longer than I'd like to admit, but we didn't know any better and it was a fun winter activity. We met some new players through friends and drove a few miles to play at their small private club. We had a blast, but we wondered why we had never seen them play prior to that night (it's a small town). Soon after that, a couple of us were invited to play as alternates at the Pointe Paddle Classic, a local tournament held annually at the Country Club of Detroit. That experience opened my eyes and I felt lucky to stumble upon this healthy and diverse paddle community that I didn't know existed in Grosse Pointe."
The community features a good mix of players, with some players having over 20 years of experience and others that are beginners transitioning over from tennis. "We play at different locations and communities across Grosse Pointe. Some of us play five times a week, and others are out there once a week. Some play music and enjoy drinks throughout the match, and others are single-digit PTI players that travel to tournaments around the country." Studders also learned about Michigan's rich history of players such as Susie Keane, Yvonne Hackenberg, Flip Goodspeed, Jeffrey "Doctor Detroit" Hodges, Scott Mansager, and Jon Uffelman.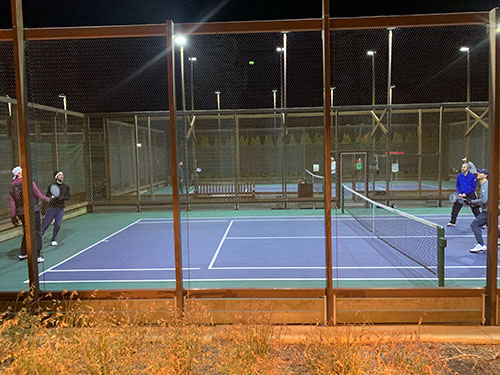 USE AVAILABLE RESOURCES
The more the committee talked about it, the more they felt that the time was ripe to take the next step. Studders said, "Most of our committee has played in APTA tournaments, and we follow the APTA tour and news. We were already quite invested in paddle, but somehow we didn't have a competitive league." They decided to use the APTA as a resource, spending time on the phone with APTA CEO Amin Khadduri, interviewing other APTA league managers, and joining the APTA League Slack group. They also received support from Metro-Detroit paddle veterans like Frank Willard and the Detroit Platform Tennis Association. After learning about the different types of leagues, they felt the partner league format was the best fit.
CREATE CAMARADERIE
Studders said, "A partner league seemed like the most realistic way to operate in the first season. Maybe someday we can do a draft league or, once we build more courts, we could attempt a traditional inter-club league. But we wanted to get the league up and running, and with our current mix of players and court access, a partner league was a reasonable choice. We also felt that the APTA Paddlescores website would create an interesting virtual club environment since our players were coming from many different locations. We knew we wouldn't run into each other in the paddle hut as often as some other leagues, so we tried to make the league website, emails, and communications more engaging."
Although they initially hoped to even find 50 players, when 104 players registered, the committee realized that this was an opportunity to build relationships and connect the various paddle "tribes" in Grosse Pointe. Studders explained, "We intentionally assigned matchups with parity in mind, but we also wanted to ensure that pairs would play opponents that they may not know. Our flex scheduling requires the pairs to reach out to their assigned opponent and work together as a group of four to mutually decide on a match date, time, and place. We tell our players to learn to love the group text." Although this dynamism takes a little adjustment at first, the players have found that camaraderie is one of the biggest hallmarks of this first season. This is also the one area that will focus on in the future—creating more opportunities for league members to connect and socialize.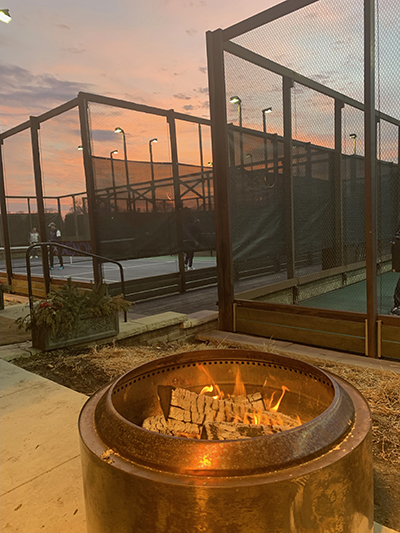 PARTNER LEAGUE FORMAT
Each two-man team plays 12 regular season matches and has 16 weeks to complete them. Studders estimates that about 70% of the assigned matchups are completed each week. If a pair can't play their assigned matchup in a given week, then they try to reschedule and catch up by playing two matches in one of the following weeks. The early rounds of playoffs will be done using the standard flex schedule and the season will culminate in quarterfinals, semifinals and finals played at a season-ending celebration in mid-February.
FUTURE PLANS + GROWTH + THE VIBE


NEW TOURNEYS - Regarding the Detroit Open Grand Prix on December 10-11—"Everybody is excited that we will have so many top players visiting our area. Some of our league members have played in it for decades before it became a Grand Prix. There is chatter about creating more Metro Detroit tournaments for beginner and intermediate players."
MORE DIVISIONS + LEAGUES - "In Season 2, we plan to use PTI to create divisions or tiers, including a beginner group. There is interest in a spring draft league as well. We'll start small and see where it goes."
PARTNERSHIP WITH MUNICIPALITIES AND CLUBS - "We will continue to grow relationships with the local municipalities and clubs to improve court maintenance or maybe keeping the lights on for an extra 30 minutes — common sense things that, with a little compromise, could probably result in more people playing paddle."
BUILDING - "We've been talking to a local foundation about modifying drawings for a planned community center that may be built right next to our municipal paddle courts. With some tweaks, it could double as a great paddle hut. There's also interest in building additional courts someday."
INFLUENCE - "If we keep our momentum, then we feel like we could fast-forward whatever new local courts might be built by 5 to 10 years. We view this league as a nucleus that players can rally around and use to pool resources."
BEAR LOGO & THE VIBE - "Greg Brink came up with the idea of having a contest to create our league logo. Many of the entries were done by league members who are graphic designers, and we had some sharp options. One player, Chris Foster, drew a dancing bear with a paddle on a napkin and his design won by a landslide. It represents the vibe of our league—competitive people who don't take themselves too seriously. It was a fun exercise, and we created some custom dancing bear knit hats, and almost half our league ordered them! This prompted us to create a league store with more apparel options."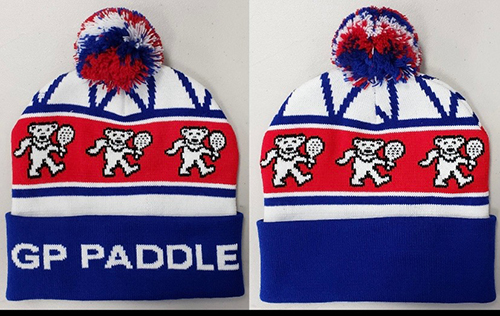 FINAL WORDS
Studders concluded, "The league has been well-received by the local paddle community. Our veteran players joked that somebody should have done this 20 years ago. The feedback encouraged us to keep pushing ahead. I saw an APTA Slack group post from a league manager on the 2022 rankings for leagues with the most new players who have played at least two matches. Our league was ranked #7, and the leagues ahead of us were all from larger metro areas—New York, Chicago, Boston—and then little Grosse Pointe. We felt good about that stat—like we were punching above our weight."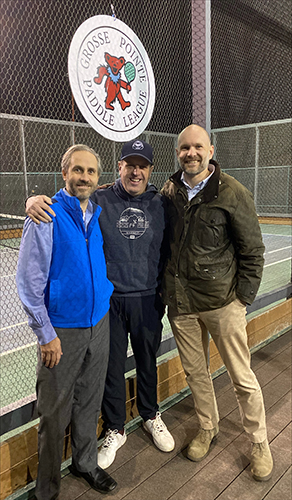 David Smith, Greg Brink, Ian Studders (Not Pictured: Scott Stevenson)