New Canaan Field Club Goes Over the Top
February 10, 2023

Traveling Fan Club for Roxy Enica
There was an extra tent on the grounds of the Boston Open Grand Prix this year. Filled with couches, chairs, tables, extra-large Jenga, a heater, boxes of beverages, and a group of 20 adults in matching blue hats and monogrammed NCFC jackets, the Roxy Enica Fan club made their presence known. Next stop, The Short Hills Grand Prix this weekend.
Carrie Laska, New Canaan Field Club Women's Paddle Chair and one of the organizers of the club's tournament trip, explained, "We knew that Roxy loves the support and having people around to watch, and we knew she was doing the Boston Open, so we put it out to the club. So many people signed up and we all wanted to come here and support her and Gabi and be a part of it."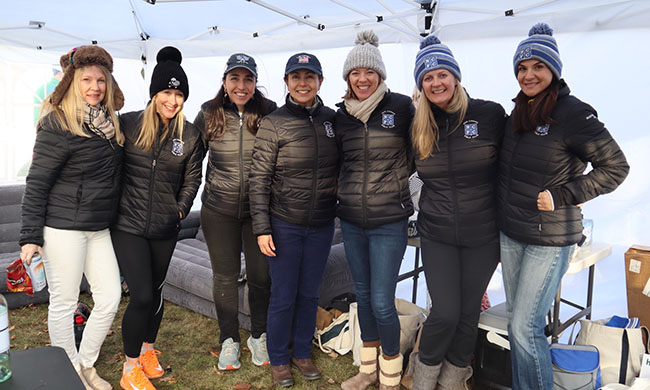 Enica and Gabi Niculescu partnered up last season and have been playing very well together. They lost a three-set battle in the finals of the 2022 Women's Nationals. In a twist of fate, Niculescu was previously a head paddle pro at the NCFC, adding a layer of familiarity with the members.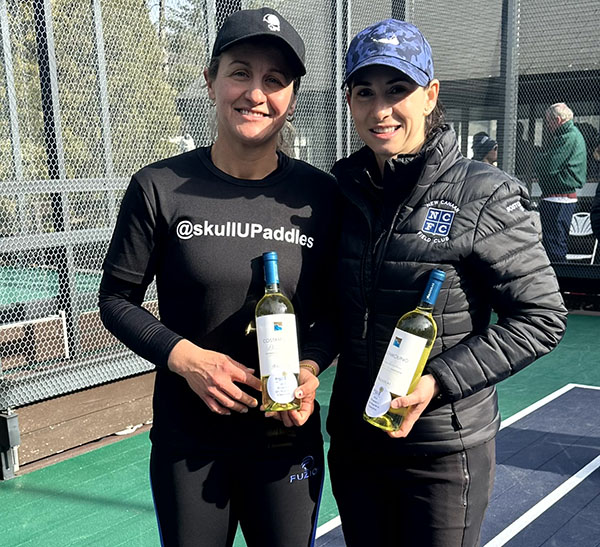 Once the fan club trip was set into motion, Laska said, "Our men's paddle co-chairs, Keith (Laska) and Brian Thackray, had this great idea to bring a tent because so many of us were coming. We added couches and heaters so that everyone would be comfortable and warm and have a place to hang out between matches. Former Club President Mike Simko borrowed the logoed corn hole set from the club. Everyone contributed. It was a real team effort."
When asked what it was like to have someone in her corner at every single match including the quarter reprieve on Sunday, Enica said, "It's amazing. I feel so lucky to be part of such a culture of this club. I always wanted to work for such a club. I love having them around. They're easy to hang out with and of course, I love having them in my corner. I wish I did a little better in this tournament, but it is what it is. I was just happy to hang out with them, especially on Saturday night."
The Saturday night gathering with the NCFC Fan Club, and some of the top women players, "included a party bus. What happens on the Boston party bus…" Laska laughed. "It was a great night out."
Clubs often have viewing parties at their home clubs to watch a tournament on Live Streaming but it is rare for the club to bring the viewing party to the tournament. Roxy said, "I hope this starts a tradition and other clubs will step it up."
Laska said, "I've known Roxy now for seven years. I love the way she plays and the way she teaches. It just sticks with you when you are on the court. You learn. As well as being an amazing player and a phenomenal coach, she's also an incredibly nice person. We are grateful to have her as our Director of Racquets."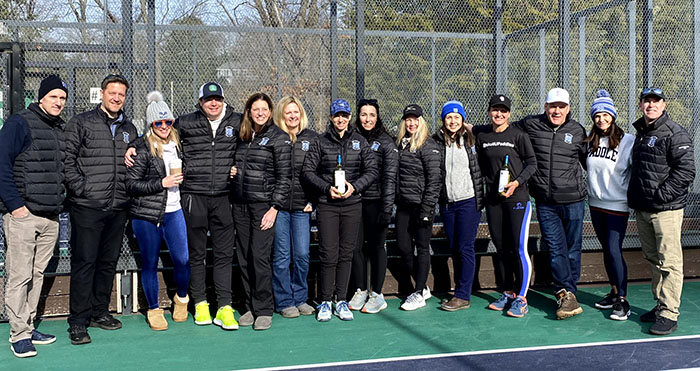 Enica commented, "It's a great work-life balance at the New Canaan Field Club. They give me the freedom to run the program. We talk about what things are going well and adjust them if they aren't. Even though I live at the club everyone is very respectful. I like coaching them. It's fun."
Laska continued, "It's been an amazing season so far and there's a real buzz about the place. It's really the paddle program—everyone's very excited about it. Our social events are always packed. It's just been a reawakening for our club, and it is wonderful."