Player Profile - Adam Morgan
October 11, 2022
Two Great Partnerships—With Alison Morgan and Tyler Fraser
TENNIS FAMILY
Adam Morgan and his wife Alison Morgan work together and play together. After an inauspicious first meeting, the two have gelled on and off the court. "We actually met during college. It's kind of a funny story. After my junior year, I played in a summer tournament at the University of Michigan. Alison was playing in it as well with her sister Audrey. They were watching my doubles match. We ended up winning the tournament in doubles and I won the singles. Two weeks later Alison called me and asked if I wanted to play mixed doubles in the next tournament, and I told her no. I was playing singles and doubles and didn't want to play three events. I will never hear the end of saying no."
He continued, "About six years later, Audrey moved to Chicago to work at the Lake Bluff Racquet Club where I was teaching part-time. Alison ended up coming over, too, and that's where we met again." The Morgans married in 2013 and have a daughter Kaylee. Adam and Alison are now Co-Directors of Racquets at the Birchwood Club in Highland Park, Illinois.
Tennis runs in their bloodlines. Their fathers played against each other in a tennis tournament about 30 years ago. Adam's grandfather founded the South Barrington Club, where his dad, Jay, is the Executive Director and his mom plays. Alison's parents teach tennis. Audrey and Adam's brother Karl both teach tennis and paddle. It was inevitable that Adam and Alison would follow in the family tradition.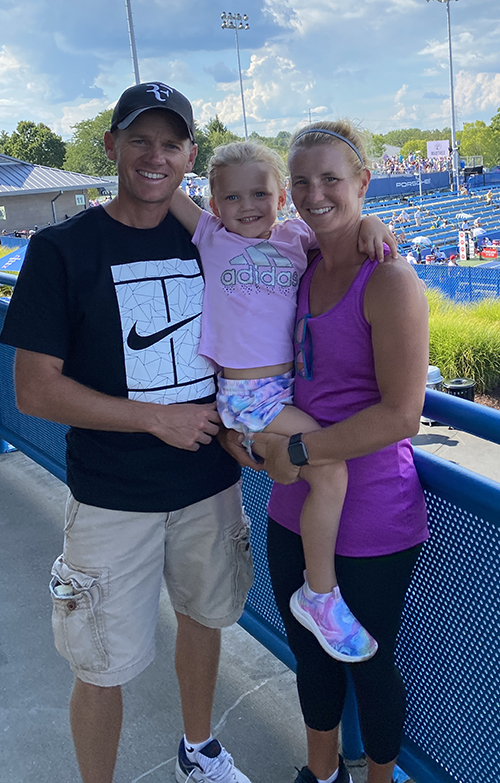 TENNIS AND PADDLE
Morgan grew up in Barrington, Illinois, northwest of Chicago. He played USTA tournaments as a junior and competed at Barrington High School before competing in tennis for four years at Gustavus Adolphus College in Minnesota.
He explained, "After college, I taught tennis for a few years to save up money to play on the ITF Futures Tennis Tour. I traveled in the U.S. and overseas for two years. It was really fun but it was definitely a grind. I did pretty well and won a lot of matches against world-ranked players. It is a hard sport to make a living in. After those two years, Mike Carrico hired me to teach tennis at the Lake Forest Club."
He continued, "At the time I didn't even know what paddle was and that is where I learned how to play. Alex Bancila taught me how to teach and play the game. He is a great player and teacher. I was lucky to learn from him!"
Morgan started playing tournaments In 2013, with Mike Chabraja. In 2014-2015, he partnered with Paget Neave; in 2016-2017, he partnered with Dane Schmidgall; in 2017-2019, Will Colmar was his teammate. With each new partnership, Morgan's ranking moved upward—from the 30s to the 20s to the 10s. In 2019, Morgan and Tyler Fraser connected and found great success together. They are currently ranked sixth in the country.
MEETING TYLER
Morgan recalled, "We played against each other a few times before we paired up. We won our first tournament together by defeating Johan du Randt and Stephen Mitchell in the finals. We said, 'Okay, we're a pretty good team.' We decided to team up for the 2020-2021 season. We had a really good first season. We won four tournaments and made it to the semifinals at Nationals. In the 2021-2022 season, we lost again in the semifinals at Nationals to the champions."
The two were both confident and introspective after their strong finish at Nationals. Morgan said, "We've got some things to work on. Our goal is to win Nationals. We are definitely looking forward to this season."
MIXED NATIONALS
After the Men's and Women's Nationals on Long Island in March, the Morgans flew home to Chicago for four days then wheeled it around back to New York to compete in the Husband/Wife and Mixed Nationals. "We lost in the H/W finals to Martin Bostrom and Florentina Hanisch. They are a great team!" Morgan enjoys the competition but is most grateful for a tournament where he and Alison could spend time together. "We were bummed that the last two years were canceled due to Covid. We really enjoy playing with each other." The Morgan's results at the Husband/Wife Nationals have always been stellar since their first appearance in 2014. They won the title in 2016 and 2017; they have been in the semifinals or finals every other time.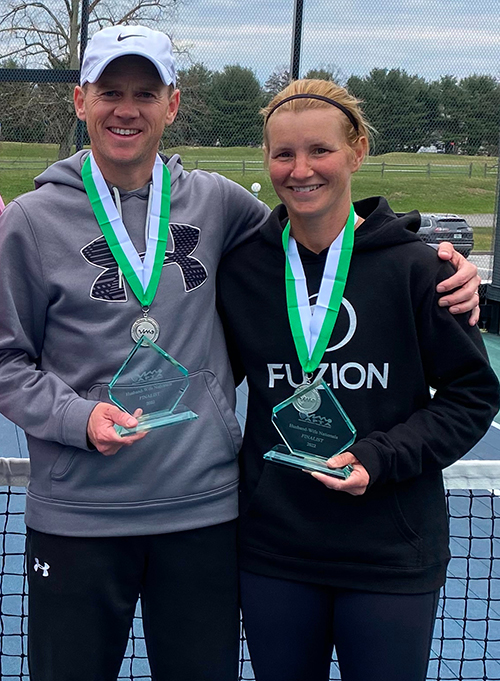 SHORT SHOTS
Practice I practice to play tournaments and compete at the highest level. Tyler and I never get to practice together, which is a bit of a challenge, but we don't live near each other. Live Streaming is a good resource. We both watch our matches and talk about things that we are doing well or can improve upon.
Motivation I'm always motivated to keep improving my game and win Nationals!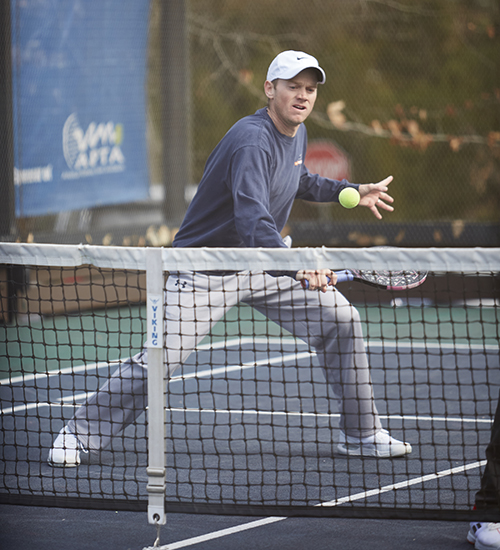 Favorite Shot/Favorite Game My forehand drive is my favorite shot. The cool thing about paddle is the game keeps changing and that forces you to keep adjusting. It's fun to figure out how those make those adjustments.
Free Time I like to play golf, ski, and fish. I spend most of my free time with my daughter and Alison. Greatest Paddle Moment Winning our second Husband/Wife Nationals title in 2017. Alison was six months pregnant at the time with Kaylee. That was really special!