Player Profile - Lynn Kiro
August 1, 2022
First Season, Fast Mover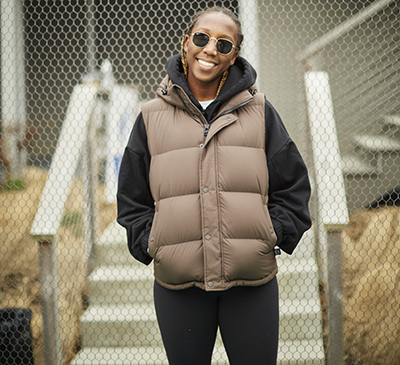 Lynn Kiro
After her first season playing competitive platform tennis, Lynn Kiro is ranked in the top 10 nationally (with Vanessa Petrini). How does anyone get that good that fast in one season? Surround yourself with the best players, have a deeply competitive spirit, and love the sport and its complexity more than disliking cold weather.
TENNIS EXPERIENCE
Kiro started playing tennis at the age of eight. "I had zero interest in the game. I was more into playing with my Barbies and hanging out with friends. My brother, who is four years older than me, played. One day, my dad was hitting with my brother, and he told me to jump in. I was able to return his full-speed serve. He noticed that the talent was there and pushed me to play more, and it was full bore after that." Kiro also played field hockey and enjoyed being part of a team, but eventually gave it up when practices overlapped too often.
She played national junior tournaments in South Africa. Kiro said, "I won my first Juniors international tournament in the Under 14s. At age 14, I was invited to train at the ITF High Performance Training Center in Pretoria, which was about a two-and-a-half-hour plane ride from my home in Cape Town. I moved to the Academy, played some ITF tournaments around the world, and managed to get my ranking to 60 in the world. I'm very grateful for the ITF scholarship because my parents would not have been able to fund my junior tennis career on their own. I competed in Junior Wimbledon, Junior Australian Open and the Junior U.S. Open. They were definitely the highlights of my career, along with playing Fed Cup for South Africa."
Kiro was recruited by many U.S. colleges but knew little about them. Kiro admitted, "I made the decision to commit to Texas Tech, just signed blindly. As I was flying over Lubbock for a recruiting trip, I thought, 'What the heck did I sign up for?' All I could see from the sky were brown fields. But I instantly fell in love with the school and Texas had a great feel of community; everyone there was so welcoming. It made the transition easy for me."
RACQUETS INDUSTRY CONNECTIONS
After Kiro finished her undergraduate program, she contacted her college coach about a summer position, and through the tennis network headed to San Francisco to work for Mark Innes. This would be the start of a serendipitous friendship. She moved to Austin, Texas to teach tennis, and then spent some months in Cape Town. Realizing she wanted to return to the U.S., Kiro coached the women's tennis team while earning her MBA at Wagner College in Staten Island. "I found out Mark was in New Jersey and called. He happened to be looking for an assistant, which worked out perfectly—we were a team again! When he stepped down to work on miracquets and mipaddle two years ago, I took over his position as Director of Racquets at Glen Ridge Country Club. My ITF teammate Sedi from Namibia is working with me this summer. A bunch of us have kept in touch. We were very close so it's amazing to keep these relationships going," Kiro said.
Kiro continued, "My goal was to play professional tennis but once I veered away from that, I knew I wanted to be involved in tennis in some capacity. I really enjoy teaching and my schedule is somewhat flexible. I think this is honestly the perfect combo for me."
SLOW PADDLE BURN
In the fall of 2020, Innes invited Kiro and two others to hit at the town platform tennis courts. A full year passed before she touched a paddle again—she hadn't thought much about it. She said, "Mark took me out every Thursday night and would drill with me and teach me how to play since he was grooming me to become the Director. I was scared to play around other people because I thought I was horrible. The first match I ever played was in September 2021 at Sven [Burus] and Mikk's [Irdoja] Owl's Nest camp. They forced me to play. After that, obviously, I fell in love with the sport."
In her very first tournament, Kiro paired up with 2020 National Champion Macie Elliot, The Witch (APTA TOUR) in October. Unfortunately, she didn't find another partner until January. "I had the paddle bug, so that was frustrating. Finally, Leslie Stiska put Vanessa Petrini and I in touch. We played our first tournament together at the Westchester Open and immediately hit it off. We played together the rest of the season. It was nice being locked in with someone," Kiro said.
FIRST NATIONALS
"My first Nationals was awesome. I played in the Fulton Cup team competition on Thursday. I wanted to get some match play in before the tournament so that was perfect. It was so well run, and the format was amazing. On Friday, Vanessa and I won our first two matches before we ran into Annica [Cooper] and Myrthe [Molenveld] in the round of 16. We won our first set 6-2, then lost 6-7, 6-7. I wasn't used to playing in that hot weather, so I think that was the difference," Kiro said.
Once she was eliminated, she focused on watching her boyfriend, Sven Burus, play all the way to the championships. Kiro laughed, "I think that was the worst—watching their quarters, their semis, their finals, all of it. For Sven and Mikk, winning Nationals was obviously their biggest goal. That took more out of me than my own matches."
LOVING THE SPORT
While not a fan of cold weather, Kiro appreciates the fact that she has found a sport that can be played outside all winter. Her favorite part of the sport is how similar paddle is to tennis stroke-wise. "I love to play any racquet sports and I will compete in anything not tennis 100 percent. I love that paddle is such a complex sport and that it is compared to chess. I love that the points aren't easy to win. I love that you have to be mentally focused especially at the higher level, to construct, execute, and stay in the points longer."
Kiro's favorite shot is her forehand drive. "I love driving off the deck. I also really like being at the net and hitting volleys, just blocking them back, or when the ball's coming hard, just absorbing. That's so fun."
As for goals, "I would like to have more variety in my game." She laughed, "I would like to get better at the waterfall. Obviously, l have a really good teacher [the waterfall is Burus' signature shot]. I want to do more with the screens, to drive well off them. I would like to cut the ball more. My number one goal is to win Nationals."
COMPETITIVENESS
"I am an athlete and very competitive by nature. After tennis, when I went back to South Africa, I obviously still had that competitiveness in me. I decided to run a bunch of races. My mom loved to run and so we entered some 5Ks and 10Ks. I eventually ran a half marathon. Next, I got a really big bug for beach tennis—it is the most fun racquet sport I've played in my life. I was planning to stay in South Africa and help grow beach tennis. I'm really glad that I didn't since I wouldn't have discovered paddle." She is running the New York City marathon this November.
After Nationals, Kiro took time away from the game, focusing on work. "I wanted to give myself a break after the season. It took a lot out of me mentally. I just picked up a paddle in July. It was the perfect amount of time off. I was hungry and as soon as I stepped out on the court I thought, 'Now I'm ready for the season to start.'"
KIRO COMMUNITY
Kiro appreciates the people of the paddle world for their support. "One of the biggest draws to paddle is the sense of community. I've honestly never seen anything like it," Kiro said.
She calls Mark Innes her guardian angel. "I wouldn't have known what paddle was without him. He got me out on the court, then into the Director's spot. He introduced me to Sven. I love him to bits and he for sure will be my man of honor someday."
Kiro met Burus at a barbecue at Mikk Irdoja's home. "I asked Mark, 'Who is that guy? He's so attractive.' He is so cool. We played pickleball a few times and our relationship happened very organically. Sven always finds time in his very busy schedule to drill with me, watch me play, and hear me vent. He deserves an award for that."
Next on her list of important people is Mikk Irdoja. "If I could be coached by it anyone, it would be him. He knows the game so well, especially the women's game. He's such a competitor, which I really admire, and also a great listener. I've called him a couple times after matches and he's brutally honest."
A Kiro and Petrini match was featured on Live Streaming during the Philly Open. "My mom and my brother, Ike, were pretty excited about that. It was special knowing they were able to watch me play from so far away. My dad is still opening up to it. He is so passionate about tennis and wanted to see me on the big stages there," she laughed.
Finally, she mentioned Sasha Burus, Sven's father. "He is the kindest, sweetest man. He texts me before and after every match. It is nice to have him in my corner. He knows so much about the game. If I had a team, he would be my mental coach."

After a short season of competition, Kiro is gearing up for the 2022-2023 APTA TOUR. While her dream team won't always be by her side, they are all in her corner. She is one to watch!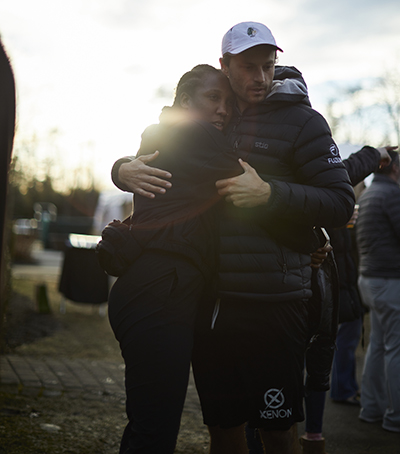 Lynn and Sven
LYNN KIRO FUN FACTS
SPORT - Played on the 2019 South African National Beach Tennis Team (in the ITF Beach Tennis World Cup in Russia)
FOOD - IN NJ Loves Cuban Pete's (Montclair) oxtail and plantain and Kim's Sushi (West Orange)
MUSIC - Enjoys Rufus Du Sol, Black Coffee, Drake, and Khruangbin
RANDOM - Has a Wikipedia page

Kiro talks more about the transition from tennis to paddle in this month's Coaches Corner.
Photo Credit: @garrisonblock