What I Learned at Paddle Camp
November 30, 2022

This is the second installment of a new series written by platform tennis camp clients from around the country. Each camp has a unique group of directors and pros in special locations, and each camper has a distinctive experience.
CAMP: Performance Paddle Camp in Nantucket, Massachusetts
CONTACT: www.performancepaddlecamp.com and follow @performancepaddlecamp
DIRECTORS: Ana Brzova and Mike Gillespie
INSTRUCTORS: Anton Bobytski, Mickey Brzov, Chris Cetateanu, Kyle Devlin, Roxy Enica, Guga Goncalves, Max LePivert, Enrique Pardo, and Louis Volclair
CAMPERS: Mariquit Corcoran, Mark Corcoran, Patty Leung, Ken Leung (New Jersey), Lorraine Bowyer, Cassie Burke, Bonnie Cody, Jamie Heckelman, Katy Hobbis, Ellen Moore, Jessica Park, Gina Patterson, Kathy Pellicane, Pam Randazzo (New Jersey + Vermont)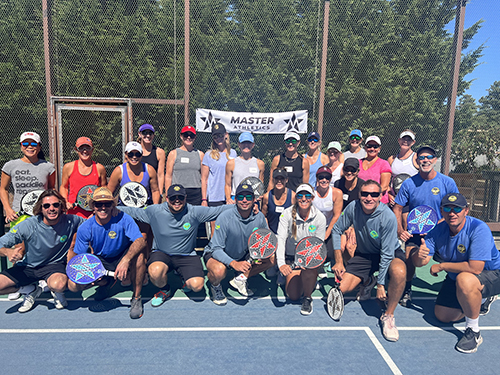 Performance Paddle Camp
Mariquit Corcoran
With Mark Corcoran, Patty Leung, Ken Leung
Lorraine Bowyer
With Cassie Burke, Bonnie Cody, Jamie Heckelman, Katy Hobbis, Ellen Moore, Jessica Park, Gina Patterson Kathy Pellicane, Pam Randazzo
Goals for camp
My goals for paddle camp were realistic—focus on two specific skills and learn from the best pros in the country on how to finetune them. For me, it was how to execute a consistent drive on a return of serve and how to better read the ball on a double screen. Having a diverse group of pros who provided tips and feedback on these were key to my success.
While we always strive to improve, I think we all do camp for two fundamental reasons—we love paddle, and we love being on a girls' weekend where we have fun, do the thing we all love, spend time together that is priceless, eat good food and drink great cocktails, and hopefully learn some tips that we can bring back to our competitive season. The real answer—the goal is to have fun!
First thing you learned that you wish you knew two years ago
I wish I knew two years ago the importance of technique for making the first volley (the hardest shot in the game). How you hold your paddle and how much you move it is so critical in getting that volley deep and in. If you don't get it right, the point never gets started.
We've all been playing so long that it's not like we're going to learn something completely new that we've never heard before. The best part about camp and learning from different pros is that everyone has a different way of explaining a concept. Some things resonate better depending on how they are presented. For example, we all know to keep the ball to one person for a couple of shots and then transition with a middle ball and then to the opposite corner. Ana said "When you go to Mexico, unpack, and stay there without heading to the DR right away" and we all loved that analogy. On court during a point we sometimes hear someone say "Mexico!" proving that concept resonated with most of us.

One additional fact that really made sense (and one we hadn't quite been aware of) is that when you are at the net and playing the deuce player, you should be able to see your partner in your peripheral vision—then you will be better aware of your job and whose ball it is.
One or two pieces of advice from the coaches that you're using all the time
A smash overhead is best left for tennis, a "Frenchie" or lower contact point overhead is way more effective in paddle. Screens buy you time! When you know you're getting a screen, smile, don't panic, and move your feet with your paddle position ready.
We are looking to stay in position and do our job. That makes us much more comfortable and more sure of whose ball it is. Staying a couple of shots to the same person and transitioning wisely. Mixing up shots and pace. Keep driving even if it's not working instead of abandoning it completely and lobbing all the time. This lets your opponents off the hook and lets them know what to expect instead of keeping them guessing.
Favorite drill at camp
My favorite drill is 2 vs. 1. It's great for playing with opponents who know how to 'pick and stick.' This is crucial to practice!
One thing that was different at this camp vs. most of the camps we've done in the past—we liked doing the same thing on every court. Many camps have you on court with four different pros and you do something different with each pro for about 45 minutes. This camp had a short presentation and then we all went to our respective courts and worked on that. We rotated courts to be with a new pro, but we all worked on the next idea again simultaneously. I think since we all listened to the same concept and watched the little exhibition first together, there was less interpretation on each court by the players and the pro.
Drills/comments noted:
Soft overhead drill
Handcuffs for block lob
Guide the ball
Cover 2/3 court; based on who hit the ball; pick and stick
Practicing different strategies as the serving team—traditional, Australian, server stay back, both stay back.
Anything you want people to know about the camp experience/your experience
I think it's important to go into a paddle camp with realistic goals. You can't go in expecting to master 10 new skills, that's just not possible. I find it most effective when I focus on something in particular versus trying to work on everything at once. You should also be open to different styles. Pros don't all play or teach the same, but obviously something is working for them so be open to all types of feedback and tips, then do what works best for you!
We have been to several camps and they are all great, and they are all fun. We love getting to know new pros and learning from the players at the top of the game. We feel that each camp has adjusted the lesson/skill/emphasis to our level of play—and we are called out on our mistakes when we make dumb shots or rookie errors in judgement, as we should by now. The one thing we felt about this camp was the "layering" of the same concept throughout each session. Ball placement. Shot choice. Do your job. Those themes were reiterated over the sessions using different games and drills such that we had to walk away smarter, more thoughtful, and confident players. These concepts are not necessarily new, but after three days of repetition and building skills on top of skills, we can better implement them into our real-life match situations.
Any fun off-the-court stories
For my group, this was our first time in Nantucket and actually my first time in an AirBnB. On night 1, we were trying to find a wine opener and although our house had everything you could imagine supplied, there wasn't one. As we were debating whether to venture out and find one, I sent our host a text. Within three minutes, there was a knock on the door and a man handed me a wine opener. It was a bit freaky how fast he got there and it wasn't until then we realized that the couple actually lived in the house but had a separate bedroom in the basement (with a different entrance) that they "moved" to whenever the house was rented.
What happens in Nantucket stays in Nantucket!