What I Learned at Paddle Camp - Tri-State Paddle Camp
December 26, 2022

This is the third installment of a series written by platform tennis camp clients from around the country. Each camp has a unique group of directors and pros in special locations, and each camper has a distinctive experience.
CAMP: Tri-State Paddle Camp
CONTACT: anaandflor.com and follow @tristatepaddle
DIRECTORS: Florentina Hanisch and Ana Marija Zubori
INSTRUCTORS: Sherzon Akramov, Martin Bostrom, Thomas Christian, Jade Curtis Gabriela Niculescu, Vanessa Petrini, Roman Stoisavljevic
CAMPERS: Pam Randazzo and Clarissa O'Hern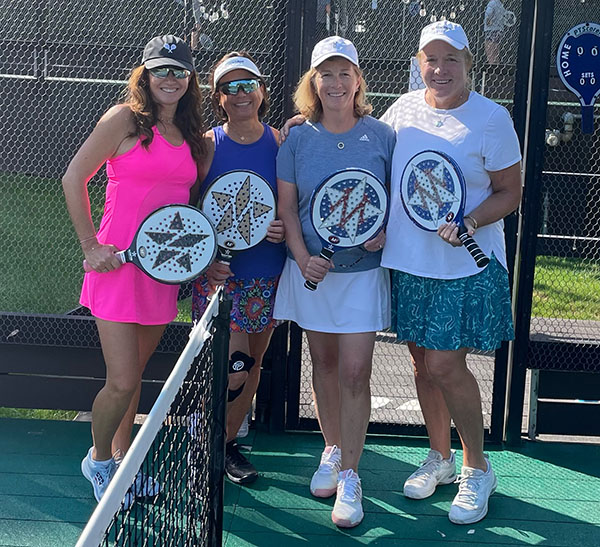 L to R: Ava Reynolds, Clarissa O'Hern, Chris McGrath, Martha Sayre
Performance Paddle Camp
Pam Randazzo
Clarissa O'Hern
(with Ava Reynolds, Chris McGrath, and Martha Sayre)
Goals for camp
To learn new shots and strategies
To improve my game so that I can more effectively compete at higher levels of play. Tri State Paddle definitely delivered on its promotional hashtag #ElevateYourGame by providing me with a more solid understanding of court positioning and shot selection.
First thing you learned that you wish you knew two years ago
The importance of confident body language on the court to show your opponents and of positive partner language between points, high fives etc. You don't want your opponent to see any frustration from you in yourself or your partner!
Flor & Ana's system of where to place my overheads based on where I am standing on the paddle court was a game-changing revelation. If I had known about their ABC system earlier in my career, I would be a much more advanced player today.
One or two pieces of advice from the coaches that you're using all the time
The reset overhead does not have to be in the middle, and oftentimes is not the best place. Deep is more important than anything else.
I am developing points based on their system of dividing the court into 3 windows of opportunity. I select my shots based on which zone on the court that my opponent's replies land in: Red-deep in the court, Yellow-middle of the court, and Green-close to the net.
Favorite drill at camp
Baseline to baseline, drop shot, and of course, practicing the FYM!
All the Fun Zone drills where we learned to "punish" our opponents. The Fun Zone is the Green zone located closest to the net. In this candy store of prime real estate, we were taught how to hit drop shots, waterfalls, and the dreaded FYMs. As positive reinforcement, we were awarded gold stars to stick on our racquets, much like the stickers that college football players are awarded for key plays. The Fun Zone drills were exciting and especially satisfying when we executed them properly and earned our gold stars.
Anything you want people to know about the camp experience/your experience
I have been to over a dozen camps in the last few years, all with excellent pros from which I have learned a ton. What makes Flor and Ana's camp unique is:
1. They are women teaching strategies for women.
2. They are a partnership-they explain one another's unique strengths and how they set each other up to monopolize on these.
3. They teach you actual plays -series of shots to pull your opponents out of position which helps you take control of the point.
4. They have everyone gather for a summary between each rotation while you take notes so that you don't forget everything on your way home from camp!
5. They use the tool of videos from their own matches. They show their mistakes like taking a ball that's not yours, and how they get back on track.
Although it can be rather daunting to attend a camp taught by the best of the best, Flor and Ana are not only two of the most talented players in the game, but two of the warmest and most generous. Their bedside manner and passion for paddle will quickly put you at ease so you can soak in all the hard-earned knowledge they are sharing. They are continuously refining their teaching techniques and drills based on their zealous study of the game and championship level match play. I'd liken this particular paddle camp to the opportunity to learn music from Mozart or painting from Picasso. If you are a paddle junkie, Tri-State Camp needs to be on your bucket list.
Any fun off-the-court stories
Ana and Flor have so many funny and endearing stories they told off the court. I will not reveal them here because my delivery would not be adequate. But when they tell their stories, it is evident the wonderful chemistry they have on and off the court.
Tri State Paddle is a day camp so there was not much opportunity to socialize off the court. However, during the delicious lunch breaks, both pros made a conscious effort to mix with their campers. Ana is an especially fascinating storyteller due to her unusual childhood during the war in Serbia and training with fellow countrymen/future tennis greats Ana Ivanovic and Novak Djokovic. She's also extremely well-traveled and has a quick wit, which she is not afraid to unleash at any time, on and off the court. Flor and Ana's charming personalities and partner chemistry were especially evident during the off-court game tape review session. Their playful and loving banter livened up the chalk talk analysis of memorable points in some of their biggest matches. They used the video footage to effectively illustrate how the court positioning and shot selection concepts we were learning at Tri-State can all come together.