Nathan Crick & Randy Lofgren Champs at Charlotte Men's NRT
November 24, 2020
Charlotte, NC
2020 Charlotte Men's NRT Final Results (doc), (pdf)
Tournament Director Tim Buwick, Director of Paddle Sports at Olde Providence Racquet Club in Charlotte, North Carolina, reported, "Number one seeds Nathan Crick and Randy Lofgren defended their Charlotte Men's Open NRT title at their home club, defeating fellow Olde Providence Racquet Club members Tommy Beecher and Robert Phillips, 6-1, 6-2, in the finals. Second seeds Eric Miller and Niclas Nilsson were upset in their first match by Atlanta's Oliver Cantrell and Bob Stratton, 6-3, 4-6, 10-6. Miller/Nilsson went on to win the consolation draw. One of the longest matches of the day was in the finals of the quarter reprieve, where John Morris and Michael Watson needed more than two hours to outlast Mike Leffke and Tom Weston, 6-1, 1-6, 6-4.
"The draw of 18 teams was treated to perfect late fall weather with clear Carolina blue skies and 70 degrees. A good crowd was on-hand to watch a touching scene during the presentation of the Mehmet Varinli Championship Trophy. The award is so named after the passionate Olde Providence paddler, who suddenly passed away in 2017 at the age of 42. His widow, Isabella, presented the new trophy to the winners on, incredibly, the date of their wedding anniversary. It was a memorable ending to a most memorable day of paddle."
The APTA thanks Tournament Director Tim Buwick, host club Old Providence, Prosperity Athletic Club, volunteers, and all the players.
RESULTS
Main Draw: Nathan Crick/Randy Lofgren def. Tommy Beecher/Robert Phillips, 6-1, 6-2
Quarter Reprieve: John Morris/Michael Watson def. Mike Leffke/Tom Weston, 6-1, 1-6, 6-4
Consolation: Eric Miller/Niclas Nilsson def. Chris Steyl/Billy Zimmerman, 6-1, 6-0
Consolation Reprieve: Michael Brady/Tom McElhenny def. Adrian Alday/Jim Haneklau, 6-2, 6-2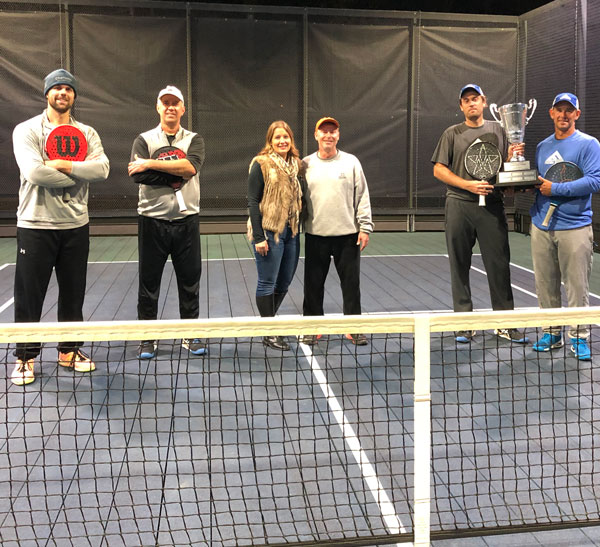 L to R: Finalists Tommy Beecher/Robert Phillips, Isabella Varinli, Tournament Director Tim Buwick, Winners Randy Lofgren/Nathan Crick